Over the last few weeks we've been keeping you updated with the latest news on the Thailand flooding situation, and how it might affect our trek there this month.
We can now report that the flooding situation in Bangkok has not improved to the extent that was expected and the city is still off limits for all but essential travel. For further information on this, please refer to the Thailand section of the British FCO advice.
This unfortunately means that this year's Thailand Jungle Expedition cannot run for important and obvious safety reasons.
However, we understand what a blow it would be to our participants – who have already made travel arrange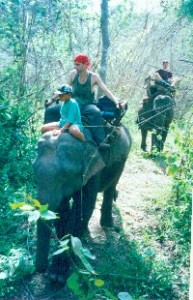 ments, and have been working hard on their fundraising and training – if we were to cancel altogether. So we are delighted to say that following much negotiation with our ground handlers in Thailand and with the various other service providers, we have been able to provide an itinerary of exactly the same length and grading that will take place in the north of the country, in the famed hill tribe region. The so-called 'Golden Triangle Trekking Challenge' is an itinerary we used to operate very successfully and it was a stalwart part of the product range for years up to 2010. The itinerary includes hikes through spectacular mountain scenery to the Akha Village of Ah Yea, treks through bamboo forest and terraced rice fields, overnight stays in North Thailand's mountain villages and also numerous waterfalls  and spectacular mountain views and even (when conditions are right) the chance to ride elephants and go kayaking.
The Golden Triangle Trek is a fantastic Challenge and we've been planning on taking another look at this alternate Thailand Itinerary for a while, so we are glad we've been able to take such an unprecedented and unfortunate situation and create such a positive outcome, with the re-launch of this fantastic itinerary.
We are wishing all our Thailand challengers an exciting and unforgettable Northern Thailand challenge! And we can't wait to hear their feedback on the Golden Triangle Trek.