Dear adventurers,
We'd like to take the opportunity to wish you all a very happy, healthy and adventurous new year!
Our adventure packed new challenge brochure comes out later this week, which contains details of all of our exciting brand new challenges!
These include treks in Cambodia and Sumatra, new hard core bike rides in Mexico, Morocco and India, a 6000m peak to climb in Bolivia, running challenges in India and China, a snow shoeing challenge in the Pyrenees, and the ultimate South Pole ski challenge.
We have over 150 open challenge departures dates on our website (meaning you can join and raise funds for your own chosen cause) so if you are looking for ways to keep to your new year's resolutions to lose weight, get fit and do something incredible this year, please browse the website and we will do all we can to help you achieve your goals.
To make your decision that much easier, many of our challenges currently have significant January discounts so don't forget to check the promotions section of our website.
You can download the brochure here as a PDF, browse the challenges live on the website, or click here to request a hard copy of the brochure.
In 2012, we are also looking to launch our exciting webinar project, by recording Charity Challenge Webinars for every one of our challenges!
In case you're unfamiliar with the term, a Charity Challenge Webinar is an online presentation you can view from the comfort of your own PC, delivered by the Challenge Operations Manager. We run through the day by day itinerary of the challenge, the kit needed, training and fitness requirements, vaccinations, visa's and other relevant formalities. These webinars are a must see for anybody who's signed up for or considering taking part in any of our treks!
The webinars we are running in January are the Rajasthan Tiger Challenge, the Arctic Dog Sledding Challenge, The Sahara Desert Trek, the London to Paris Bike Ride, Everest Base Camp and The Thailand Jungle Trek.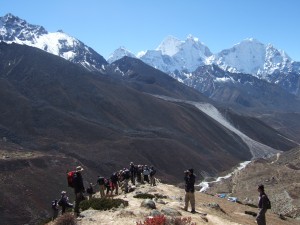 We will be advertising the dates and times on our home page, latest news, and via Facebook and Twitter.
To keep up to date on all our challenge news, please enter your email address into the adjacent box to subscribe to our mailing list.
Once again, Happy New Year and please do get in touch with any questions.