Today we'd like to say a massive congratulations and send oodles of good luck to Charity Challenger Hilary Banks, who is at around 1pm today carrying the Olympic flame through Much Wenlock, the historic birthplace of the Olympics!
We came to know Hilary here at Charity Challenge when she was among the first of our
challengers to take on our Sumatran Jungle Trek, a gruelling 11 day challenge trekking into the heart of the deep Sumatran Jungle.
Taking on this challenge was particularly poignant for Hilary. As due to medical conditions and injuries sustained in her early days in the police force, she was in and out of medical retirement regularly, and after suffering from a stroke in January 2007, leaving her left side temporary paralysed, it seemed less and less likely she'd be able to lead a healthy and active life. However, Hilary fought back and in late 2008, she and a friend embarked on a 6 month motorhome tour of Europe. During this time, she began cycling and walking. This proved so beneficial for her leg that she was able to discard the stick she had been obliged to walk with.
Spurred on by this, she decided to take on a challenge of a lifetime by signing up for our Sumatran Jungle Challenge. This proved to be the ultimate test of her regained mobility for Hilary, as our Operations Manager Jo (who was leading the trek) can verify.
"The Sumatran Jungle Trek was one of the most 'challenging' challenges I have ever lead, primarily due to the wild and sheer variety of terrains we were dealing with! We were clambering up and over fallen trees, untangling limbs from cunning and craftily hidden jungle vines, skipping over abnormally large tree roots, wading up and across rivers and swinging from tree to tree as we manoeuvred our way down some extremely steep descents! The jungle tested our mental awareness and strength to the extreme and so I was overwhelmed and deeply inspired at the end of th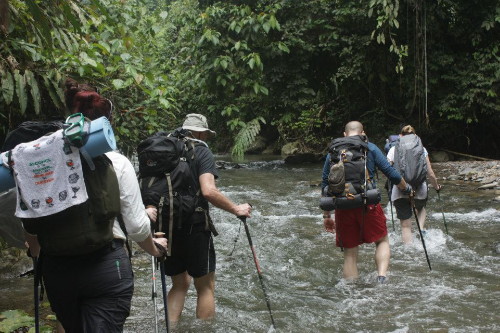 e week to see Hilary amongst many others crossing the finishing line, a memory that's going to stay with me forever that's for sure!"
Not only was Hillary taking on the challenge for herself, she was also doing this on behalf of a charity that had become close to her heart,  "I raised money for the Stroke Association, having had a fairly major stroke myself four years ago, and becoming disabled…I have raised almost £2500 to date!"
Hilary's successful conquering of the Sumatran Jungle was a monumental achievement for her, and made a huge positive difference to her life. "Taking on the trek really motivated me to be as fit as possible and probably aided my recovery from the stroke…Partly as a result of my efforts to regain my mobility, and undertaking this trek, I was successfully nominated to be an Olympic torchbearer!"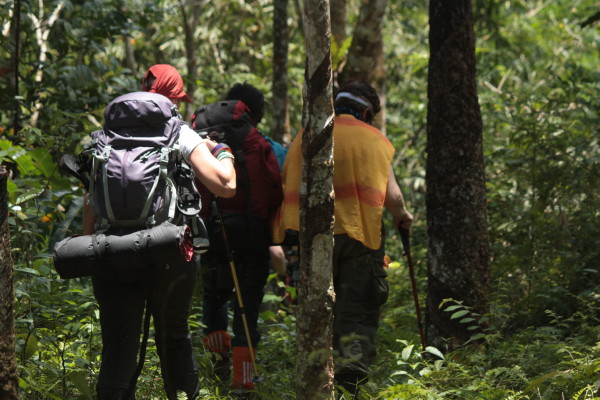 So good luck Hilary! Surely, after river walking, swinging across vines and spending hours clambering across the tangled jungle undergrowth in the Sumatran Jungle, carrying the Olympic Torch through possibly the most important and culturally significant part of the flame's journey is going to be a walk in the park!
You can catch Hilary Carrying the Torch on the BBC's live feed of the torch relay here. If your inspired by the amazing feats Hilary was able to achieve on our challenge, you can learn more about our Sumatran Jungle Trek by clicking here, and you can also read Operations Manager Jo's Jungle Diary of her time leading the trek here! To learn more about all our charity challenges,  Please visit our website at www.charitychallenge.com  and to keep up to date on all our challenge news, subscribe to this blog by clicking on the orange RSS button, you can also enter your email address into the adjacent box to subscribe to our mailing list.