As 2019 comes to a close, the year we celebrated 20 years of operating epic challenges, we look back on everything we have collectively achieved with YOU – our heroic adventurous participants – and to share our gratitude to all those involved:
Tens of thousands of brave adventurers
Thousands of epic challenges in more than 40 countries worldwide
Across 6 continents
Helping us raise in excess of £59,000,000 for over 1,800 worthwhile global causes
Thank you for your continued support and for helping us to be agents of change for so many great charities.
Thank you to the staff, leaders, doctors, ground crews and every single person that has helped to create, prepare and operate our challenges around the globe.
We look forward to working with you in the future and we wish you a very happy, healthy and adventurous 2020!
Looking back on 2019, these are the moments that hold a special place in the hearts of our Charity Challenge leaders.
Penny – Madagascar Trek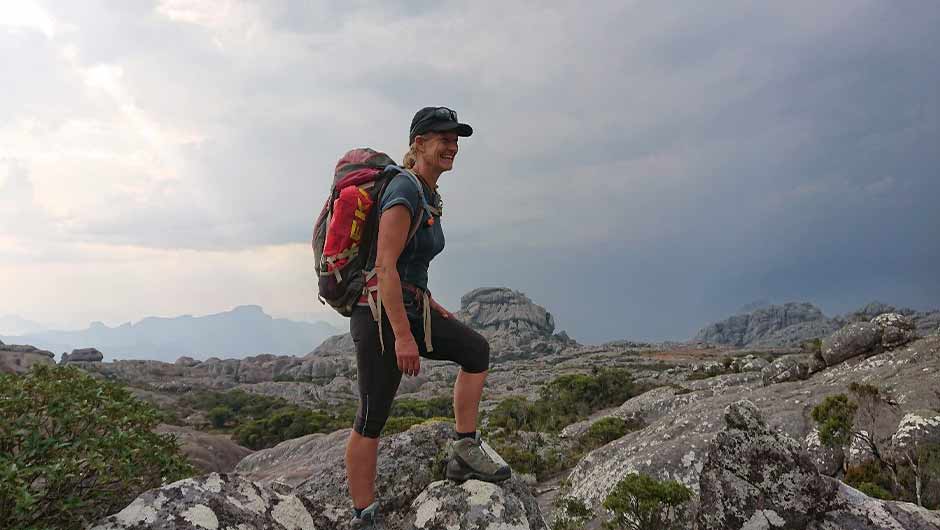 One of the poorest countries in the World, Madagascar still manages to be one of the richest in hospitality, laughter and community spirit. Whilst we faced the challenges of excessive heat, sterilised warm river water to drink, steep rocky terrain and long demanding trek days, the local children would run barefoot in rags from remote villages with grins on their faces and intrigue in their eyes and make us instantly forget our own aches and pains. The team of porters with us filled every evening with music, song and dance creating a unique and magical end to every Malagasy day. The highlight of the challenge has to be summiting Pic Boby, the second highest peak on this island but the interaction with the special people of Madagascar surpassed anything I have experienced and this inspiring group of participants and I embraced every moment.
Tom – Sahara Desert Trek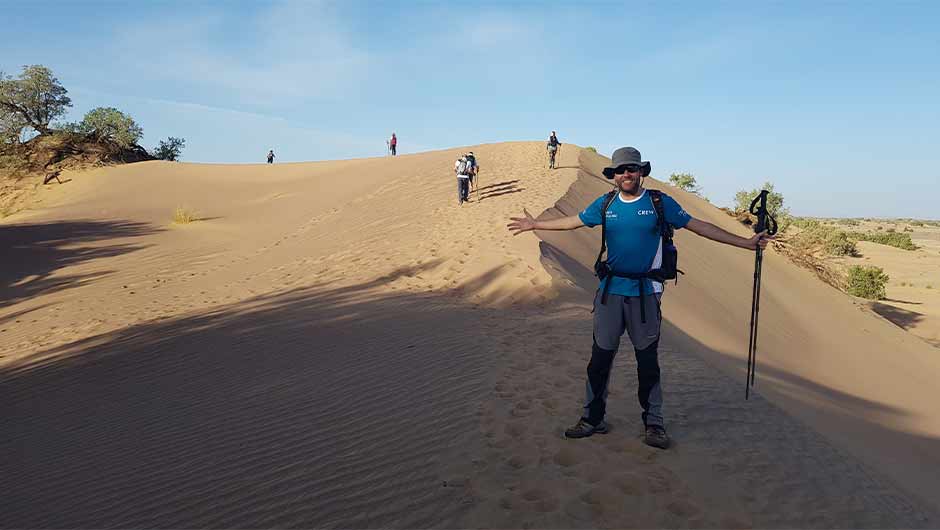 One of my highlights of 2019 was the Sahara Desert Trek in Morocco. It is a unique trek in terms of both terrain and scenery. The moment you arrive in busy and colourful Marrakech you know you are in for a fantastic experience. The local team (including their camels!) are great with superb overnight camps in stunning locations. The food they produce in the middle of the desert is really tasty and wholesome. The daytime sun and heat is relentless, but early starts mean you make the most of the cool mornings and evenings. Hiking up and over the sand dunes is great fun. You can also meet desert Nomads and get a better understanding of their culture. I would go back again to do this trek just to experience the night skies once again – I have never seen the Milky Way so vividly – incredible!
Ian – Trek Machu Picchu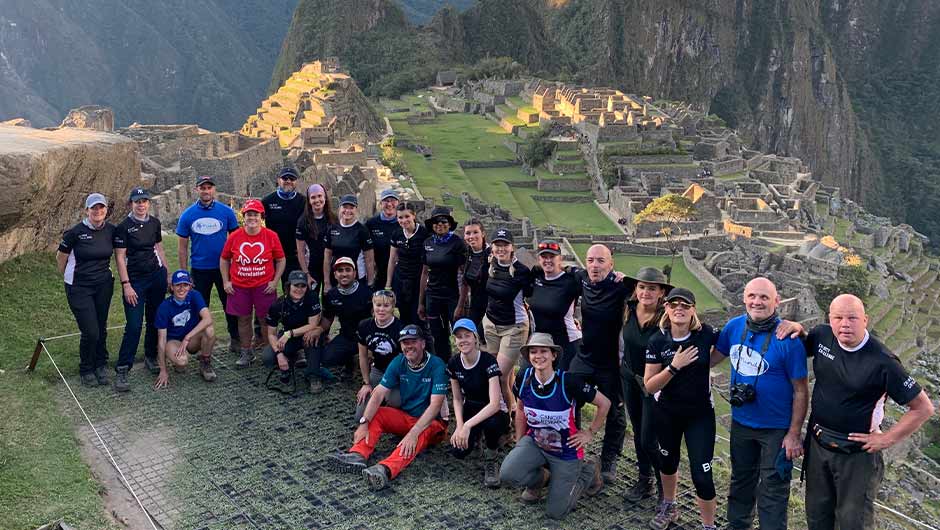 In October I travelled to Peru with a group to trek the rugged and demanding Ancascocha Trail – a spectacular 5-day trek through the Andes mountains, finishing at the fabled city of Machu Picchu via the famous Sun Gate. I was delighted to help support the participants on this tough challenge. As Challenge Leaders we try to generate a "team approach" and a supportive, positive atmosphere among our groups. This particular group were always 100% committed, listened to advice throughout and embraced the entire challenge experience positively. Some confronted and overcame personal challenges along the way with our assistance. They all worked tirelessly to support each other, and laughed, joked and celebrated their success together. They were determined to savour the whole experience – and they also raised over £93000 for their chosen charities! I thoroughly enjoyed working with them.
Danny – Icelandic Lava Trek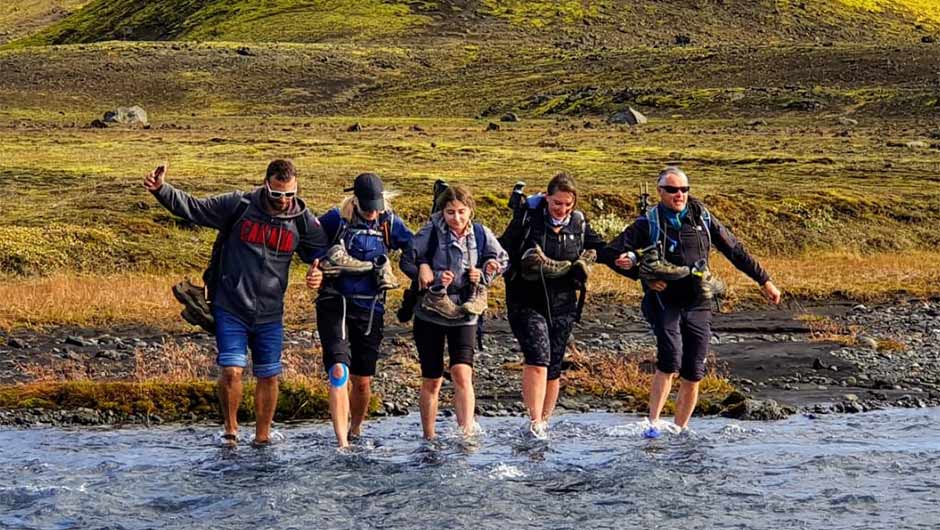 The Icelandic Lava Trek was my favourite trip of 2019. This was initially due to the unusual lunar-like scenery we encountered right from our first night camping in the crater of a (fortunately!) extinct volcano to the smoking fumeroles, misty upper plateau and luminous green, yellow and blue mosses which were sprinkled around and across our paths like some impressionist artist's palette as we made our way up, down, around and along the 55km Laugavegur Trail. Chilly nights in camp and sleeping on barren, if mostly flat ground tested the team's endurance but each day brought a feast of visual, physical and culinary experiences which kept them longing for more: whether it was looking forward to the next ice-cold knee-deep river crossing or the next spectacular waterfall hidden in a depression just a few 100m from the main trail. And whilst we were unlucky not to see the Northern Lights whilst on the trek itself it didn't detract from the chance to relax in steaming hot springs in the darkness.
Laura – Great Wall Discovery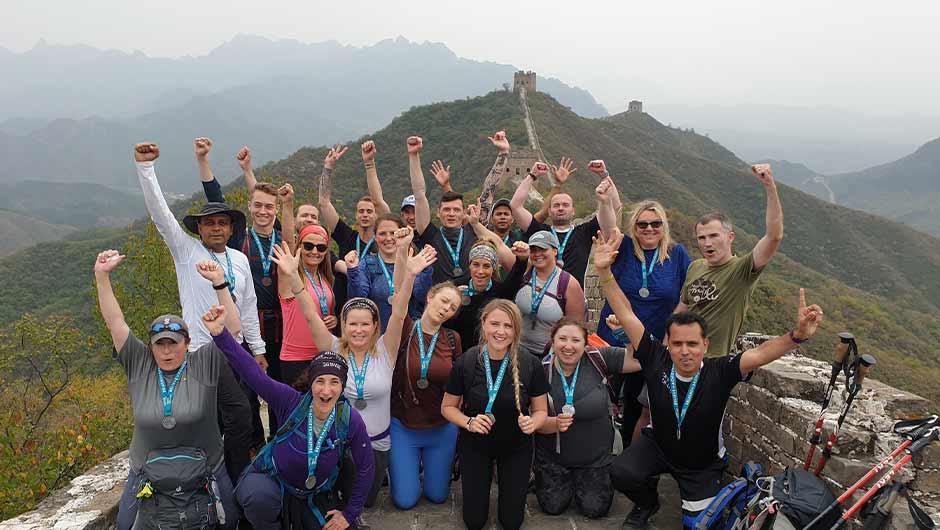 My favourite memory of 2019 is from a Great Wall Discovery Challenge. The team were strangers from around the world. They faced 733 flights of steps together, supported each other on steep descents and celebrated with the local firewater. They each came with their own personal challenges and the group of strangers became a support network who shared something that will always be uniquely theirs. By the end of the week, they had already made plans to take their new experiences and learnings back across oceans with them. From taking up old hobbies to changing relationships, from making more 'me' time to a 180° turnaround of mindset. By the time we got to our celebration meal, they had made new promises to themselves and the meal became not just a celebration of all that we'd achieved over the last week but also a celebration of the positive change to come.
John – Cycle Sri Lanka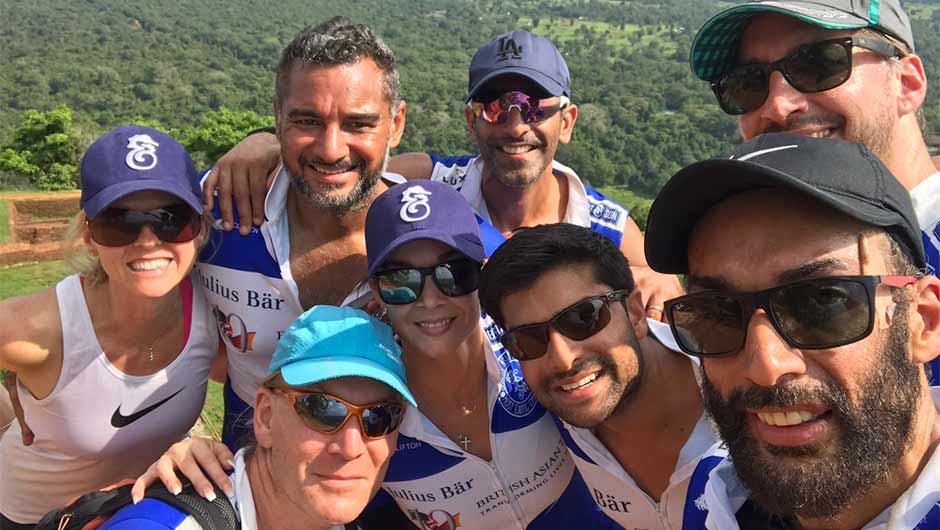 This year saw me leading cycling trips for Charity Challenge, and a new destination too – Sri Lanka! The trip was for the charity 'The British Asian Trust' and I was joined by 21 other cyclists to explore the fabulous country. Our route took us along the beautiful coastline with rustic markets full of fish from the morning's catch. A quick transfer to the hotel that evening and a visit to the amazing Temple of the Tooth in Kandy. More riding the next day took us through the tea plantations that Sri Lanka is so well known for and a chance to visit the beautiful Dambulla Rock Temples. We also rode through the jungles of Sri Lanka and the 'Elephant Corridor', a protected area of the national park where elephants can just cross over the main road… No guessing who has the right of way! The day finished with a trip around the ancient ruins of Polonnaruwa with monkeys running everywhere. The final day was spent riding through another national park taking in sights of water buffalo, monitor lizards and blue herons then finishing our journey with a climb of 1200 steps to the ancient royal palace on the summit of Sigiriya Rock. It was a real pleasure to visit Sri Lanka. The people were incredibly friendly, I was waved at by everyone! The scenery is just beautiful and there is wildlife everywhere! I enjoyed it so much, I'm going back in March 2020 to lead another cycling trip! Oh, and the food!…
Richard – Amazon Survivor Challenge
In May of this year I found myself in Brazil supporting a team on the Amazon Jungle Survivor Challenge. This is a demanding 5 days of living and travelling by either trekking or canoeing through the Amazon rain-forest. Most of this challenge was completed by canoe because at that time of year the forest is flooded with the normal pathways being covered by at least 8 meters of water, making trekking somewhat difficult. From the start the team really took to the challenge, trekking through the forest with our guides looking for food, paddling through the water highways in locally built traditional canoes (which do require a surprising amount of baling out) looking for dolphins, howler monkeys and fishing for dinner. Each campsite had to be built from scratch but once the team were comfortable in the environment, they soon started making tables and bench seats much to the delight of the local crew. The challenge most certainly put the team out of their comfort zone, but it was the way that they came together through work and laughter to overcome the challenge made it a really memorable trip.
Just can't wait to make your own memories? Visit Charity Challenge to choose your next challenge