Have you ever wanted to know what it is like to strap a pair of 'tennis rackets' to your feet and float across snow…if you have ever pondered this thought then why not take a look at the second challenge to feature in our "Hidden Gems" collection.
The thought process behind launching our "Hidden Gems" blog series is to throw light upon some of our lesser known and more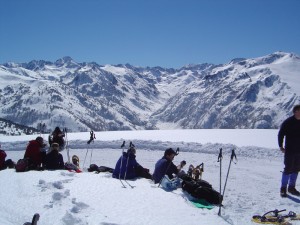 quirkier short haul challenges. Now is the turn of perhaps the most memorable, challenging and quirkiest challenge of them all! – The Pyrenees Snow Shoe Challenge
Our upcoming March 2013 departure date will be the very first time we run the Snow Shoe trek, and we're really excited to be launching a challenge that will be a first for us both in terms of location and activity!
So Pyrenees Snow Shoe Operations Manager Kathryn has put together the below blog to let everybody know what this rather intriguing challenge is all about!
 What is a Snow Shoe:
A snow shoe used to look like an old fashioned wooden tennis racket with lattice work made out of animal hide so there wasn't a build up of snow on the shoe, but these day
s they're normally made with lightweight metal or plastic frames with synthetic lattice work and they also have bindings…if your still not sure theres a picture on the right for you to have a look at!
 The Origins of Snow-shoeing:
Snow shoeing was invented about 6000 years ago, in the area that we now call Central Asia, archaeologists have hypothesised that what was originally thought to part of a back pack frame found on the famous Chalcolithic mummy Otzi was in fact part of a snow shoe. It is believed that the ancestors of the Inuit's and Native Americans migrated to North America on primitive shoe shoes fashioned by strapping sla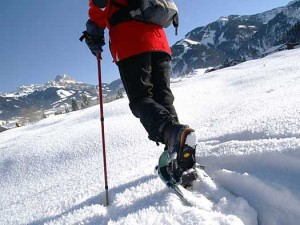 bs of wood to their feet.
 So what actually is snow-shoeing?
Snow shoeing still uses the same principles as when it was 1st invented. This was to have a large surface area strapped to your feet to disperse your body weight and stop you from ultimately sinking in to the soft powdery snow and passing out with exhaustion within 10 minutes of going anywhere! It is a great way of exploring the mountains when they are covered in snow and trekking would normally be impossible, and also a fantastic way of keeping fit with new aerobic/running snow shoes being invented.
 Why would you snow shoe?
It is a fantastic way to explore the winter wonderland of the Pyrenees and the Aiguestortes National Park, with breath-taking landscapes and an ethereal quietness. All you'll hear is the sound of your breathing and the crunching of the fresh snow beneath your  feet.
 What to expect:
This challenge takes you into the heart of some of Europe's most unspoilt wildernesses. Beginning in the Midi-Pyrenees, you will be given a full safety briefing including avalanche training from our expert challenge leader, and time to acclimatise. You then have the chance to test out your newly learnt skills as you cross over the border into Spain. Here, amongst the staggering vistas of Catalonia's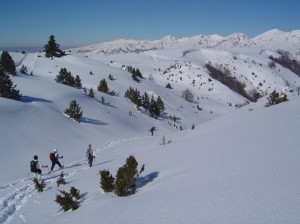 only national park, you will have a chance to explore a world that for much of the winter is inaccessible to most trekkers.
This incredible challenge affords a chance to test your-self against nature and the elements in the mountains of north-eastern Spain.
So what are you waiting for?! There are still places available for our March 2013 departure date! Check out the Pyrenees Snow Shoe Challenge Itinerary, fact file and much more here!
Or get in touch with Kathryn directly at Kathryn@charitychallenge.com
You can subscribe to this blog (by clicking the orange RSS button) to hear more about us and all the amazing challenges we offer! To keep up to date on all our latest challenge news and special offers, please enter your email address into the adjacent box to subscribe to our mailing list.