If you need proof that age does not define what you can and can't do, look no further than the inspirational exploits of Canadians Esther (84) and Martin Kafer (85), who set the world record for the oldest ever couple to climb Mount Kilimanjaro, Africa's highest mountain!
Peak performers, Martin and Est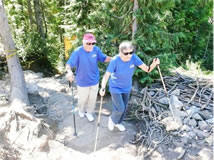 her reached the summit of Kilimanjaro earlier this month, after a five-day trek, as part of the Ascent for Alzheimer's fundraising initiative in support of the Alzheimer Society of BC, fundraising a reported CAD$310,000!
Esther and Martin have always had a very active lifestyle, having honeymooned in the Swiss Alps and made more than 30 first ascents of British Columbia peaks. They were motivated by Martin's sister's rapid decline into dementia to take on an extra special challenge.
"Each time we visit Martin's sister we are overwhelmed by the telling signs of the rapid rate her dementia is advancing," the pair said on the society's website.  So they determined to do something tangible that could really make positive impact to the Alzheimer Society of BC, an organisation that had come to mean a lot to both of them.
"Esther and Martin's achievement epitomizes the spirit of the Ascent for Alzheimer's event, which is that no matter how challenging the journey there is support," said Jean Black, CEO of the Alzheimer Society of B.C.
There are many formidable peaks all around the world, but Mt Kilimanjaro, situated 19,340 feet up in North eastern Tanzania, has always held an iconic reputation as THE mountain to climb.
For many, climbing up Kilimanjaro is not just about mountaineering, it's about overcoming obstacles – both physical and mental, pushing yourself to the very limit, and achieving something extraordinary not ju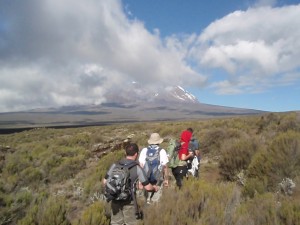 st for yourself, but for charity and anyone and everyone who have dedicated your climb to.
There is no doubt that the climb up Mt Kilimanjaro had a very special significance for the Kafers. When asked to provide advice for those with more sedentary lifestyles, the self-described "old-timer mountaineers and life-long outdoor enthusiasts", said "Be active all of the time, eat well, use your arms your legs and your head. Most of all your head. Take every day as a bonus day,"
If you've been inspired by Martin and Ester's incredible achievement, and want to take on your own challenge of a lifetime whilst raising money for the charity of your choice, then visit our website at www.charitychallenge.ca (or www.charitychallenge.com for the UK site) where we have a whole host of amazing challenges, including, (if you are inspired to follow in the Kafer's footsteps) the Mt Kilimanjaro summit climb challenge, the Trek to Machu Picchu Charity Challenge based in Peru, and the Great Wall Discovery challenge – which takes place on China's Great Wall!
To keep up to date on all our challenge news, please subscribe to this blog. You can also enter your email address into the adjacent box to subscribe to our mailing list.