If it wasn't for Barneo, the temporary airfield on ice set up and maintained for nearly a month every spring, then we wouldn't be able to run our epic North Pole Charity Challenge!
So we're glad to see the hard wor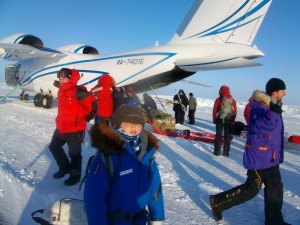 k the team at the Barneo airfield put in to make one of the most isolated places in the world accessible is being recognised in this Channel 5 documentary.
Acting as a gateway from which a motley assortment of tourists, scientists and explorers set out to conquer, investigate and discover the North Pole, Barneo Airfield really is an amazing piece of engineering – setting up the airfield on ice is no mean feat! –  A team of Russian paratroopers have to skydive onto the frozen Arctic Ocean to create this extraordinary ice camp. facing temperatures as low as -40° C, as they sculpt a unique airport on the drifting ice.
In the first episode of the series, we meet the team behind Barneo, and some of the North Pole visitors it is heralding in, including our intrepid Charity Challenge team of "6 ordinary men". The team, lead by veteran Artic Explorer Alan Chambers,  were taking on a challenge of a lifetime to raise much needed funds for Sparks, a UK charity who fund medical research which advances clinical understanding and treatment of conditions affecting babies, children and mums-to-be.
For the "6 ordinary men" of Brian, Alex, Paul, Andrew, Nigel and John, this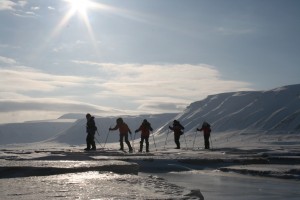 really was an out of this world challenge! As John himself said;
"I was born in Slough — the North Pole might as well be the Moon"
To find out how they, and a host of other North Pole hopefuls got on, tune into the Documentary "North Pole Airport" tonight at 8pm on Channel 5!
If your inspired to take on your own journey to coldest region on earth, you can find out more and sign up to our North Pole Charity Challenge 2013 here ! You can also see more information about the array of amazing challenges on our website at www.charitychallenge.com. To keep up to date on all our challenge news, please subscribe to this blog. You can also enter your email address into the adjacent box to subscribe to our mailing list.