A quick transfer back to Gulistan Tourist Complex this morning to pick up our bikes, our lovely guide Vasanti is a a strong commanding negotiator and puts the boys in their place and negotiates the coach into the complex without any hassles so we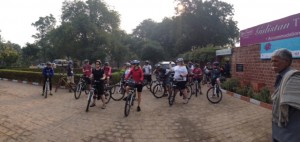 are on the road on time.
With Vineet leading the show and Raoul supporting the pack from behind we set off out of Fatephur Sikri to get back into the hustle and bustle of the Indian Roads. As we are moving further away from Agra the villages we pass through welcome us with 'hello', and the children run and wave alongside us,  and men on mopeds and bikes slow down in harmless curiosity to ride alongside us asking 'what are you doing?', Where are you going? And "Why?" (Doubtlessly in confusion as to why in this world we would be cycling when surely we can afford a car!).
In India the Cow is Sacred hence it does what it wants when it wants, which Hitesh soon established as he is nearly taken out by one. The cow is the head of the household and also, apparently something we were not warned so much on, 'rules the road'. So if that's not enough, Hitesh seems to want to g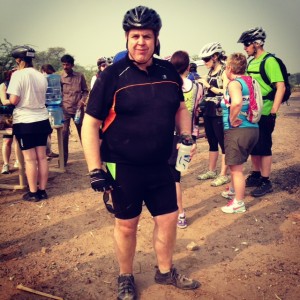 et his falls over and done with and manages to somehow take himself out this time at the snack break just standing still and then again later on into the ride.
We cycle through the village until we reach some back roads where we step down a gear for some 'off roading' as we cycle through the sand dunes that make up the rest of what is left of this road. For me personally I think this is great and it gives you a chance to take your bum off the seat and ease the pain as you struggle through the soft sand and rocks. For others they seem to get a little over confident and feel the need to complicate the whole process by battling th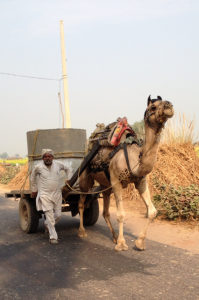 e sand and navigating around the rocks whilst with one hand off the handle bars taking photos of those behind them. Now there is one lesson to be learnt from this, and one thing that is evidently  going to happen, and yes Richard soon learns that as he falls face down in the sand with the bicycle neatly intertwined between legs and arms. All in all this was a graceful and harmless fall from him, I think his camera suffered the most (poor thing). Rich was left with no scars but an awful look of orange fake tan, unlike Hilary who decided today was the day to get more acquainted with the locals and threw herself into a crowd of them suffering a few war wounds to the legs.
While Hilary is having her moments with the locals, Hiten is chatting again to the children in his pigeon Hindi, as a young boy is checking out his bike whilst on the way to School. The Kids journey to school on a rickety old bike is 50km each way every day. The boy says to Hiten that he has really nice gears and Hiten explains that he doesn't need gears as his gears are in his legs and the boy replies 'my gears are in my head'. That certainly gave us the motivation we needed to complete the cycle today, as the boy is quite right, no matter how many gears you have, the source of the power comes from your mind and if we maintain mind over matter this week then we will complete our 430k with no problems!
The Afternoon is spent with an additional cycle to Keolodeo National Park adding 13km to the challenge, totalling 101km so far in two days! So I think everyone is a little apprehensive about doing that distance plus some in one day tomorrow… an early rise for su
re and a long day ahead.  The evening is spent with some traditional dancing in the courtyard to loosen the muscles for a good night's sleep, so hopefully we'll wake up with ease for our 120km ride tomorrow!
So To hear more updates from Jo in India, stay tuned to this blog! Whilst she's out in country, you can get in touch and follow Jo via her twitter feed at @jojowarren82
you can also find out more about the challenge she is embarking on – The Rajasthan Tiger Challenge! – by clicking here. To see more information about the array of amazing challenges we have, please visit our website at www.charitychallenge.com. To keep up to date on all our challenge news, please subscribe to this blog. You can also enter your email address into the adjacent box to subscribe to our mailing list.