The final 100km cycle from Ranthambore to Jaipur via Bhanderej took us through two days of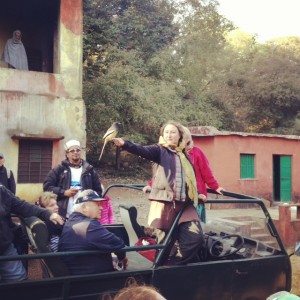 new scenery and continued surprise for how unique this cycle really is. Venturing into parts of Rajasthan where the kids are running from their schools to the side of the road shouting 'white man' and 'crazy'! Tourists in these parts just do not exist.
After a night Glamping, 'another' early rise for our Tiger safari in Ranthambhore National Park. With only 33 Tigers in a 1334 sq km of wild jungle scrub we knew that the chance of sighting the Tigers would be an exclusive one. With one sighting in Five we had a good chance but unfortunately for us footprints were as close as
we were going to get.  This however was fine for all of us as we witnessed the courting walk of two antelope and were surrounded by deer, wild Boar and the chance to cruise around in a safari truck for a few hours before putting ourselves back on the bikes.
I have to say one of the highlights of the Challenge is the food, and that includes the packed lunches. The  food is delicious and there's lots of it, but then the calories burnt on the cycle justifies the amount you can eat. With lunch on the bus we are transferred a short distance to the start of the cycle today where our amazing support team, Matt, Vineet, Naveen, Raju, Baba (our mechanic) and Bhola are waiting for us.
We soon discover that the Safari has made us a little sluggish and its taking some time to get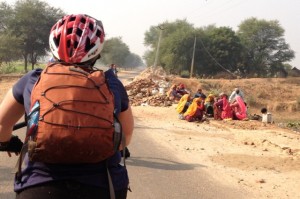 the legs working. After 45km of better roads than yesterday's Sahara Cycle, we cycle into the grounds of the Maharajas Palace. With a few more aches and pains today we have some real troopers; Sue has been an inspiration to us all this week, Moyra pushing through with an earache that's taking its toll and Kate who's knee is progressively being a pain. Vineet is going the extra mile and offers to push Kate up the hill which she declines and so seeing as the offer is out there, I choose to take it up instead(after all why not – Kate you missed out there !!.) Tonight sees many retire to their beds fairly early in preparation for the final days Challenge and evening Celebrations.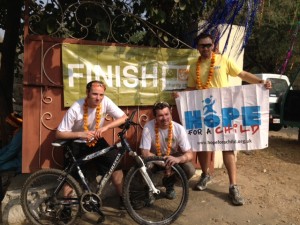 All raring to go after a good nights' sleep for our final days Cycle we set off and within an hour we are starting to see some different scenery. With the sight of rolling hills we are a little apprehensive that we may have to cycle one of these but soon discover that the few days we have had with hills previously, we've dropped our gears and pushed through it. We are however relieved to know that we are cycling between the hills and enter a lush tropical environment where the roads are quiet and palm trees line the route with monkeys and cows lurking. We suddenly feel like we are cycling through a tropical paradise for our final 10km leg to the finish line. As we regroup for our finale km cycle we hear drums and clapping and as we approach up over the hill we are welcomed by Sian and Vasante and a team of drummers at the finishing line in Jaipur.
We celebrate at lunch with some relieved it's over, others sad its come to an end, but  all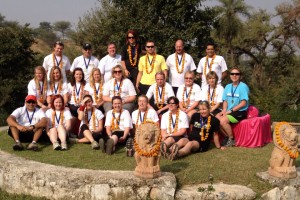 proud of  what we have accomplished this week. Feasting once again on delicious food and a well-deserved beer we relax and reflect on the week. The afternoon brings shopping for some and a snooze and freshen up for others before we come to the end of our week with our last night dinner and dance. Six days cycling and 430km has flown by leaving us with new friends and lifelong memories. What an incredible experience of India. Thank You to Sian and the team for their Support and each individual in the group for being  team players and supporting each other through the challenge including the jokers (you know who you are ) who kept spirits high and continued to hide pieces of my bicycle at each break stop. You should all be very proud of yourselves.
You can also find out more about the challenge she is embarking on – The Rajasthan Tiger Challenge! – by clicking here. To see more information about the array of amazing challenges we have, please visit our website at www.charitychallenge.com. To keep up to date on all our challenge news, please subscribe to this blog. You can also enter your email address into the adjacent box to subscribe to our mailing list.