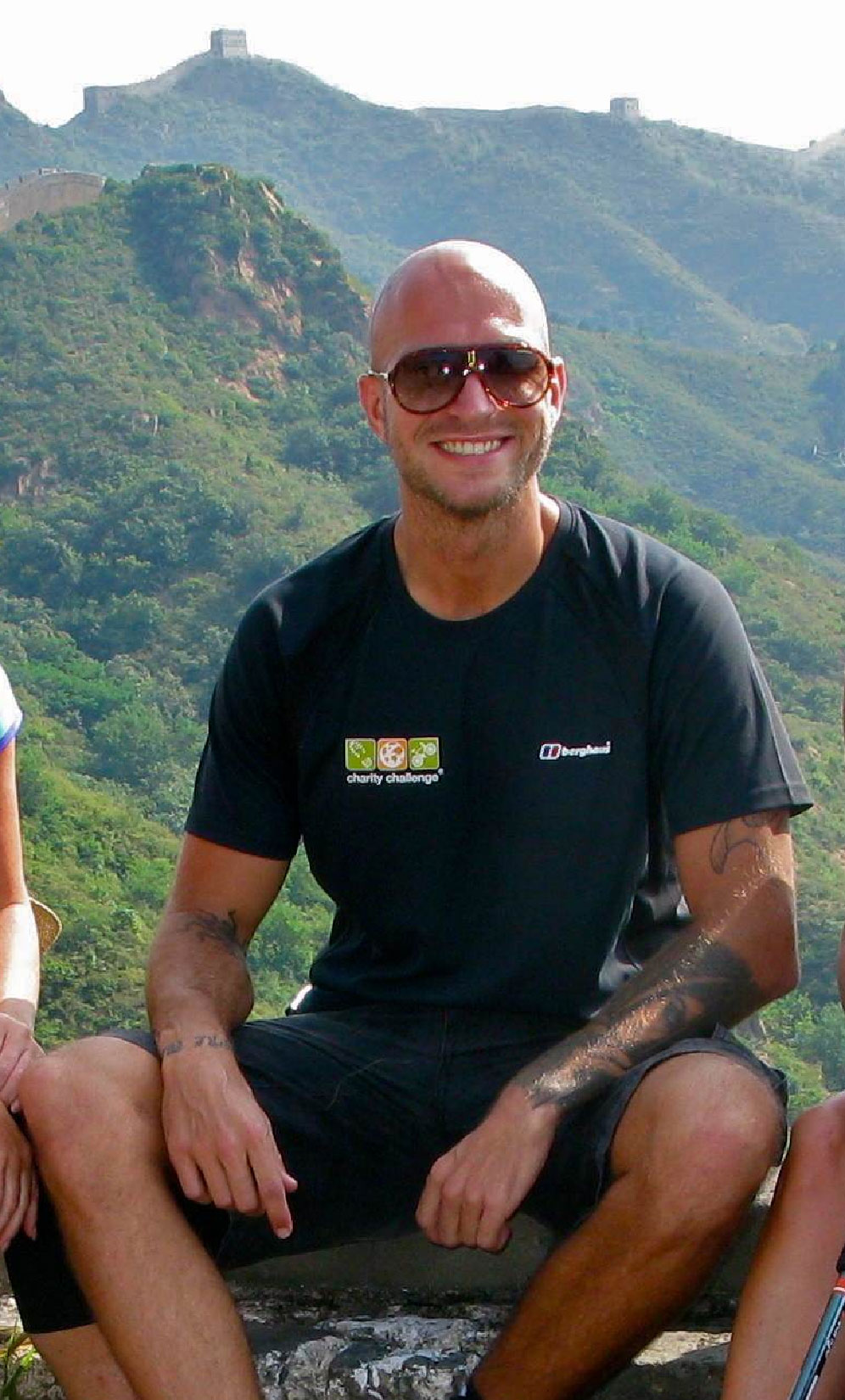 Emotional goodbyes at terminal 5; Mums, Dads and friends not lucky enough to be coming with us. Ten hours on a plane is long enough to send anyone doolally, but British airways do their best to ease the pain. We stumble off the plane at 2am London time like zombies, heading for a new adventure. Stomachs are tense, eyes are bleary, minds are jittery. All soon put at ease by our local guides, Jason and Ming; no, sorry, 'Tony'.
We learn that 'in china we say Ni Hao'. 'Ni Hao Jason'; 'Ni Hao Tony'.
Head straight to Beijing Olympic park for a warm-up walk. Lots of familiar buildings, bird's nest and water cube, plus a new tower under construction which apparently will be Beijing's highest tea house. Yet, as always in China, it seems that we are the attraction – the Chinese delight in our presence; waving, smiling and shyly taking opportunities to say hello. The only ones not interested are the kids, fiercely coddled by their mothers and forever scowling.
The weather is muggy, and you can't help but wonder if this is the result of rapid, coal fired
in-dustrialisation. A quick lunch at a nearby restaurant where everyone falls asleep in their soup, and then onto the bus for the journey out of Beijing. Suicidal traffic manoeuvres are glimpsed through heavy eyelids, though our driver, Master Jung (for 'he has the skills of a shaolin master') seems to have it all under control. His wrath is reserved for fools who dawdle in his lane in their blinged up BMW's as he sticks religiously to the speed limit, flashing his lights at them repeatedly.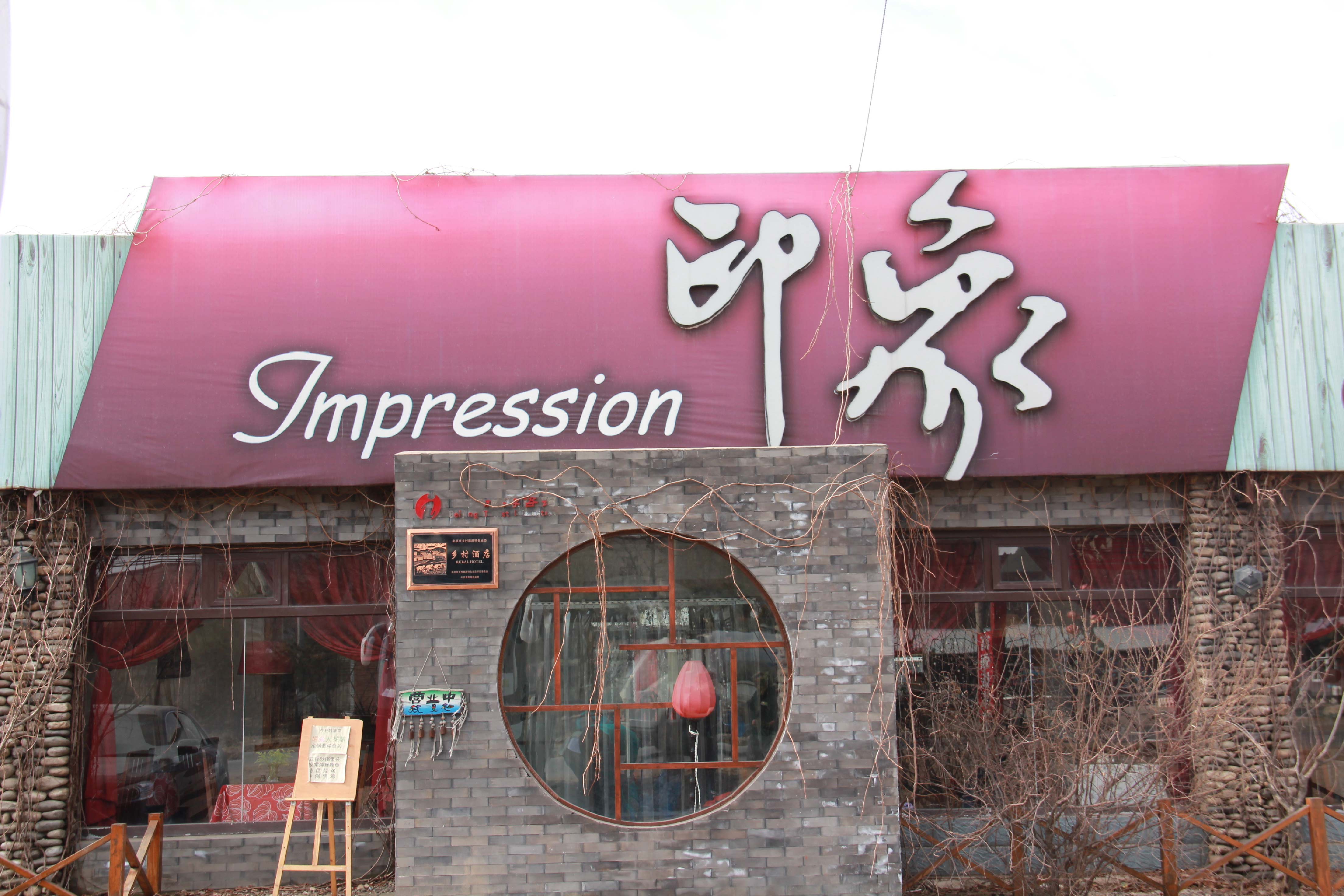 'Impression lodge' has a warm welcome, though favourable impressions are reserved until after dinner, which is an excellent buffet (they even throw in some chips to spoil us). We celebrate Tamara's birthday, there is cake, drunken Chinese businessmen proposing toasts, and a round of beers outside to finish us off. Day one complete!
'Black Dragon Pools…and the steps begin!!'
It's a jolly morning; everyone is eager for their first day's trekking and glad of a proper sleep.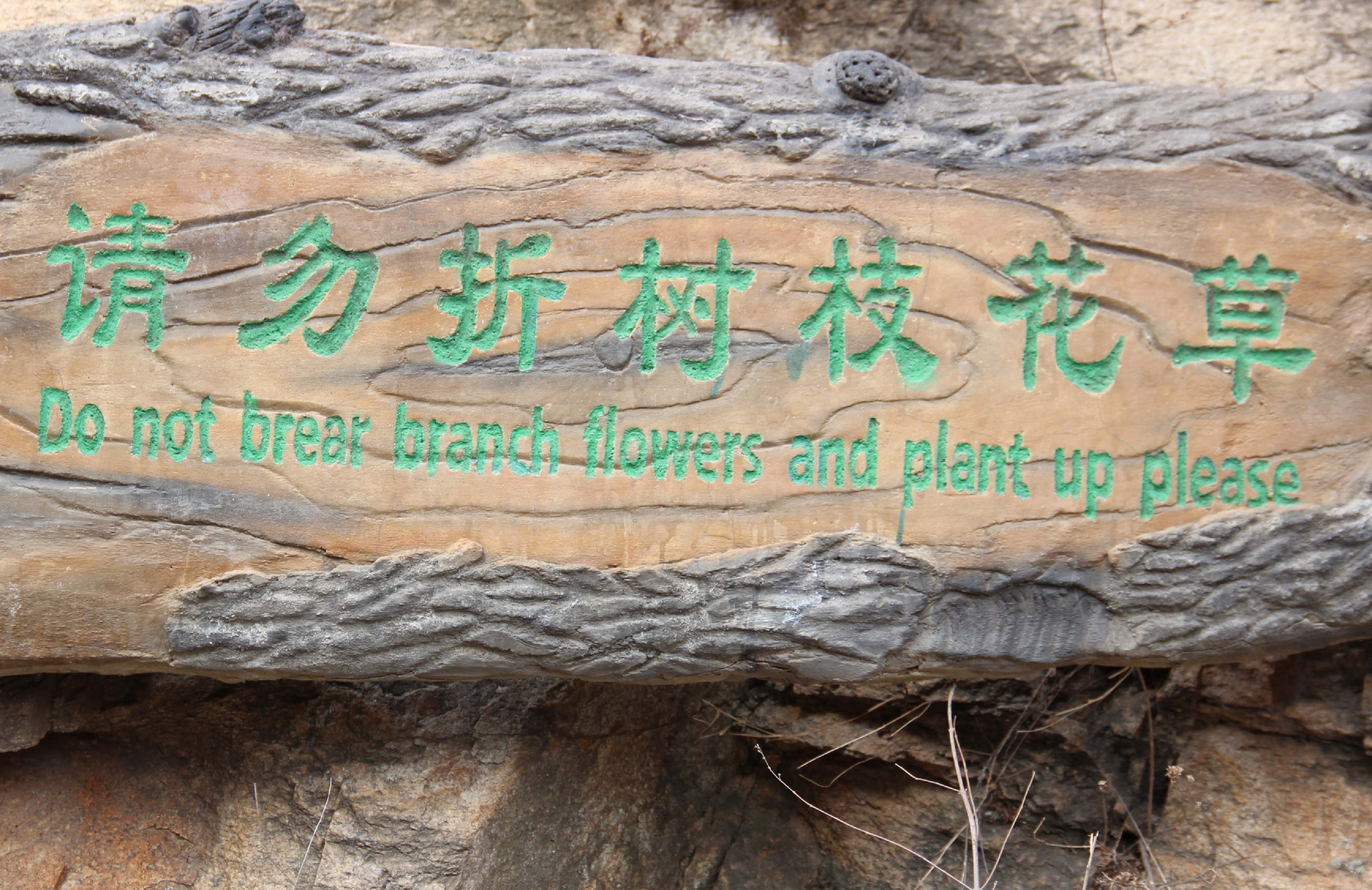 Most eager and jolly is Dave, who managed to drink 10 beers last night; can't work out if he's jolly or still drunk, but that's just Dave; a happy chappy to say the least 🙂 Master Jung navigates a short ride to Black Dragon Pools, the location for today's trek. A lot of construction in and around the road, it seems the farmers in this area have found a new crop – tourists.
Jason has the mic for the journey, and we practice our new mandarin phrases – 'Ding ding hao' (very very good) rolls off the tongue with ease, the rest are quickly forgotten.
The Black Dragon Pools consist of a series of gorgeous natural pools and waterfalls in a gorge in the shadow of the great wall. This stunning natural wonder has been 'enhanced' by all the extras that Chinese tourists seem to want – giant rubby duckies, zorb balls, the latest hits blaring out of speakers hidden in rocks and numerous signs telling us what and what not to do. We ascend the steps at a decent pace, stopping to regroup occasionally and exchange pleasantries with local tourists, before reaching the temple at the top, whereupon we pass through a locked gate into an area marked 'no visitors'. It soon becomes apparent that this sign is here as there isn't really a path, and we scramble up quite a steep slope through overgrown jungle, the theme tune to Indiana Jones ringing in our ears. No drama though, and we soon reach a t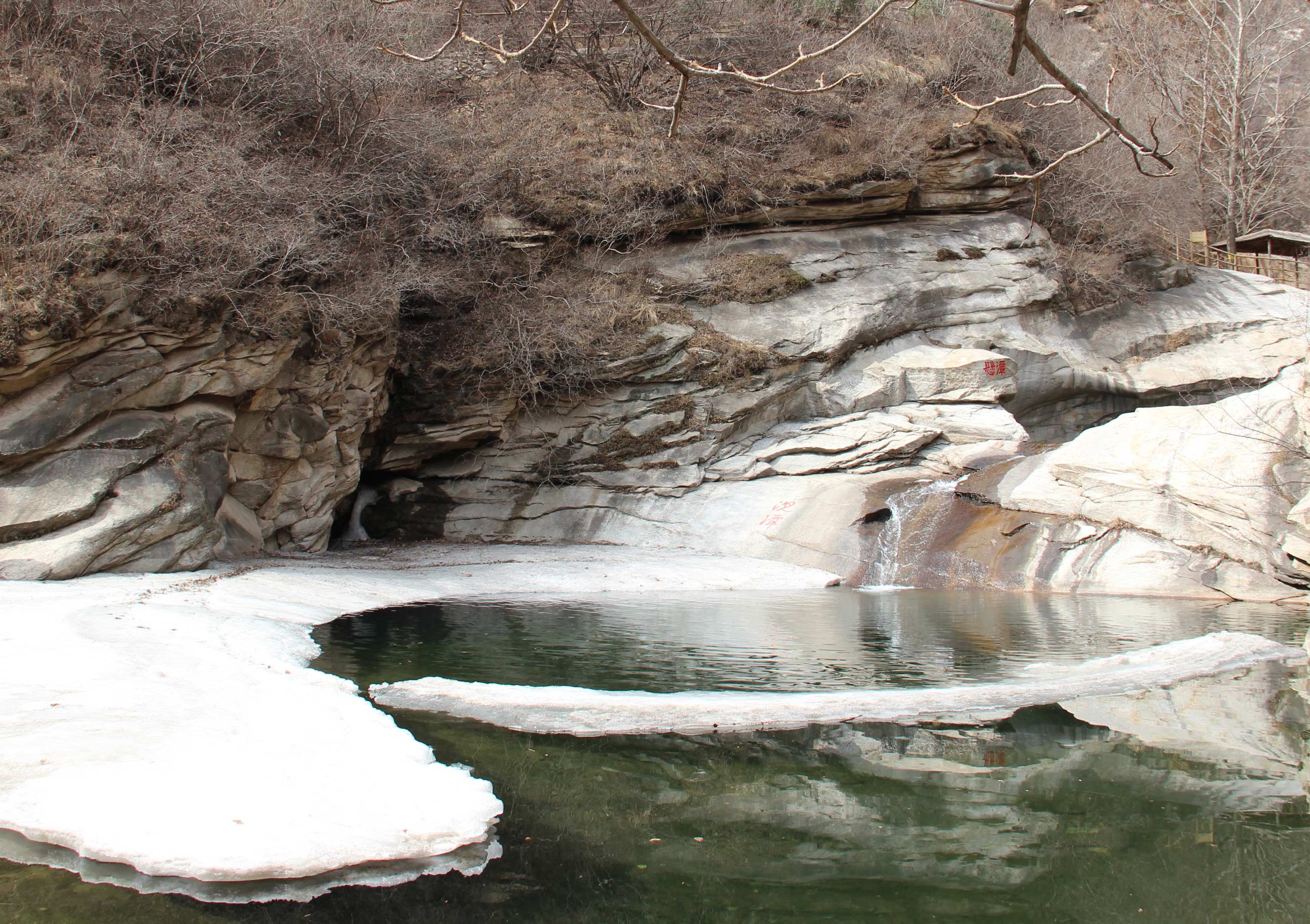 armac road where the going is a lot easier. No one seems quite sure why this road has been built, we only see one car on it during the next hour, which turns around and comes back to get a better look at us – there are also ominous big brother style cameras watching precisely nothing, well, except us. First views of the great wall – there's an ancient watchtower overhead on a small hill with faint outlines of old wall snaking out along the ridgeline. We leave the road to scramble up to the watchtower and are rewarded with magnificent views down to the valley below; you can just make out the entrance to black dragon pools where we started many hours ago, and a river valley with fertile fields either side. There is a Chinese character carved into the field next to the river, which apparently says' beautiful Great Wall', though our guesses vary from 'silly foreigners go home' to 'McDonalds next exit'. The scramble down from the watchtower makes the ascent seem like a doddle, as we hack our way through the jungle on a very indistinct track, following the path of the wall as it makes its way down the mountain. Sometimes we walk on sections of the old wall, which are very narrow in places and have rather alarming drop-offs on either side. You often lose sight of the person in front of you through the overgrowth and the silences are broken by blood-curdling screams – fortunately these are the result of an encounter with a nasty looking spider or centipede rather than anyone falling off the edge.
After 90 rather tense minutes we reach the bottom where Master Jung awaits us with the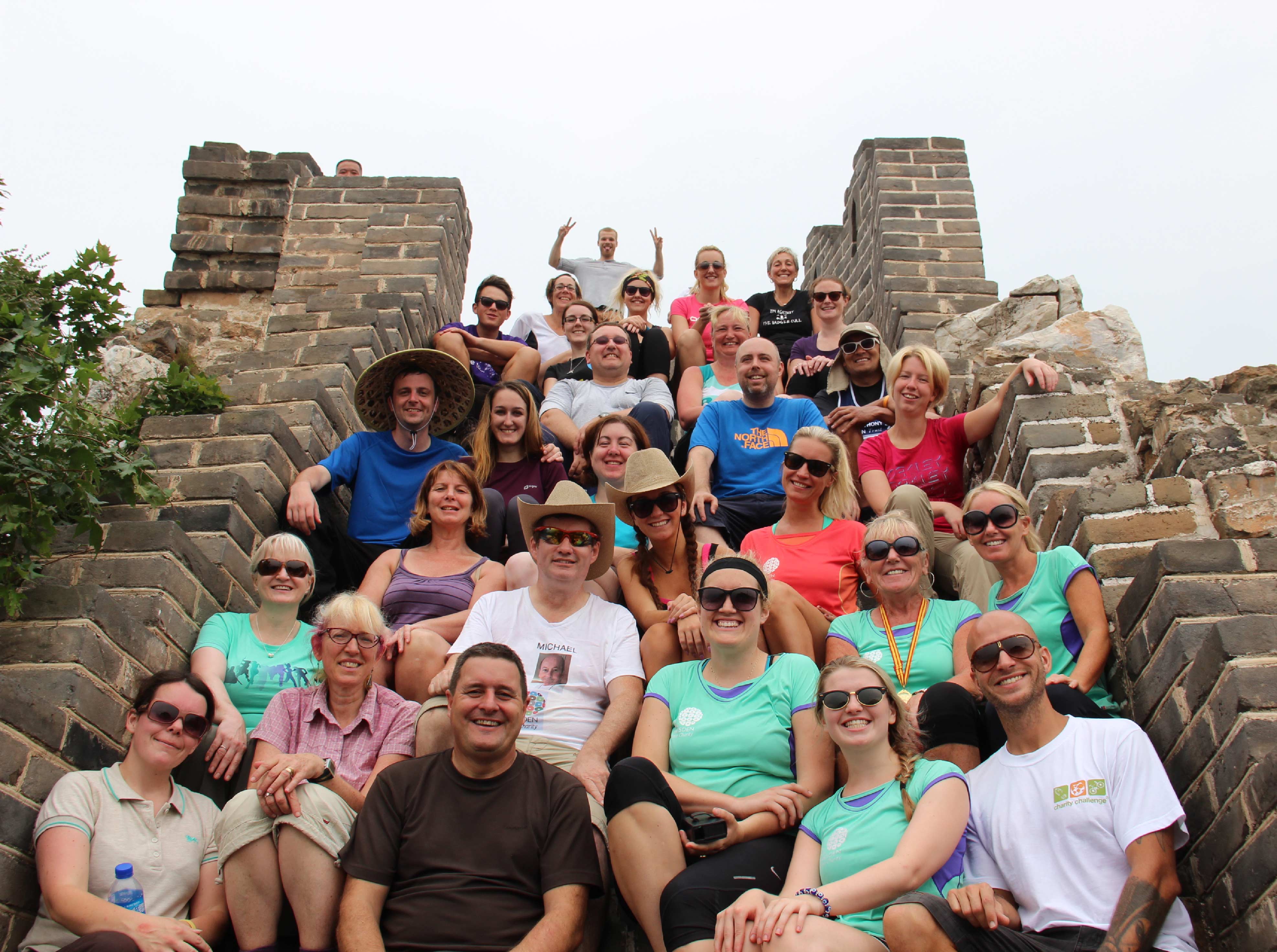 comfort of the bus. Back at impression lodge the staff out-do themselves, providing an excellent BBQ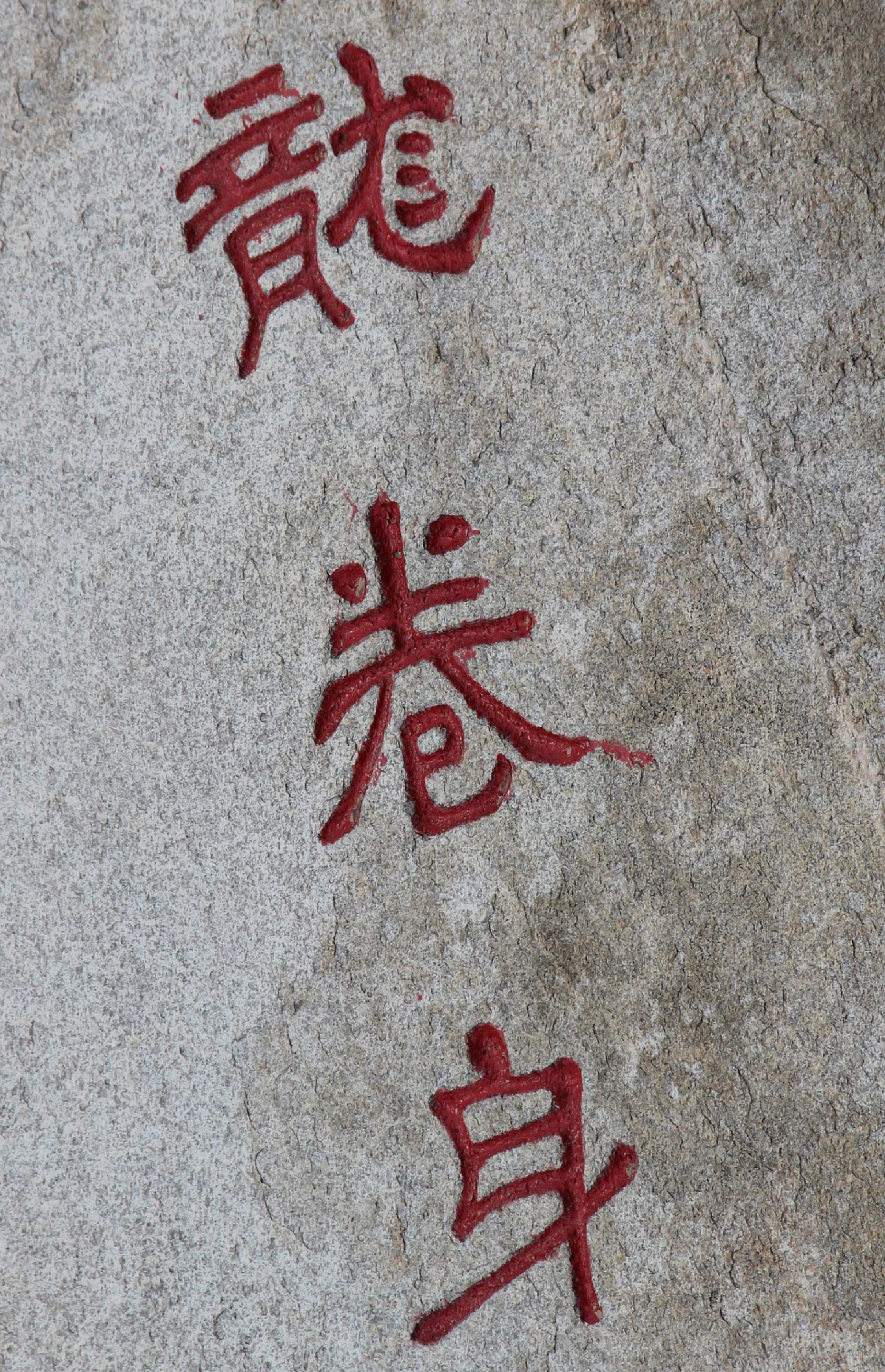 and a plentiful supply of cold beers to calm our nerves and reward our 1st day efforts. The night ends around a campfire in the courtyard, beers are flowing and the obligatory sounds of Gangnam style are on repeat. There may have even been a dance-off but hopefully that's one video of this trip that will never see the light of day.
Day 2 done and dusted, an eventful and memorable introduction to the unpredictable nature of china and the spectacular scenery that awaits us on the great wall.
THE GREAT WALL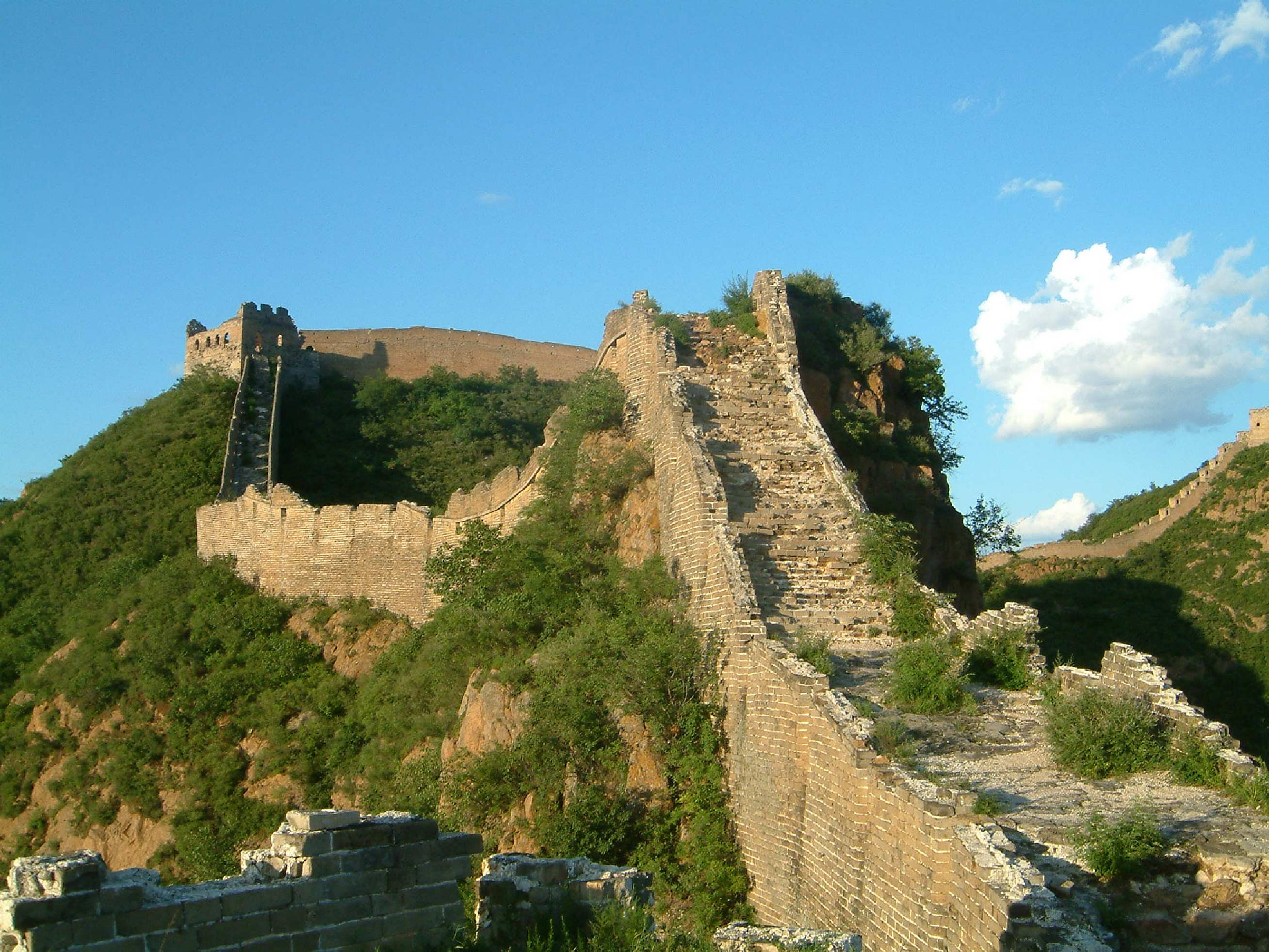 And so to the highlight of the trip, The Great Wall itself. There are still a few remnants of another boozy night but we set off in good spirits and jump on the bus to the sounds of Auld Lang Syne, which Impression Lodge have been playing on repeat for the past hour, perhaps to hurry us on our way, though Jason claims the Chinese version means 'friends forever'; either way, we are sad to leave Impression behind as they have looked after us excellently and we will stay friends forever, at least in memory.
We reach the Gubeiko gateway, our entrance to the wall, and enjoy an enthusiastic warm up
by Georgia and Elicia . Then the trekking begins, and it is a hot quick march up to the wall, which is not restored in this area and provides some exhilarating moments when you walk along narrow, crum-bling sections with drop-offs on either side. Those not wearing brown trousers soon are. Still, the views are absolutely magnificent as the wall snakes along endless mountains into the distance. This is the picture postcard image of the wall, the one google images offers you, the National Geo-graphic special, the money-shot. The haze has burnt off and it promises to be a hot and sunny day. We reach a restored section of the wall where the going is easier and the old watchtowers are re-stored to some of their former glory – they offer a welcome respite from the sun and we stop to lunch in one of them. Then the real fun begins as we have to meander off the wall and around a military base – this area is totally closed to the public so we take small village paths through corn fields and along ridges parallel to the wall. The scramble back up to the wall is slightly hairy as we negotiate a vertigo inducing narrow ledge with the wall on one side and nothing on the other – there's only one way to fall and it doesn't look pretty. Of course this is the moment Dr Fox chooses to call live from Magic FM for an interview with Denise, and I find myself running along the ledge with the phone in one hand and some-ones bag in the other. Being the pros that we are the interview is pulled off without a hitch and Denise is live on the radio from the Great Wall – a moment to remember. After climbing back onto the wall we proceed along a nicely restored section for another hour before reaching our destination for the night, Jinshanling. The Jinshanling Lodge is a large ramshackle place with lots of little courtyards which appear to be straight out of 'Crouching Tiger Hidden Dragon'. We have a good feed at dinner although it doesn't have the intimacy of Impression Lodge, toasts by drunken Chinese businessmen are swapped for toasts by other tour groups. After dinner Jason teaches us to write our names in Mandarin and threatens that there will be a test on this tomorrow night, which no-one is looking forward too. We then visit the paper-cutting family for a demonstration of this ancient Chinese art and everyone is suitably impressed to part with a few quid for a souvenir to take home. An early night tonight as it's been a long hot day, even Dave lays off on the beers.
JINSHANLING LOOP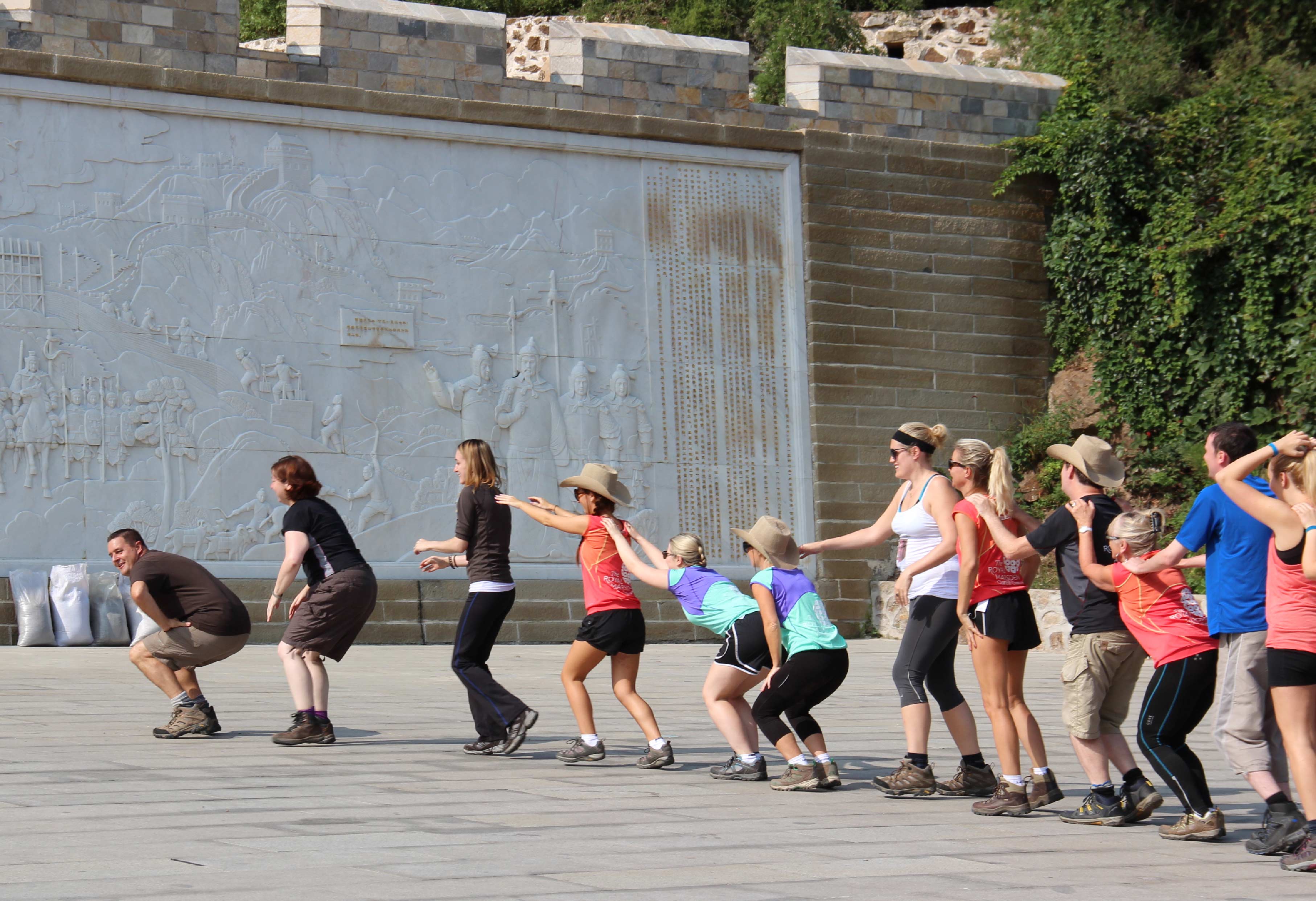 Another beautiful morning; not a cloud in the sky, just the ever present wall looming picturesquely overhead. Warm up duties today are performed in the shadow of the wall by the ever enthusiastic Dave; highlights include the funky chicken and pretend you're a cow – perhaps not the most physiologically sound warm up, but very entertaining nonetheless. Being suitably enthused we send a group "Get Well Julie!" Message to Dave's wife back home, who was meant to join us on the trek
this week but has stayed at home for more chemotherapy – just one of the many sad yet inspiring stories that have brought the group here and gelled them all together for this challenge.
We climb up to the wall and begin the now familiar pattern up ascending seemingly never-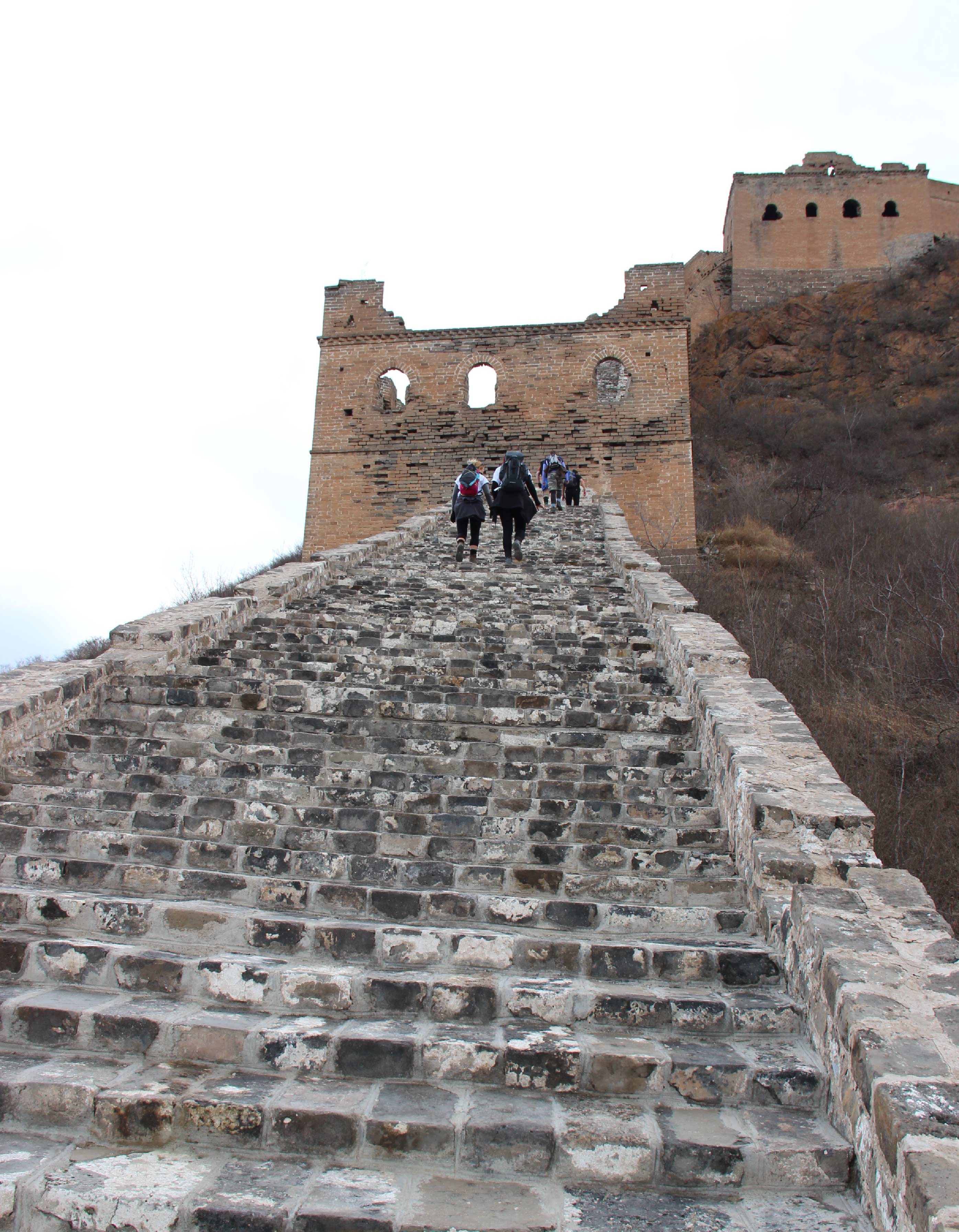 ending stairs and counting down watch-towers. Today's total is 15 towers, which we can see snaking off over the mountains into the horizon. The sun is beating down and it is tough going on some sections, but if you can manage 100 odd stairs in one sitting, then you can manage this. And everyone here can manage 100 stairs, certainly when they are as driven towards fundraising for their charities as this lot. We reach the 15h tower and stop for a well deserved packed lunch – those of us who still have energy to burn decide to negotiate 3 final towers towards the closed off Simitai section of the Great Wall. This is a section of the wall that is closed off due to renovation and these towers are really hard to access so it is up to the fittest members of the group to take up the challenge for us – step forward Catherine and Clare who return after 30mins without even breaking a sweat.
We re-group and head down to the bus where the ever vigilant Master Jung awaits us to take us 2hours to our nights' accommodation. We pass through a brand new town with mock European style townhouses, Dutch windmills, massive lake side villas and a huge egg shaped ho-tel/conference centre under construction. It all seems a bit bizarre to say the least, particularly when I learn that this massive building project throwing up a huge cloud of dust and pollutants is taking place here as it's an area with 'good air'.
Our lodge for the night is called Fairyland and has a large number of buildings dotted around a river in a gorge – quite a pretty setting. We explore the riverside decking which doubles as a bar, one of the restaurants where the food is decent and plentiful, and then on to the karaoke bar where the winners of the 'write your name in Mandarin' challenge are rewarded with a Charity Challenge buff and the losers are made into a karaoke team and perform a rather cringe worthy version of Fernando. Still, not as embarrassing as my version of Old Macdonald which warmed everyone up, but that's another story…
HEAVENLY STAIRWAY
Today we tackle the most tourist friendly section of the wall at Mutianyu, and the much anticipated Heavenly Stairway. It lives up to expectation with loads of stalls selling souvenirs ranging from Obama t-shirts to cuddly pandas to chopsticks; we run the gauntlet and manage to hold on to all our cash as we have a mission to accomplish. There is a cable car leading up to the wall here, and a toboggan run leading down from it, but as usual we're doing things the hard way, with nearly 1000 steps to ascend before we even reach the wall. Once on the wall it's relatively easy going, and there are lots of tourists dressed accordingly in flip flops and
skirts – we stamp our authority as hardcore trekkers with our walking poles and our boots. The path undulates along a few towers before the dreaded Heavenly Stairway comes into view – this is a continuous section of 300-400 steps leading straight up the mountain, seemingly into the heavens. It's a steep climb and a challenge for all, but by this stage we're old pros and we ascend with comparative ease to the sweating masses. At the top we have a round of high fives and a group photo, before heading back down, some of us braving the swaying cable car, others opting to rely on their own pistons. Our reward for the day's efforts is a footlong Subway and a decent coffee before we jump on the bus and head to a jade factory to see what it's all about…Well it appears the jade factory was all about making money – incredibly they had one piece on sale for $61,000, which not even Alan could afford. Still, a few trinkets were bought by a few of us and the tour made for an interesting diversion. We then made out way to our hotel for the night, Juyonngang Lodge, where the staff were rather mean and but the rooms were rather good so we forgave them for it. Jason scared us all at dinner with the briefing for tomorrow, which is apparently his least favourite day of the trek and involves a constant ascent. Sounds ominous.
BADALING
Badaling Badaling Bada-ling; it rolls off the tongue rather nicely don't you think. Well, Badaling Old Section is the location for today's trek, the final section of our adventure on the Great Wall. First, we have to find it, for the mists have closed in and it's hard to see more than 20metres. Still, Master Jung has the skills and the instincts necessary for any bus driver, and finds his way to the wall (in all honesty, it's very well signposted, even in English).
We stop for our tree planting ceremony, inspired by Chris Edwards, who's planting a tree in memory of her late husband, Mick. 13 of us think this sounds like a nice idea, so we also opt to partake, some of us choosing to commemorate a loved one, some of us looking towards the future, such as Steph and Chris, our honeymooners. The mists are still swirling around us and it makes for an evocative and reflective atmosphere, very fitting.
Tree planting done and photos taken we make our way to the wall, for the beginning of our last ascent. Unfortunately Jason wasn't fibbing, and we climb steadily for the duration of the morning. There are still mists all around and it's easy to lose sight of the people in front of you as you naturally separate into small groups of similar ability. There is the sound of shouting and beating drums coming up from below which is easy to imagine is the sound of armies advancing on our wall, though Jason assures its office workers on a day out.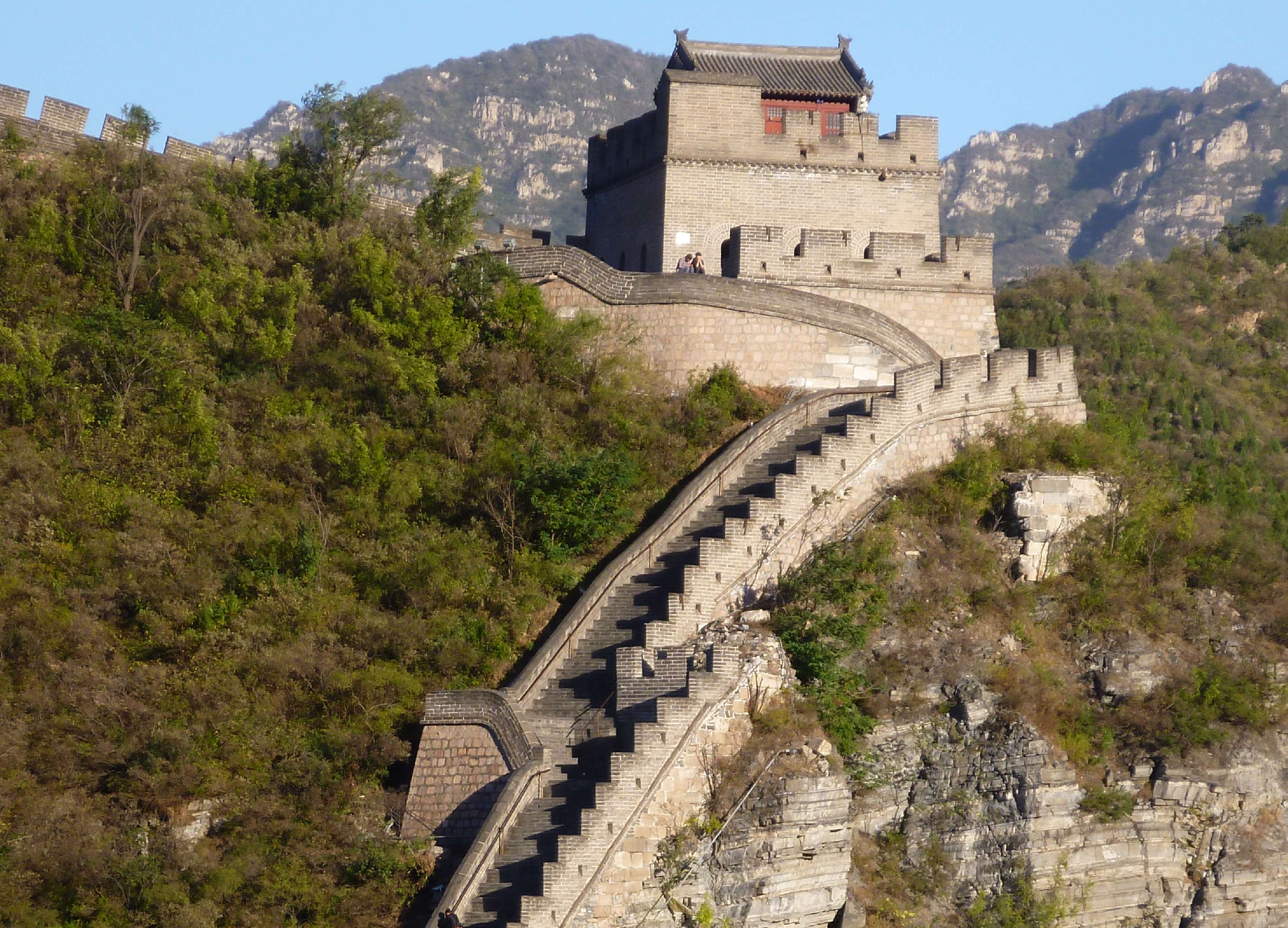 The mists clear as we ascend higher and the sun warms up and it turns into a beautiful last day on the wall. In these remote mountains the wall is not restored and it is easy to transport your imagination back centuries to when it was built. You can't help wonder if all this effort was completely pointless; there's no-one here to defend now, how many people must there have been when it was constructed millennia ago?! Still, it makes for very pretty trekking, and the deteriorated sections make a decent challenge for the final day's trek. We reach the top at about midday to an enthusiastic series of high fives and a few emotional hugs and kisses – it's been an incredible jour-ney for some of us to get this far, and I don't have the prose to sum it up sufficiently, you'll have to come yourself next year instead 😉
For more information on our Great Wall Discovery, please click here. If you have any questions on this challenge, please contact Jo, our Ops Manager on jo@charitychallenge.com. To see more information about the array of amazing challenges we have, please visit our website at www.charitychallenge.com. To keep up to date on all our challenge news, please subscribe to this blog. You can also enter your email address into the adjacent box to subscribe to our mailing list.