A fantastic update from our Cycle Machu Picchu to the Amazon Ground handler in Peru! Amazonas Explorer are well known for their support of the 1% for the Planet Organisation, whose mission is to build and support an alliance of businesses financially committed to creating a healthy planet, particularly in the area's that we cycle on our challenge.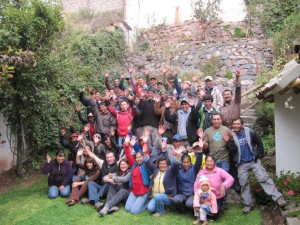 On the 10th and 11th  of December, Paul and his staff planted 20,000 native trees in the communities of Pampacorral and Quishuarani with the help of about 50 of their staff, porters, guides and drivers and around 500 locals from the communities.
They bought the trees direct from their own nurseries and paid everyone for a day's work and put on a fantastic communal meal at the end so the vast majority of the money invested in these tree planting events remains directly in the community.
The tree survival rate is over 95% so it's a highly effective campaign to help reforest seriously depleted native forest and preserve the natural habitat and watershed of the Lares valley. They took the opportunity to all camp at Lares hotsprings and on the way back, Carol, Juan Carlos Salazar (who many of you will know as one of our fantastic local leaders) and Paul hiked up to 4600m and cycled the sweetest single track yet – 1800m of descent to Huaran in the Sacred Valley over 2 hour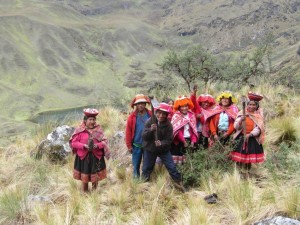 s of sheer fun I'm told!
Paul also appeared on local Cusco TV a few nights later to promote the projects and they are working on, and a short video due out soon.
Congratulations to Paul and the team for all their hard work on such a worthy cause!
If you would like to challenge yourself to a tough cycle at altitude in 2012 or 2013 or have a go at a bit of single track then follow the link through to our dates for the Cycle Machu Picchu to the Amazon Challenge; http://www.charitychallenge.com/challenges.html?all=0&cid=64463. To keep up to date on all our challenge news, subscribe to this blog and please enter your email address into the adjacent box to subscribe to our mailing list.