Denise Van Outen and Lydia Bright last Thursday completed their epic cycle challenge, cycling 430kms through Rajasthan, Land of the Kings. Despite the limb numbing nature of the challenge, the Essex Girls had only good things to say/tweet about their Indian Escapade!
"Just finished our 485km cycling challenge around India Bst experience of my life Ill never forget…a dream" – Lydia
"I would also like to thank @charitychall for making this trip possible. You never let me down! Best experience of my life" – Denise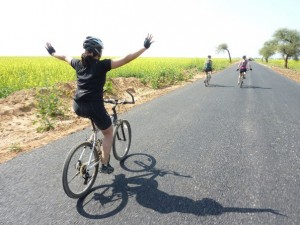 We're glad they liked it! And we're really pleased to see that, inspired by Denise and Lydia's fantastic effort, more and more people are taking an interest in the challenge and are keen to follow in their glamorous Essex footsteps. So if you think an Indian cycling adventure might be for you, keep reading!
The first day of our Rajasthan Tiger Challenge begins in the hustling bustling capital of Delhi, where you have a chance to soak up the atmosphere and explore it's labyrinth of streets and markets, crowded with exotic produce and a bewildering mix of people. Journeying on to Agra, the cultural exploration of India continues with a visit to the Taj Mahal, one of the most awe inspiring and extravagant monuments ever built. The serenity of the Taj Mahal is just the peaceful interlude needed before the real hard work begins!
Starting from Taj Mahal, the serene and classical Indian vision quickly becomes the wildest dream of a Mountain Biker, as the roads terrain turns from tarmac stretches, to country lanes to smaller more pothole ridden dirt tracks.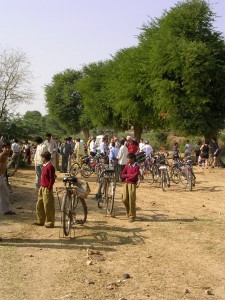 As days pass, the sheer variety of Rajasthan's roads is matched only by the beautiful and imposing nature of its landscapes. Your eyes can't help but stray from the road as you cycle through dramatic desert landscape, lively cities, tranquil country-side and old forts seemingly frozen in time.
On day 7 the roads and backdrop take a backseat to the spectacular array of Indian Wildlife that make their home in Ranthambore National Park. As your journey takes a meandering route through the park, keep your eyes peeled for sambas, cheetahs, wild boars, leopards, sloth bears, jackals, hyena and of course the eponymous and majestic Tigers, the namesake and symbol of this challenge!
On day 9, you're forced dig real deep for the final 80km stretch from Bhanderej to Jaipur. For many these final few hours are turbulent, as emotionally and physically you're spent, but glimpse of villages and locals waving to you in support spur you onwards on road to Jaipur. And what more jubilant place to celebrate the victorious end of the challenge than "the pink city". Jaipur is  Rajasthan's vibrant metropolitan capital, where colours, cultures and seemingly traffic combine as vegetable laden camel carts thread their way through the streets jam-packed with rickshaws, bicycles, tempos, motorcycles and traffic dodging pedestrians! If you've got the energy, there's plenty to do in Jaipur, there's lot of beautiful and historic sights to be seen or you can take a leaf out of Denise and Lydia book and hit the shops!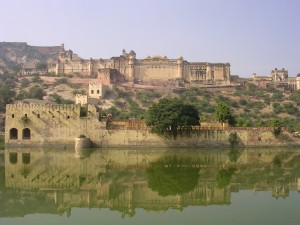 So if you've been inspired and want to take part in one of our Rajasthan Tiger Challenges, please click here to see all our available departure dates, and click on the date you're interested in to see the itinerary, costs, kit lists, and much more!
This month, in honour of Lydia and Denise epic challenge, we've also got a £50 discount on our Fri 15 February 2013 challenge, check it out here!
You can also click here to see a Lydia and Denise Essex eye view of the challenge, and watch this amazing video that was filmed on location in Rajasthan last year.
To learn more about all our challenge, please visit our website at www.charitychallenge.com, and to keep up to date on all our challenge news, subscribe to this blog by clicking on the orange RSS button, you can also enter your email address into the adjacent box to subscribe to our mailing list.