Throughout Denise Van Outen and Lydia Rose Bright's epic cycle challenge across Rajasthan – "Essex2India" – arranged in conjunction with Hello Magazine and Charity Challenge, our veteran tour leader, Trevor Gibbs, was on hand to make sure that everything went off without a hitch. Below is the first instalment of his reminisces of the fascinating, and eventful, journey that they undertook…
"My name is Trevor and over the past few years I have had the privilege of working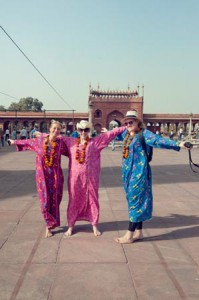 on a number of Charity Challenge trips throughout the world. My latest adventure saw me riding across Rajasthan with Denise van Outen and Lydia Bright, as they attempted to raise money for Great Ormond Street Hospital. The following is a brief glimpse into the incredible journey that they undertook…
The adventure began amongst the chaos of Delhi and, in particular, its old Muslim quarter. Built by the Mughal emperor Shah Jahan in the 17th century, the labyrinthine streets of Old Delhi still exude a little of the magic and mystery of a city that is all but lost now amongst the bustling thoroughfares of India's thriving capital. Once surrounded by high walls and dominated by the imposing majesty of the Red Fort, this is home to the magnificent Jama Masjid, India's largest mosque and a spectacular piece of Mughal design capable of holding some 25,000 worshippers. This was where our journey began in earnest, as we headed out to explore the rambling back streets by rickshaw.
The city was beginning to take on a party atmosphere, with tomorrow heralding the start of the Holi festivities and, as we negotiated our way through the meandering streets, making our way past ruminating cows, spice stalls and tea houses, we could sense that celebration and mischief were in the air. The first water bomb came out of nowhere and hit Lydia. The second covered Denise in purple dye. Then suddenly, from all around us, water and dye hit us from every side. Our gentle amble through the back streets had turned into an ambu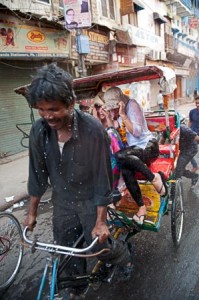 sh!
Now rickshaws are not renowned for their speed, or their manoeuvrability. Neither do they offer particularly good protection against a concerted assault from water bombs and buckets. As water and paint rained down on us we made a frantic, but ultimately futile dash for safety. By the time we finally escaped the alleyways of Old Delhi we were a bedraggled and bemused mess, with Denise and Lydia bearing the brunt of the afternoon's onslaught. Conversely (and bizarrely) our team photographer, Gareth, had managed to run the entire gauntlet unscathed. Whilst the rest of us looked as if we had just swum through blancmange, he still sported a pristine T-shirt and a sparkling camera. The Lord Vishnu obvious had his favourite!"
To find out more about Trevor, and read more blogs of his adventure, please visit his website at www.agamaconsultants.co.uk. Also, if you loved these vibrant pictures of the team exploring India, you can visit  (the before mentioned Lord Vishnu favo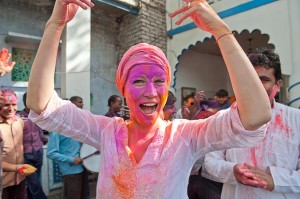 ured photographer behind these great images) at www.garethgatrell.com.
To learn more about all our Rajasthan tiger Challenge challenge and many more, please visit our website at www.charitychallenge.com, and to keep up to date on all our challenge news, subscribe to this blog by clicking on the orange RSS button, you can also enter your email address into the adjacent box to subscribe to our mailing list.