Jungle trekking is a great way to explore the jungle and to get closer to the sounds and sights of such an amazing eco-system. For many, the Jungle represents the ultimat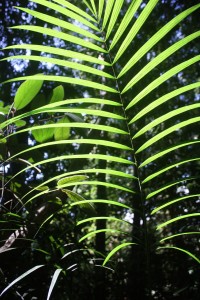 e getaway from the mundanely of the office and urban living, but it's important to remember that every jungle is different.
Here at Charity Challenge, we offer 3 tropical and totally unique jungle Challenges.  So if you know you want to take on a jungle but are not sure which, then the below guides will hopefully help you decide which challenge is for you!
THE SUMATRA JUNGLE TREK

 Challenge in a Nutshell: On this this unique 11 day jungle Challenge, you take on a challenging and truly exotic itinerary that entails 6 days of hardcore jungle trekking, camping in the rainforest, tracking wildlife, river walking, meeting local people, tubing down the rapids of the Bohorok river and a taking some time out to visit the Gunung Leuser National Park's Orangutan feeding platform, where you can observe these beautiful creatures in their natural habitat.
Terrain: Lots of Steep accents and descents, as our Operations Manager Jo said, "It's easy to see why Tarzan swings through the trees on vines, as navigating through the tangled tree roots, vines and creepers of the jungle underbrush is quite tricky."
What will you see: In our Sumatra Jungle trek you will of course see plenty of Orangutan activity not to mention a diverse landscape of Flora and Fauna. The Sumatran jungle is teeming with wildlife, such as the Macaques, Horbills, snakes and the infamous punky haired Thomas Leaf Monkeys.
What to be aware off: the Sumatran Jungle is the home of the endangered Orangutan. You will need to be aware that sightings will be down to your own behaviour and a lot of noise will only scare them away.  There will be leeches and so tiger balm is a must. You will be trekking in the deepest parts of the jungle and river tubing through grade 1 -2  rapids so practising those butterfly strokes would not go a miss.
Jungle Highlight: It has to be seeing the Orangutans at the Bohorok Feeding Platform. At the feeding platform you will be able to see the semi-wild orangutans in their natural habitat. The free-living orangutans are normally fed twice a day at the feeding platform. They are offered a deliberately monotonous diet of bananas and milk to encourage them to forage in the wild. It is a once in a life time opportunity to see orangutans in their natural habitat. If you are really lucky you will also get to experience the wild orang-utan in their habitat deep in the depths of the jungle.
To learn more about this amazing challenge click here!
THE CAMBODIA JUNGLE TREK
Challenge in a nutshell: This invigorating 11 day trekking challenge in the South West of Cambodia combines jungle trekking with cultural history as you pass through hilly terrain still largely covered by dense tropical forests, numerous waterfalls and caves along with a visit to a 500 year old burial site and a chance to learn more about Cambodia's bloody his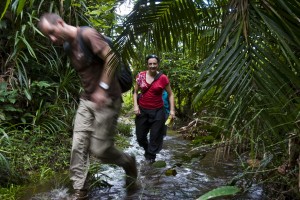 tory under the regime of dictator Pol Pot in the 1970s. The region remained closed to tourists for decades and has only recently opened, so if you book onto this challenge you will be the amongst the first to explore Asia's next big trekking destination.
Terrain: In contrast to Sumatra, the terrain you'll experience in this trek is primarily undulating, switching between dense tropical rainforests and more open grasslands.
What will you see: This area is still unique in its unfamiliarity with western travellers. Whilst staying local villagers in home stays, you will have the opportunity to hear first hand stories  of the bloody history of the area. You will also certainly have the chance to see some rare and exciting nature, such as hornbills, elephant footprints, Macaques and (unfortunately for some) Leeches!
What to be aware off: Cam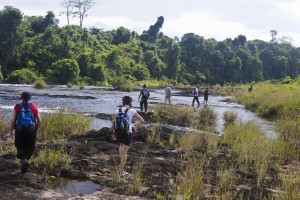 bodia is unfortunately the jungle of the leeches, and the place is teaming with them! But there are many tricks you can learn to deter leeches. Tiger balm is an excellent leach repellent, you will also be equipped with Leach Socks, be sure to keep walking and not lean on anything in the rainforest. If you need to stop and take a rest, find a spot with direct sunlight, as leeches do not exist in dry and hot places. Typically you'll find Brown Leech on the ground and tiger leech on the tree leaves. A Tiger leech bite is more painful than that of a Brown Leech, the bite marks can be permanent too.
Jungle Highlight: The Cambodian Jungle is undeniably lush and spectacular, but this trek is all about the culture. Going to Cambodia would not be what it was without learning about the devastating history of the Khmer Rouge and Pol Pots Regime at the Tuol Sleng Genocide Museum. Meeting the locals in Chi Phat with their smiles and experiencing real Cambodia  as you spend a couple of nights in homestays with the local villagers is a memory that will stay with you for every.
To learn more about this fantastic challenge click here

THE THAILAND JUNGLE EXPEDITION

Challenge in a Nutshell: Our Thailand Jungle takes place in the epitomised rainforests in western Thailand's Kanchanaburi Province, location of the infamous Death Railway and Bridge over the River Kwai. The challenge will take you through the rugged jungles in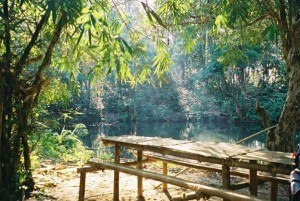 the remote border with Burma, and you will experience a classic jungle adventure as you trek, raft, kayak and ride elephants through the forests and mountains of the Thung Yai Nareusan Wildlife Sanctuary.
Terrain: The jungle expedition in Thailand is more established than the previous two, and entails trekking form village to village on a terrain that is undulated and steep at times. You will also trek through rivers and experience the beautiful mountainous bamboo forests.
What will you see: During this trek you'll have the opportunity to see lots of exciting wildlife and Jungle flora and fauna. On day 9 of the trek you'll even have the opportunity to see elephants up-close at the riverside elephant camp.
What to be aware off: You've got to stick together in the jungle, if you get behind by only a few feet and you could lose sight of the group behind the trees.
Jungle Highlight: Many of our previous Thailand challenges tell us that their favourite part of the challenge was meeting the Karen people, who traditionally live in bamboo stilt houses and at campsite on the ban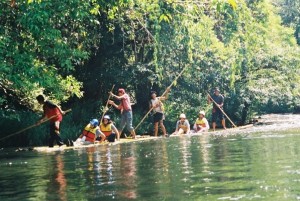 ks of the river, and experiencing their way of life. Also Kayaking down the river Kwai on Bamboo or Rubber Rafting is a real thrill!
To learn more about this classic challenge click here!
So if our jungles have inspired you, you can find out more information about them on our website at www.charitychallenge.com. To keep up to date on all our challenge news, both jungle and not, please subscribe to this blog and enter your email address into the adjacent box to subscribe to our mailing list.