Operations Manager Phili Newell headed to Indonesia earlier this month to tackle Mount Rinjani, on our Lombok Lava Trek. Here is her account of the 10-day adventure.
As I touch down in Lombok Praya International airport; I am unsure what to expect of this challenge but as I breeze through immigration and see the smiling face of our local leader Brice, all feelings of apprehension are alleviated; and even more so as within the hour I find myself beachside for a delicious local fish dish in the small town of Sengiggi.
I am pioneering and on recce trip of one of our newest challenges, the summit of Mount Rinjani.  We journey along the coastline and at some point I wake up from my jet lagged slumber to find we've turned inland and towards the mountain. Finally we reach our destination and I see for the first time the top of the "hill" peeking out through the clouds. Dusk falls, clouds part and the sun sets bathing the formidable Mount Rinjani in a mystical light and I realise that my initial assessment of this "hill climb" could be wrong. Rinjani stands at an impressive height of 3,726m the tallest volcano on Lombok and as I will find out one of the toughest to summit.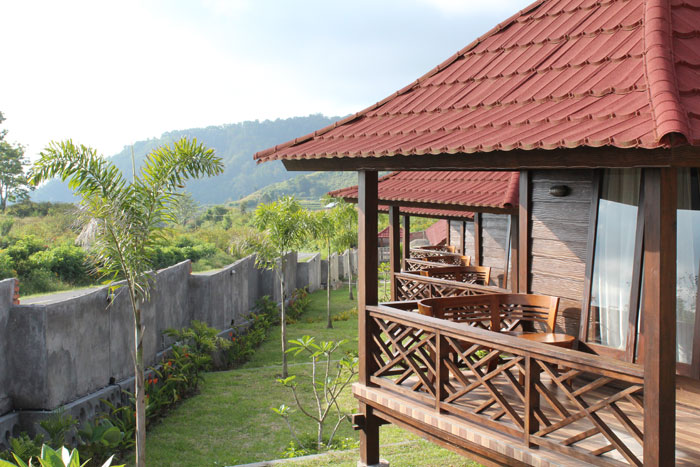 Next on the agenda is to meet with our local Sasak guides and porters, the team that will be our support for the whole trek. They are friendly from the offset, their knowledge, passion and physical abilities on and about the mountain are second to none; and the chef makes a bloody good chicken curry. After briefs from Brice and the local guide to the rest of the support team and learning about the legend of Princess Anjani (Putri Anjani), after which the mountain is named; I am glad to roll into my bed.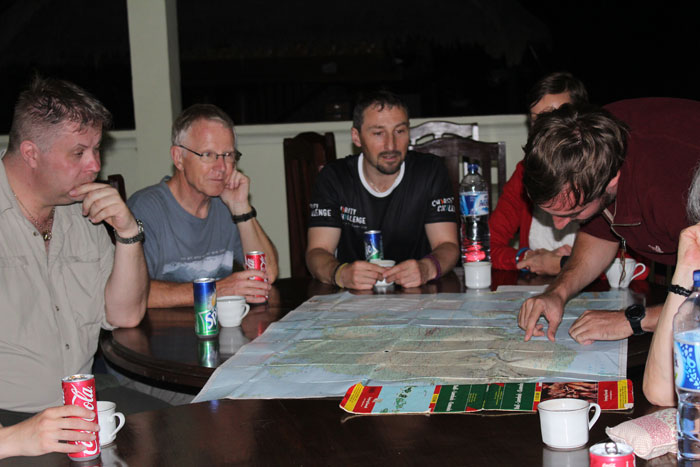 A day of exploration and planning lies ahead. Brice and I meet with Sar and he shows us the sights of Sembulan, a traditional village surrounded with fertile agricultural lands that sit in the foot hills of the now green lava fields. We visit the volcanologist's centre to reassure ourselves this thing isn't going to blow any time soon – it's not by the way, only the small one inside might, it's in the risk assessment.
The group have arrived and it's only taken us a few hours and decent meal to know that we are going to be a tight team and this challenge is going to epic.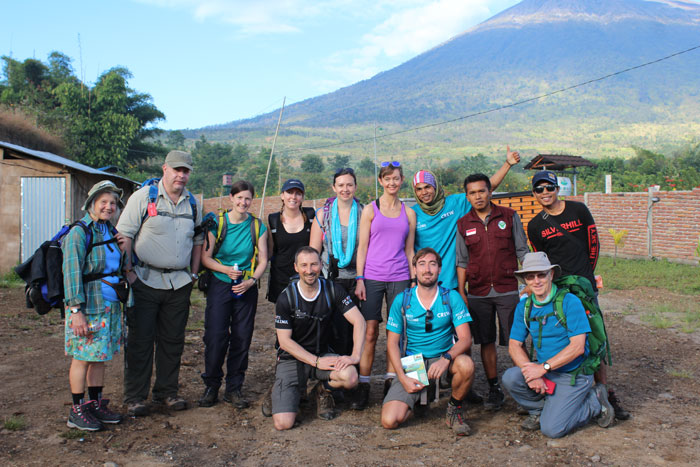 Briefs done, kit checked, bags packed, sun screen applied, water dispensed and that's us ready to hit the "hill". An early start is in order to beat the midday sun on the savannah in the foot hills of the Mount Rinjani. The undulating terrain is pleasant and the views spectacular, but the heat and humidity is stifling. I can see the glistening brilliant blue of the Bali Sea, the Lombok and the Alas Straits and across the way the silhouette of Gunung Agung in Bali. It's these views that keep my mind off the task at hand, I also stop to take a lot of photos/catch my breath.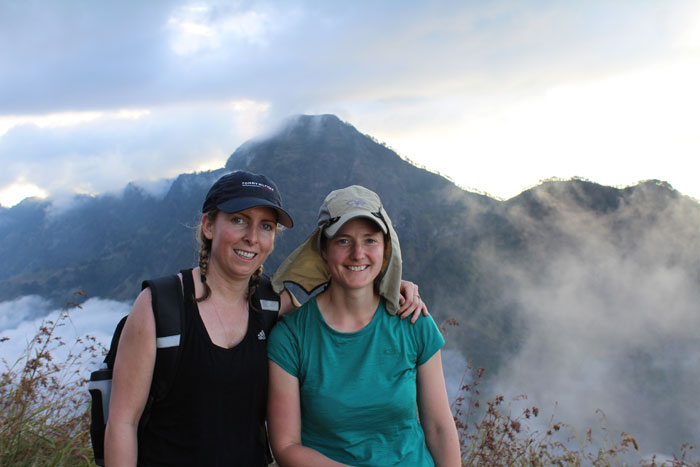 Luckily after lunch and for the steepest climb of the day (actually it's been up hill all the way) the clouds have rolled in providing us with some much needed coolness. Finally the rim is in sight and we arrive into camp as the sun sets over the crater lake.  A slap up meal and early to bed for all of us, we'll need all our strength for the summit.
We've all read the trip advisor reviews and reckoned that the people who wrote the review must have been a bit wet – I mean really how hard can this summit be?!
01:30am, it sounds like a gale is blowing outside and I'm pretty cosy in my sleeping bag, I don't really want to move but I tentatively poke my head out of the tent door to be greeted by Eric (one of our chefs) holding out a cup of coffee and the best jam sandwich I've tasted in a while. I imagine the rest of the team are going through a similar thought process as I've just been through, but when we set off morale is high.  It's time to tackle this summit. The first section isn't actually as bad as I thought it would be, it is dark and cold but I seem to have covered some ground. 2 hours into the climb, I'm thanking our amazing porter team for the light breakfast they provided before we started.
3 hours later, 1 step forwards, 3 slides back. I'm talking to myself, cursing ever so slightly under my breath. Walking up this ash and loose rock is beginning to feel like a reoccurring nightmare, and I have no idea if I've made any progress. I've lost all sense of time, but it is still dark and it is still cold. This is a mental game to reach the top and sure enough before you know it, I'm there, gratefully high fiving some of the more speedy of our team. We've made it for sunrise and as we marvel at the scenery all around, tea and biscuits appear. I love these guides!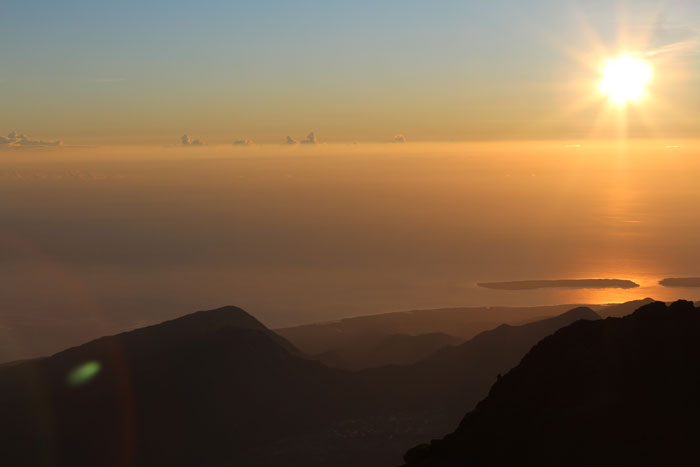 The way down from the summit is easier for the most part and once again we are greeted by our support team for a second and bigger breakfast. Around about 10:00am it's onwards and downwards to our camp by the lake, Segara Anak. Although its downhill, it's pretty steep and our legs are feeling the burn so we are all looking forward to a much needed soak in the hot springs.
That evening we sit around the campfire and reflect on the day's achievement, yep made it to the summit of a volcano, trekked for another 9 hours, bathed in a natural hot spring, eaten delicious meals; seen several shooting stars and the milky way – does life get better than this?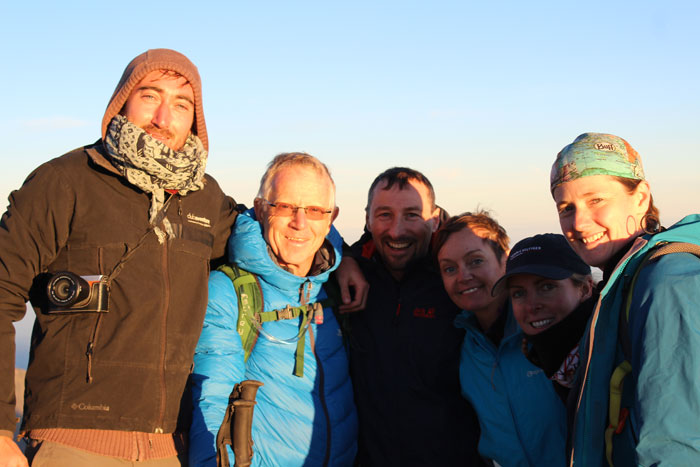 The next couple of days see us venturing into nature's "spa resorts". The natural hot springs have carved out caves which become steam rooms; caves that have magical healing powers that can make your wish come true but only if your return to honour it otherwise be damned forever.  It is our last night under the stars so we have a full team dinner with our guides and porters and do some short speeches to say thank you – as let's be honest here – none of us were getting through this challenge without them to help us along the way.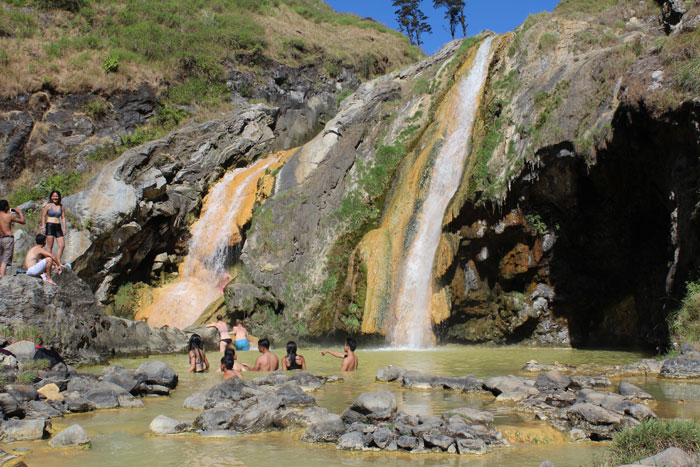 The final day of the trek, the route we take is little known to many groups, so it feels as if we are truly alone in the wilderness and this route is only for us.  The views are stunning, waterfalls, river crossings and ladders largely sum up this section of the trek. Some vertigo inducing heights, but always with a solid team to support you and at your side, there is nothing that we can't achieve together.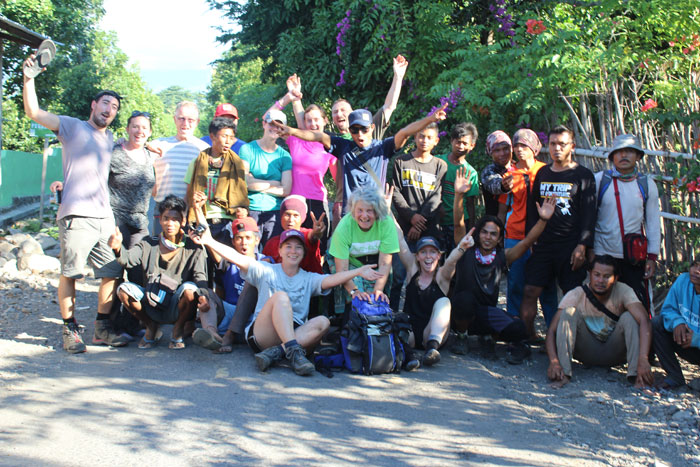 This has been an amazing trip not only for the vistas and the challenge, but for all the people I met along the way, the inspiring stories from our guides and porters. We all had our own reasons for taking part in this challenge but we all did it together.
Have you been inspired to summit one of Indonesia's highest peaks? Visit our website and sign up today!