Another early rise to head off just as the sun rises, although today we have a sli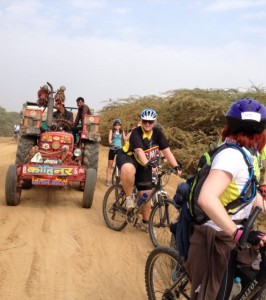 ghtly warmer start to the day. Leaving from the Maharajas Palace, Matt picks up the pace from yesterday so we have a chance to warm up, and then throws us in at the deep end to ease the tenderness of our bodies form the day before. With Raju supporting the back of the group, he finds that on today's cycle more of us seem to stay back and chat with him…maybe due to his charming personality, or perhaps it's because  of yesterday gruelling ride taking its toll on our bodies and energy levels.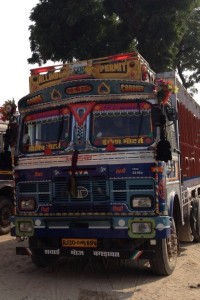 A busy start again through Karauli.  Today's eye captures the excitement of the trucks with their colours and decorations. After our first snack break we hit some road works which had dumped the whole of the Sahara desert on our Rajasthan route! 20kms of cycling through soft deep sand was an unexpected experience. As the thighs start to burn, we slip and slide and the chatting comes to a halt as our concentration grows 10 hours in, and the afternoon becomes slightly more managea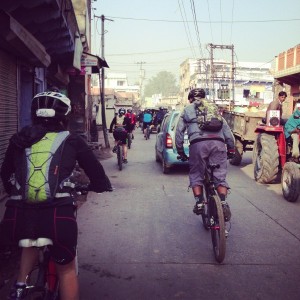 ble on the road, we reach our Hotel in preparation for our Ranthambore Tiger Safari tomorrow morning. Another 5.30 am start for us – ouch! But maybe we will spot some Tigers?? Check tomorrow to find out…
So To hear more updates from Jo in India, stay tuned to this blog! Whilst she's out in country, you can get in touch and follow Jo via her twitter feed at @jojowarren82
you can also find out more about the challenge she is embarking on – The Rajasthan Tiger Challenge! – by clicking here. To see more information about the array of amazing challenges we have, please visit our website at www.charitychallenge.com. To keep up to date on all our challenge news, please subscribe to this blog. You can also enter your email address into the adjacent box to subscribe to our mailing list.