After being lucky enough to join the dog sledding trip at the last minute I had no pre-conceived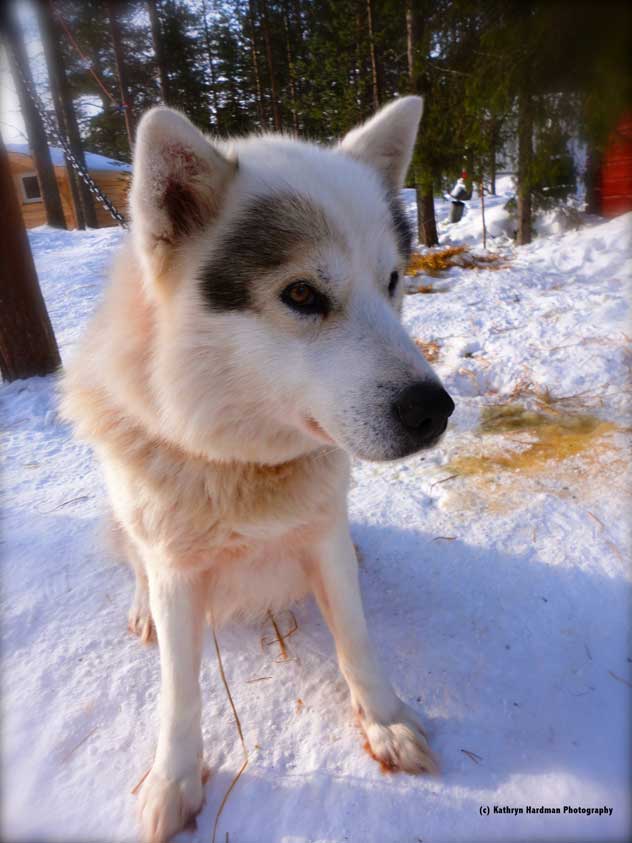 ideas as to what to expect, all I can say after doing it is…it was amazing!
The peace and tranquillity that you experience is second to none and the camaraderie amongst the group really made this trip a once in a lifetime experience.
After meeting the group at the airport there was the initial drama, after as one member of the group lost her passport and tickets before we even checked in! Frantically phoning the hotel to see if she had left them there the night before, she realised that she had put them in a very safe place; in the hidden compartment of her bag, of course! With two hours to spare we made the most of the last minute shopping and snack buying!
After a 2 hour flight to Stockholm, the group piled off the plane and queued up to go through the passport control, where upon Kirsty, who had previously lost her passport announced she couldn't find it again! Drama ensued again, apart from this time it wasn't hidden in the secret pocket! Thankfully the passport control staff and local police saved the day and were very helpful and escorted her back on to the plane where it was finally found in the pocket of the seat! Phew! It was then time for a well-deserved lunch.
Our next flight up to Kiruna, 200kms above the Arctic Circle was stress free. We were greeted by Kent and Jordana, our amazing leaders for the week, who whisked us away to our hotel in Kiruna, and after a speedy check in we headed down to the bar for our briefing and a well deserve drink. We also had to make the most of our last shower, as we would be reliant on wet wipes for the rest of the trip.
The following day we stopped off at the world famous ice hotel in Jukkasjärvi, and had a great guided tour. This hotel was the first of its kind in the world, and is re built from scratch every year using large blocks of ice cut from the Torne River, which is located next to the Ice Hotel and each block is completely unique. Artists from all over the world bid to have their designs picked for the luxury rooms which are built in their own individual style. The hotel is kept at a constant -5°C, I'm not too sure I'd want to stay there!
We then continued on to the kennels to meet our furry friends for the rest of the weeks challenge, and after a hearty lunch it was time to be kitted out in our warm weather gear and have a full safety breifing briefing on how to harness the dogs, and how to drive the sled. With Kent hurling himself on to the ground whilst being pulled along by Jordana, they finally showed us what to do if you tipped your sled over. we were hanging on his every word whilst trying not to cry with laughter, most of us failed in this task.
It was then time for us to actually put what we'd just learnt to practice, and we very slowly
harnessed up all of our very excited dogs, and by the time we were finished the sound of them barking was like nothing I have ever heard before. After a final check we were off, most of us started slowly, worried about tipping over, but after about 10 minutes of getting used to the speed of the sled and figuring out how to brake, all of the worries disappeared! As far as the eye could see we were surrounded by a thick blanket of snow, which glistened in the sunshine that we were lucky enough to have all week. The pine trees popped out, to add an extra dimension to the perfect Christmassy landscape, and to top it off we occasionally had a reindeer running by…what more could you ask for.
The thing that got me the most was the complete silence, the only noises that you heard were the dogs paws pounding through the soft powder snow, the whooshing of the sled and the occasional shout if someone got distracted and fell off their sled – which happened quite a lot at the start of the trip! We got used to stopping and waiting for the person to right their sled  and then once they were up and ready and had managed to remove their snow anchor, we would trundle off again. We were only out for 25kms today which was our shortest run as we had to get back to the cabin before dark. I say cabin but what I really mean is an uninsulated traditional wooden tepee, with only a central log fire for heating. But before we could get settled in our 'luxurious abode' for the evening it was time to take care of the dogs. We had to unharness them, put them back in their kennels, prepare their food, clear up the poo in their kennels and then finally chop the wood for our fire that would keep us warm tonight.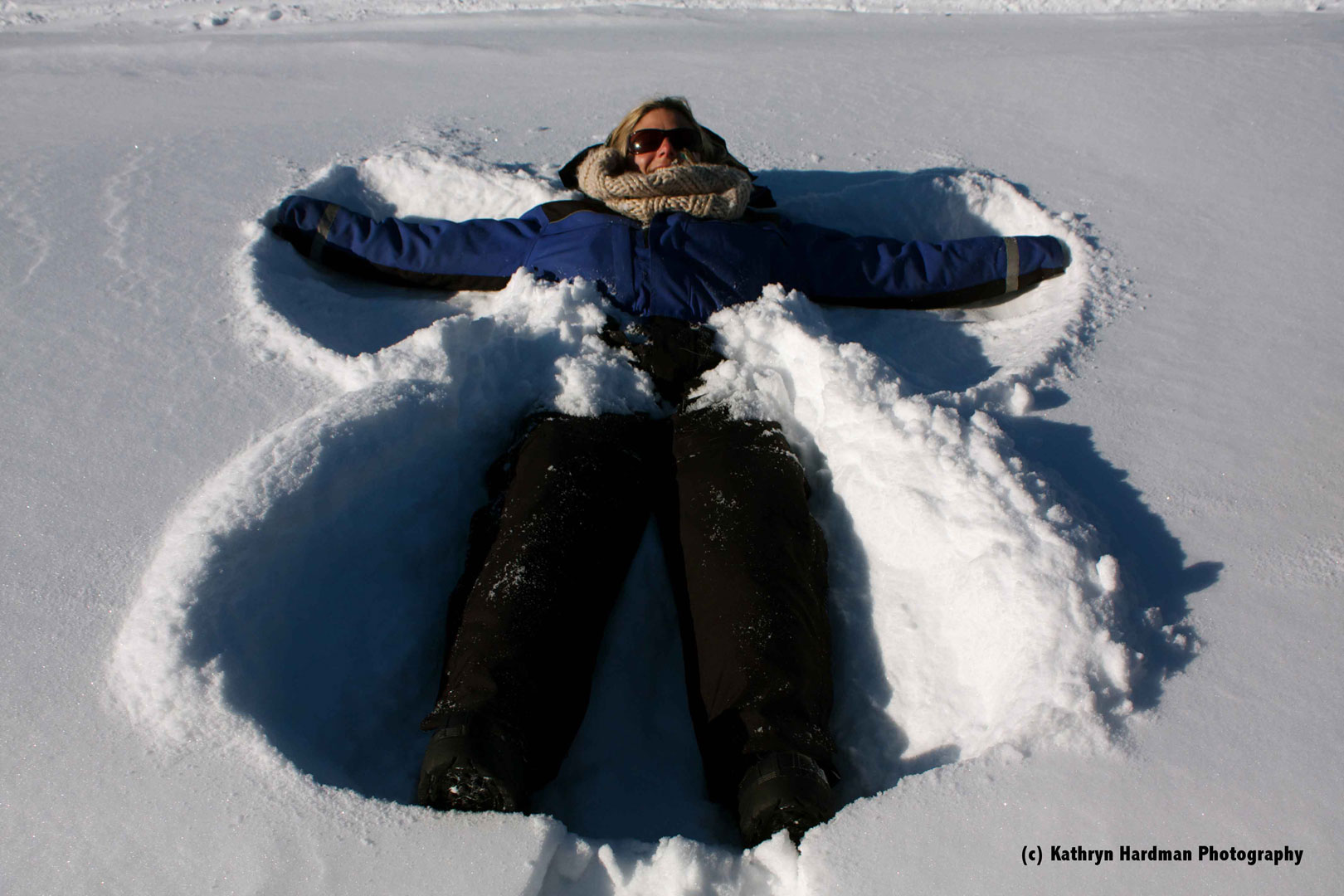 We all piled into the tepee, as by this point the temperature had dropped to -25°, so it was a welcome relief to have a hot dinner waiting for us and a lit fire to warm our extremities. We all made a last minute dash for the loo which was a hut on the other side of the yard before being physically tucked into our 2 sleeping bags that we would have to use tonight. I am so glad that they provided an extra one, as I do remember waking up, I think it was with Rob's snoring and feeling ice on my buff that was over my face for warmth. Brrrrr…
The next day after a good night sleep it was time to set off in to the wilderness and this time we weren't coming back, well not for four days anyway! The next four days were a totally amazing experience as  we mushed over 200kms. We chopped fire wood, in fact Jamie was a demon when it came to chopping anything, however Kate did give him a run for his money when it came to chopping the dog meat. I have to say I was a pansy when it came to slopping the dog food into the bowls, so we helped each other out when there were tasks that other members of the group struggled with.
We were all gaining in confidence and even starting to run alongside our sleds to help the dogs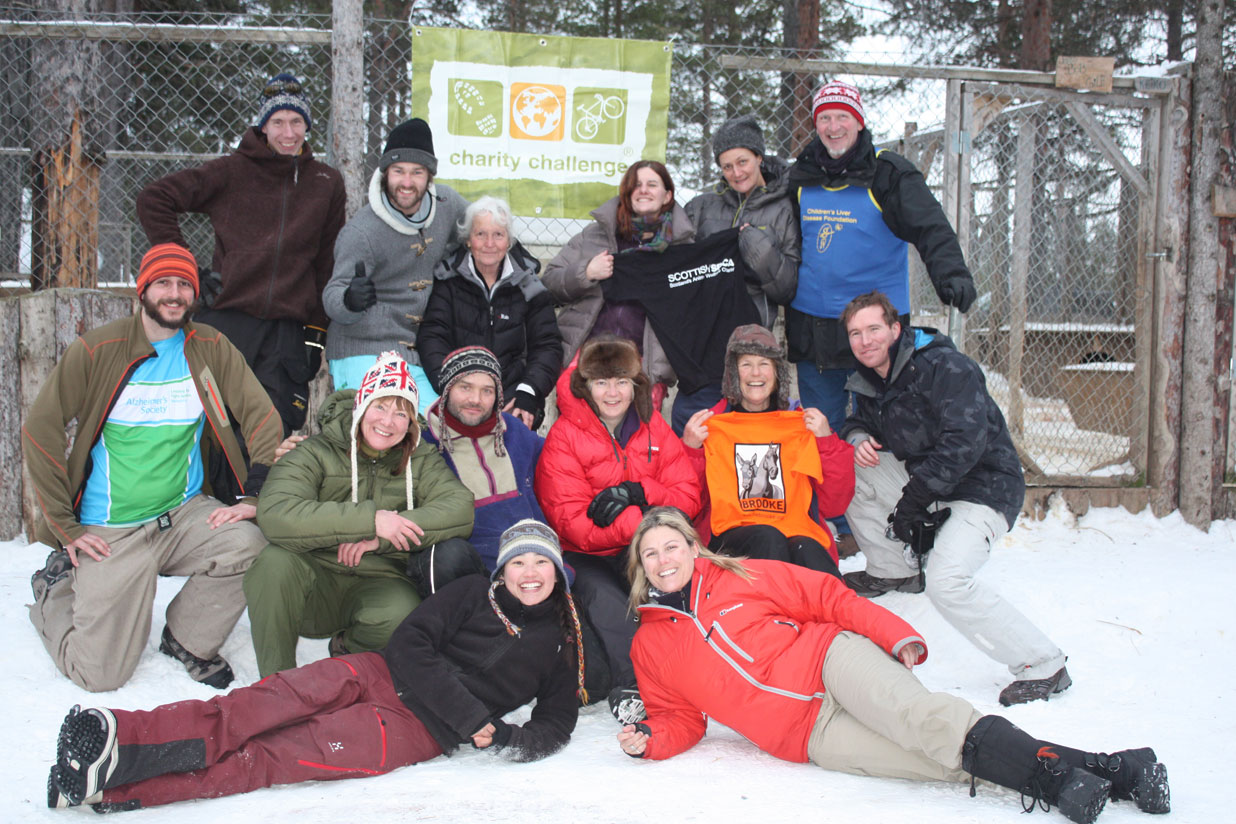 out up the hills. I even thought it would be a good idea to hang off the back of the sled whilst trying to get a good shot of Nick's dogs and promptly ended up face down being dragged through the snow whilst desperately trying to put the brake down. I did get the shot so it was well worth it!
Our evenings in the cabins were spent talking about what we had seen during the day and trying to outdo each other with the highlights of the day. This was until Barry came up with a corker of a story which included a flying reindeer that he had encountered. At this point we all started looking around for the illegal substances he must have taken to concoct a story like this…"a flying reindeer", we all said in unison! The story began as Barry came around a corner, there was a reindeer standing in his path and the only place for it to go was towards him… the next thing he knew it was sitting on his sled. Sitting may have been a bit of an exaggeration but I couldn't figure out when I came round the very same bend there was a very dazed and confused reindeer trying to figure out what had just happened! Barry was sta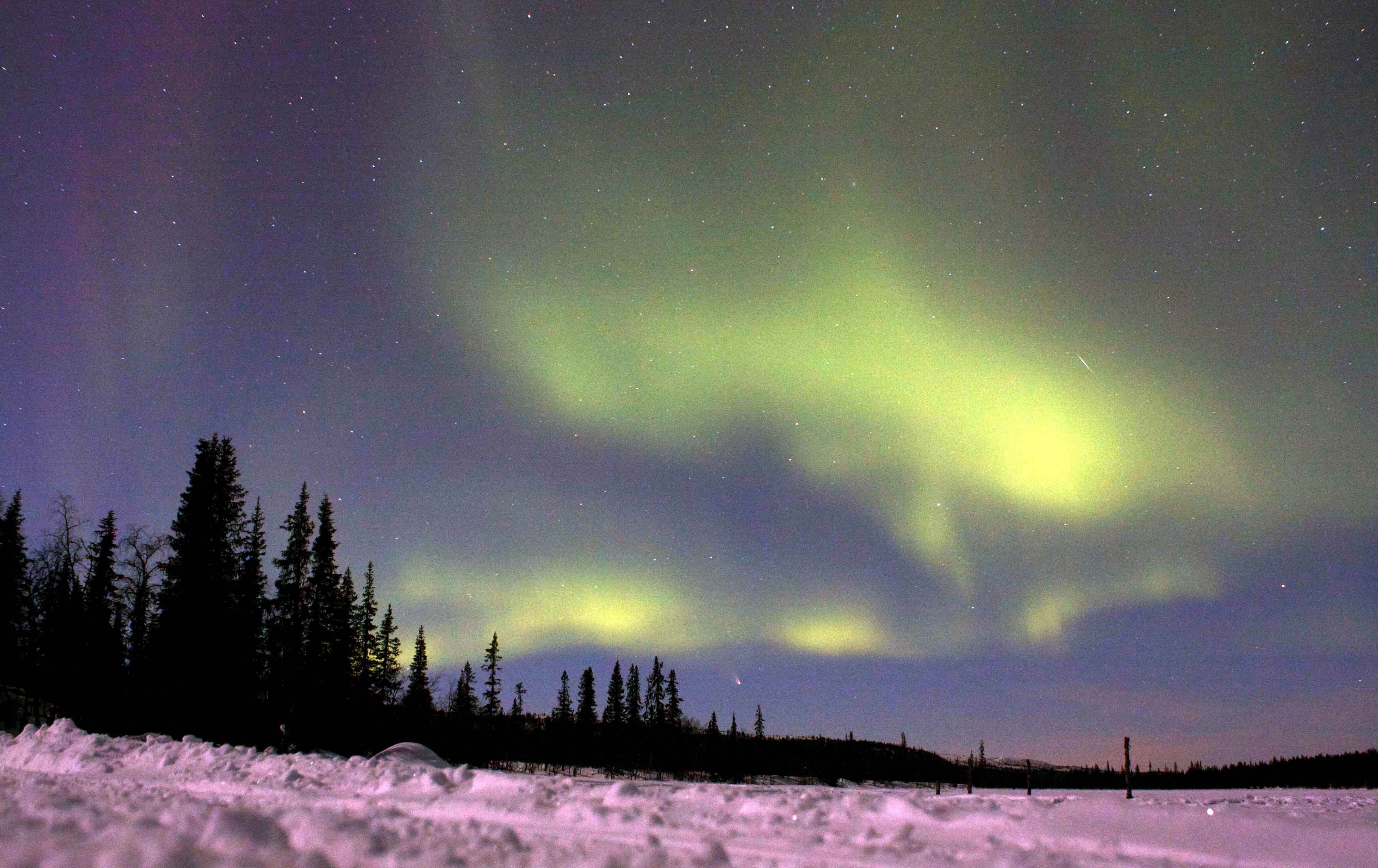 nding there, mouth ajar, also wondering what had just hit him…I think the answer in this case was a flying reindeer! Then next thing we know we are being called outside to have a look at one of the most breathtaking things I have ever seen, the natural phenomenon of the Northern lights. We had seen it the previous night, just faintly, but this was amazing and so much brighter than I had ever imagined. A real once in a life time experience. It didn't matter that it was -25° outside – we didn't feel the cold. I really didn't want to go back inside but it was either that or freeze to death!
I could go on forever with other highlights – if you are sitting on the fence, what are you waiting for, sign up today! It is not the most physically demanding of our challenge portfolio but it tested me to my limits in other ways. The group of people on this trip were fabulous and it would be an absolute pleasure to travel with each and everyone of them again.
You can also find out more about the Dog Sledding Challenge by clicking here. If you have any questions on this challenge, please contact Kathryn, our Ops Manager on kathryn@charitychallenge.com. To see more information about the array of amazing challenges we have, please visit our website at www.charitychallenge.com. To keep up to date on all our challenge news, please subscribe to this blog. You can also enter your email address into the adjacent box to subscribe to our mailing list.