Before even meeting my great wall trekkers, I sensed a friendly, sociable and self motivated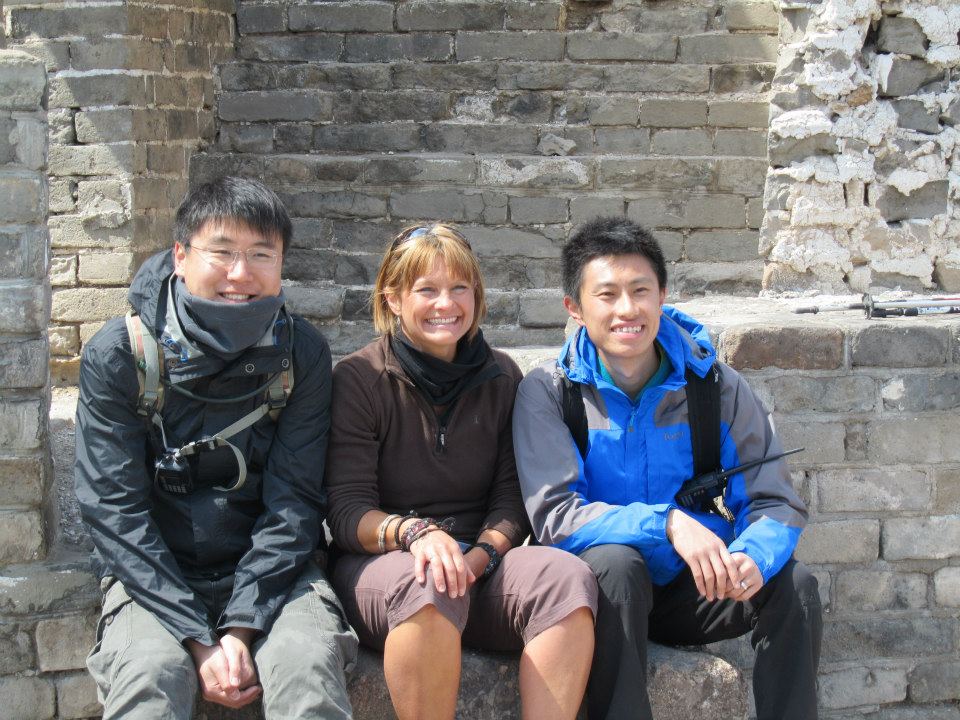 bunch as I approached the collection of people sprawled on the floor of Terminal 3 chatting excitedly.
As we trekked along the wall, climbing up steep ledges and clambering over broken stone steps, the real life stories started to emerge.  By the end of the trek, I realised that I had been incredibly privileged to spend such a memorable time with such an inspiring group.
Margaret, Kerri and Andy Chapman were a pleasure to spend time with, although I didn't see much of them as they disappeared over the horizon! They had trained hard together prior to the challenge, were fit and driven, never failed to smile and effortlessly worked together as a family unit.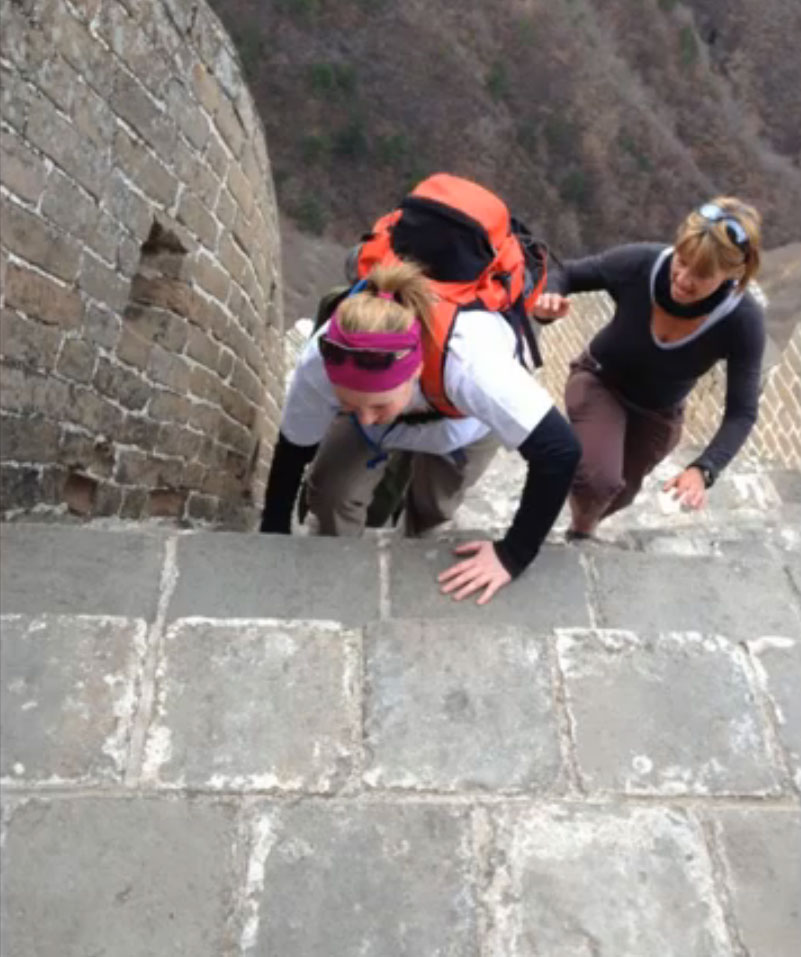 Edel McCaul and I walked together for much of the trek and my distraction tactics to encourage Edel up the numerous steps resulted in me discovering more and more about her astonishing story.  Edel was walking in memory of her beloved Grandfather who had died of cancer.  She had always felt a close bond with him and before he passed away she had vowed to do a challenge for him that took her out her comfort zone. After a selfless act whilst a teacher had resulted in an accident which left her in a wheelchair, Edel had worked on walking and then being able to get up a flight of steps. This challenge caused her severe pain in both knees but she remained determined throughout, conquering every step of her Great Wall Challenge.
Despite a heart condition, Marie (with her trusted colleague, Edel at her side) overcame many individual challenges, resulting often in tears which were instantly followed by laughter.  Marie had a naturally upbeat and jovial nature and nothing got her down for long.
Donna Freeman was another inspirational lady who had been diagnosed with ovarian cancer,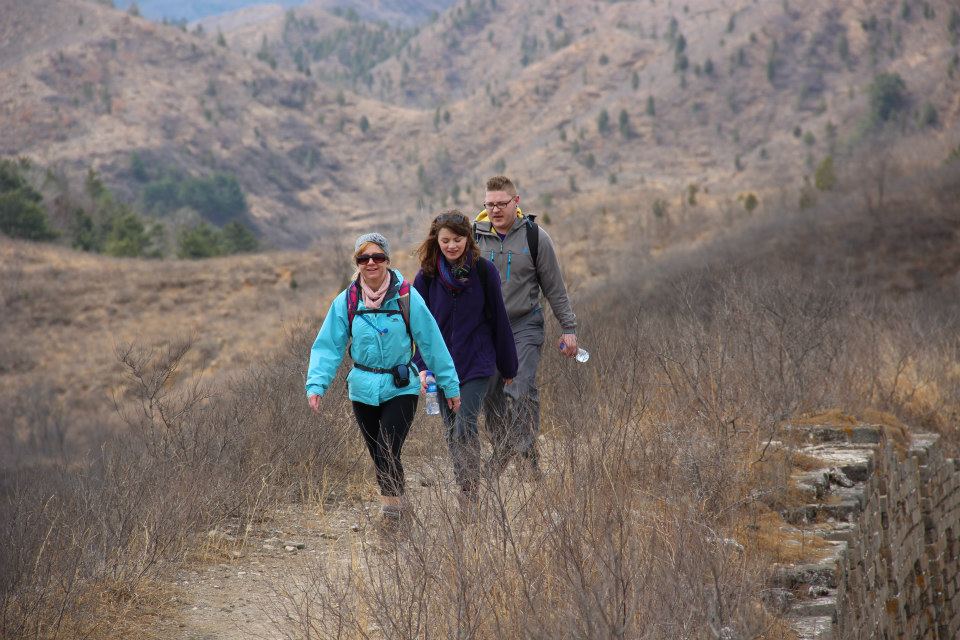 and had major surgery and after recovering from all of that, she was then told that it had failed and that she had only 6 months to live. Instead of giving up, she put her life and family in order, ensuring that they would be looked after in her absence and sorted all the practical aspects she could.  Out of the blue, Donna received the incredible news that there had been a mistake and that she was for now cured – she vowed to live life to the full.
Abbie Ross and James Dennis were the only couple on the trek and won everyone's hearts in no time. They were just adorable together, always watching out for each other and showing a respect and mutual admiration to be envied in any relationship. At a colourful oriental temple perched on the side of the hill below Jinshanling, James got down on one knee and proposed to a tearful but ecstatic Abbie.
The school holidays seem to have bought an influx of teachers and nurses to this group and the pre- natal and maternity crowd from Bristol Hospital were excellent value on this trip.  Claire and Kirsty although challenged by the trek remained inseparable and their unique friendship gave them a strength as well as a much needed sense of humour in order to tackle the many hurdles. Kath, Paula, Hien and Sheena all completed the challenge even throwing in some energetic dance moves and high spirits at the top watchtower!
Emily, Michelle and Zahrah knew no-one else on the trek when they started but I feel certain that some lifelong friendships will have been made during the trip.  Emily was already well travelled and despite this being uncharacteristic of the rest of her family, she is driven by her motivation to raise money for Great Ormond Street Childrens Hospital and the bear came with us as support. The hospital has asked Emily to go up in person to have photo's done when she donates the money.
Michelle never faltered. She was physically fit, determined and always positive bringing fun to every situation.  Her and Donna will remain strong friends after this trip, I suspect. I hope her dance students appreciate her dynamic personality.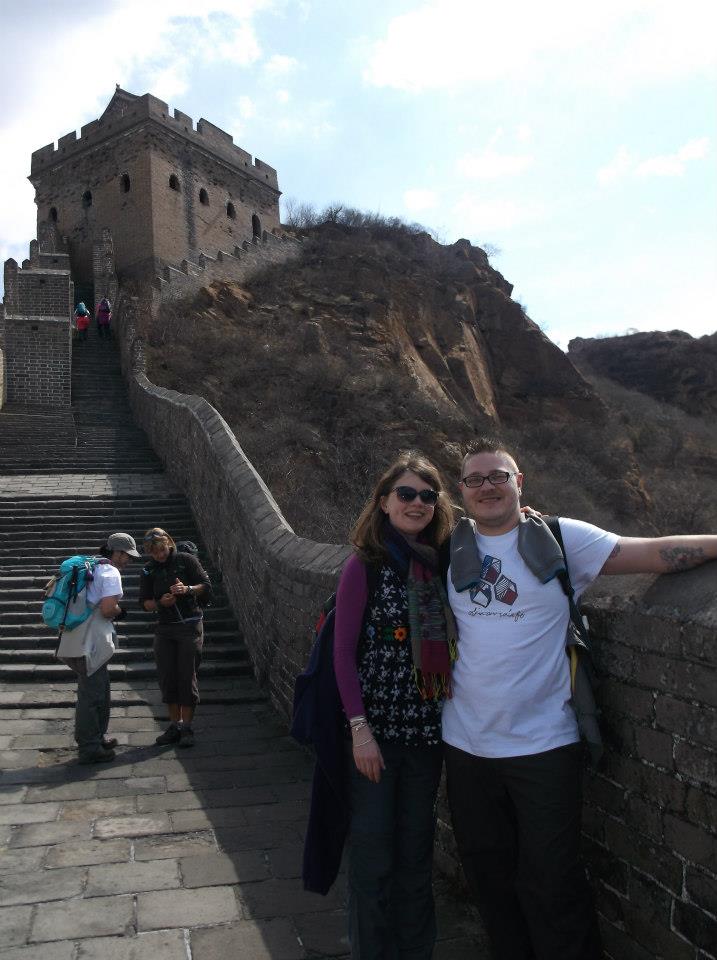 Zahrah was such a strong character and we got to spend a great deal of time together.  Backed by her class with their notes and pictures to encourage her on, Zahrah refused to miss any part of the challenge even when she found it tough.  It seemed that the more I put her under pressure, the more she raised her game and we finished the trek below Badaling at a run.
Naomi, with her infectious laugh, was a naturally caring and giving member of the group who was often more than happy to chat at a slower pace with those at the back.  She has overcome her own health issues which no-one would ever have suspected.  Nothing Naomi did was ever about herself and she was invaluable to the team.  I understand that she and Joe will also be tying the knot before long and he is a lucky man.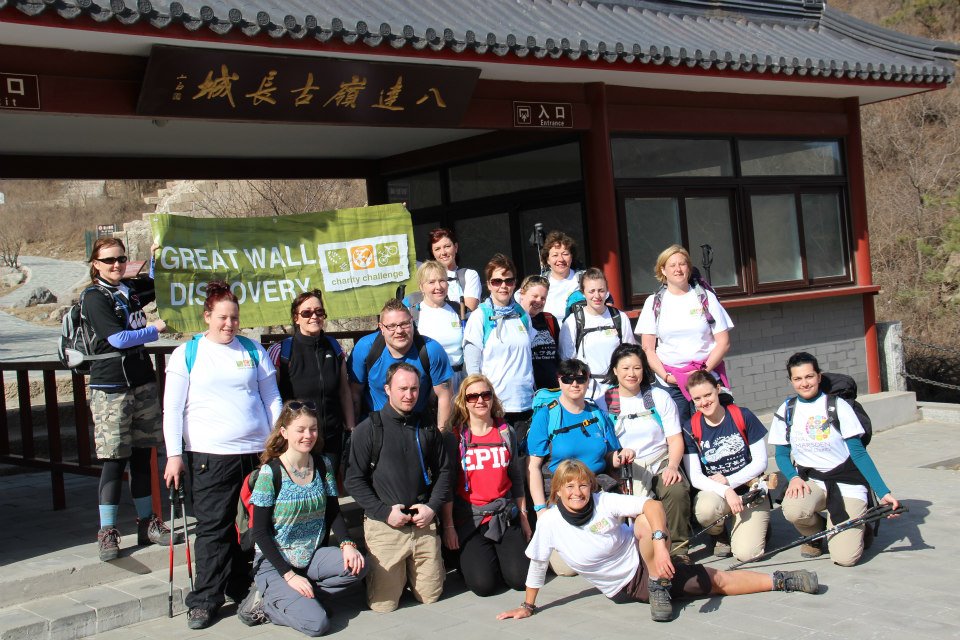 I hope that this exceptional group will continue to inspire others as they have done me. It has been a pleasure and a privilege.
Penny
You can also find out more about our Great Wall Discovery by clicking here. If you have any questions on this challenge, please contact Jo, our Ops Manager on jo@charitychallenge.com. To see more information about the array of amazing challenges we have, please visit our website at www.charitychallenge.com. To keep up to date on all our challenge news, please subscribe to this blog. You can also enter your email address into the adjacent box to subscribe to our mailing list.