We receive lots of enquiries on a daily basis, but this one stood out. It was from Faye Vanstone, a 9 year old who wanted to do something (climb Mount Snowdon) for charity. We don't ordinarily take under 16s, so the answer was unfortunately (initially at least) "no".
But having three sons of my own, and knowing how much they go on about when they will be able to do a Charity Challenge, it started me thinking.
Here's what happened…
SNOWDON CHALLENGE (written by Faye Vanstone, aged 9)
My family and some of my friends have been affected by cancer. So I felt I wanted to do something for a cancer charity to help them find more ways of curing the disease.
In Year 4 at school one of our topics was Mountains and rivers. I decided I wanted to climb a Mountain and thought it would be a good idea to use this as a challenge and a way of trying to raise money for Cancer Research.
I got in-touch with several charity organisations by myself and eventually one responded. That was Charity Challenge. Simon, the director of Charity Challenge, kindly said he would look at the possibility of helping me to achieve what I wanted to do to raise money for Cancer Research. Simon was so inspired by my email he planned and booked the event to climb up Snowdon! He even joined us with his two oldest sons, Benji (aged 10) and Gadi (aged 8) and their friend Jake (aged 10), and they raised money for Wateraid.
Simon also organised a professional guide, Dan, who came with two other "young people" Chloe and Ethan. My mum, step dad and Dad came with me for support while walking, with my Granny and Grandad waiting at the bottom of the mountain to congratulate us all on our return.
The Challenge walking up was the steepest parts as there was so much fog and it was so hard to see anything in front of you! In parts you couldn't see more than a few meters in front of you. We all had a trip or a fall and wondered how long it would take (and kept asking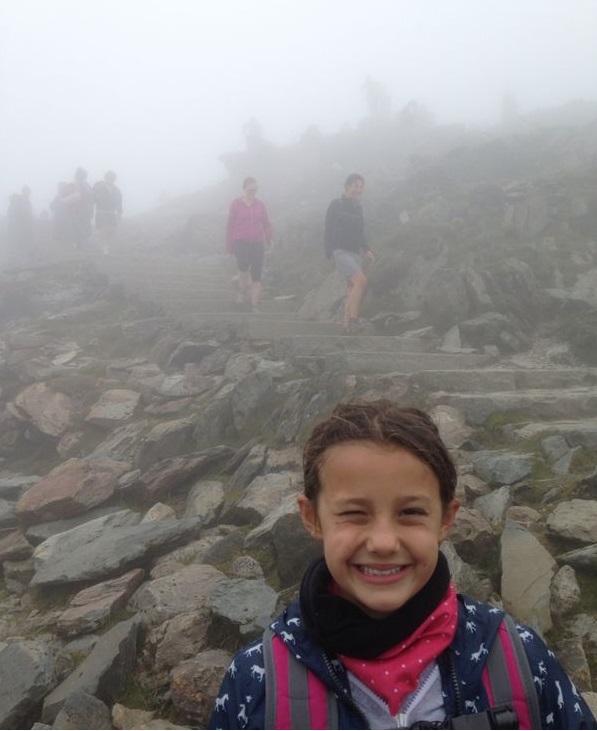 , "how much further?") but we persisted and were all so pleased when we got to the top and had a rest and realised what we had achieved. Then the challenge of getting back down again started!!
It was hard work but all of the training paid off and we accomplished our goal. I set out to raise £400 and so far have managed to raise over £660.
Any further donations for Cancer Research can be given through my just giving page. I have been so grateful for all the money raised so far for this exceptional charity. http://www.justgiving.com/Faye-Vanstone1
Thank you so much Charity Challenge!
Faye Vanstone
Benji, Gadi and Jake were raising money for Wateraid. Here's what they said on their fundraising page:
748 million people – roughly one in ten of the world's population – have no choice but to get water from wherever they can, whether it's a dirty pond or an expensive water vendor.
2.5 billion people – one in three of the world's population – don't have access to adequate toilet facilities.
Over 500,000 children die every year from diarrhoea caused by unsafe water and poor sanitation. That's over 1,400 children a day.
We (Jake Lowy, Benji Albert and Gadi Albert) don't think that's right and we want to try and help change that. So we are going to climb Mount Snowdon in Wales and are trying to raise as much money as we can to help WaterAid, who help provide clean water solutions for rural communities around the world.  
Please help us to help them. Thank you.  https://www.justgiving.com/snowdonforwateraid
Simon Albert
If Faye, Benji, Gadi and Jake have inspired you to do a challenge and raise money for charity, then please click here.