Kamal has been leading Charity Challenge Everest Base Camp Treks for over ten years. He has weathered some of the most rugged terrain on Earth and has never hesitated to go the extra mile for his team and those trekking with him.  Many of you reading this will have shared some memorable moments in the Himalayas with him and know how passionate he is about making the trips a wonderful experience for his clients. We found out that a lifelong dream of Kamal's was to visit the Great Wall of China and as he has been a truly wonderful guide and advocate of Charity Challenge over the years, we set plans in motion to try and make a trip for him as memorable…  Here's what he has to say:
"My journey to Great Wall has been a memorable one. A dream come true. A Big THANK YOU and the credit goes to Charity Challenge for helping and sorting my trip. It really makes me proud working with them.
This trip was different from my usual treks in Nepal. It is not correct to say that it was easy compared with my trips in the Himalayas. We had to walk lots of ups and downs, half of which was natural and half renovated – some of them were killers! But I loved it.
I was given the chance from Charity Challenge to be with a trekking team from Royal Marsden Hospital of 24 trekkers. I felt lucky to be with them. Even though I was a stranger for everyone before the trip, I was never given a chance to think back. The care, love and friendly attitude of everyone made me speechless.
With nothing to worry about – altitude nor the clients, I was tension free.  I was more like a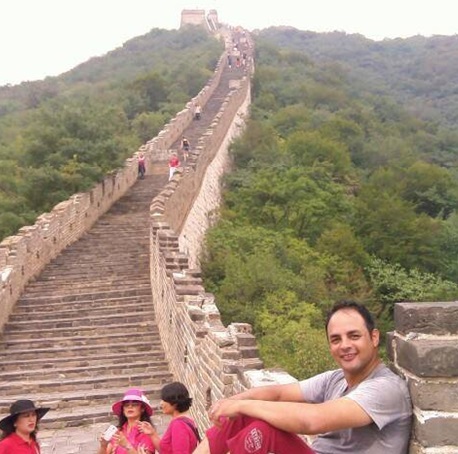 small spoiled kid kept in middle of the toy shop. The views, walk itself, greenery, shopkeepers, locals, guides and participants are all still rolling over my head. For everything I give a BIG THUMBS UP.
On completion of the Great Wall Walk, covering 50 KM in 5 days, we advanced towards Central Beijing. Beijing was other place I always want to visit. Olympic 2008 stadium, watching aerobatics, visiting the square which could hold millions of people at once, the Forbidden  City which is renowned and famous and Temple of Heaven were all the highlights which I felt lucky to see.
I could easily make it that it was my holiday, as I felt very emotional leaving Beijing and departing with my friends, which normally does not happen with me.
Lastly, I am very grateful to CHARITY CHALLENGE and to everyone who supported me (Simon A and B, Carmel, Jo and David) to fulfill my desire to walk on the Great Wall and visit Beijing."
Kamal we salute you! Thank you for your continued energy and experience looking after our clients in Nepal.
If Kamal's dream has inspired you to trek on the Great Wall of China, then please click here.
To keep up to date on all our challenge news, you can subscribe to this blog by clicking on the orange RSS button, you can also enter your email address into the adjacent box to subscribe to our mailing list.