Packing for an overseas expedition, particularly if it's your first one, can be a challenge in itself. Thankfully we've picked up lots of advice over the years, when it comes to packing effectively. Erika, our Charity Account Manager, shares some of her top tips to make packing your kit as easy as possible…
USE YOUR KIT LIST
Every expedition has a suggested kit list, which outlines everything you need to bring for that particular challenge. Use this to ensure that you have everything you need to be able to complete your challenge, and tick items off when you've bought them and packed them.
ENSURE YOUR KIT IS CLEAN AND DRY BEFORE YOU START PACKING
Your clothing should be clean and dry, and footwear should be cleaned properly in advance too. Don't place muddy trainers in your rucksack next to your clearn clothing (place them inside a carrier bag to protect your clothes from any dirty marks).
TAKE EAR PLUGS AND AN EYE-MASK
Whilst these are useful for any long-haul/overnight flights, they're also handy to have if you happen to be staying in a noisy campsite or hostel. It's important to try and get a good night's rest and some decent zZzzs when taking on physically adventurous challenges.
ROLL, ROLL, ROLL (DON'T FOLD)
Rolling clothing takes up less space then folding clothes, and also prevents creasing.
MAXIMISE EVERY BIT OF SPACE
Fill every bit of unused space within your rucksack. Pack socks, tops and other small items inside trainers and shoes to utilise all the space.
WEAR YOUR HIKING BOOTS ON THE PLANE
Don't pack your walking footwear in your luggage that is getting checked in to the plane's hold. Whilst we rarely have any lost luggage disruptions, the last thing you will want to do is lose your well-worn-in, trusty walking boots if your main baggage goes missing.
PACK A BUFF AND/OR BANDANA
Whether you're going somewhere hot and humid, or icy and cold, a buff or bandana will provide you with a variety of uses. In warm climates, you can wear it as a sweat band on your wrist to wipe away perspiration, or to tie your hair up and keep it off your neck/back. In cooler regions, you can wear it around your neck/face to provide extra warmth or as an extra layer under your hat for added protection from the cold.
FIND A HANGING TOILETRIES BAG
Sometimes washing/showering facilities aren't always functional, so pack a toiletries bag that has a hook so you can hang it on a door or rail.
'SOCK AND STUFF' YOUR (DAILY) OUTFIT
(1) Lay all your clothing out for the day.
(2) Place on top of each other in a neat line.
(3) Roll clothing in to a very tight roll
(4) Stuff rolled clothing inside sock
(5) Grab a pair of socks, which will contain your entire day's worth of clothing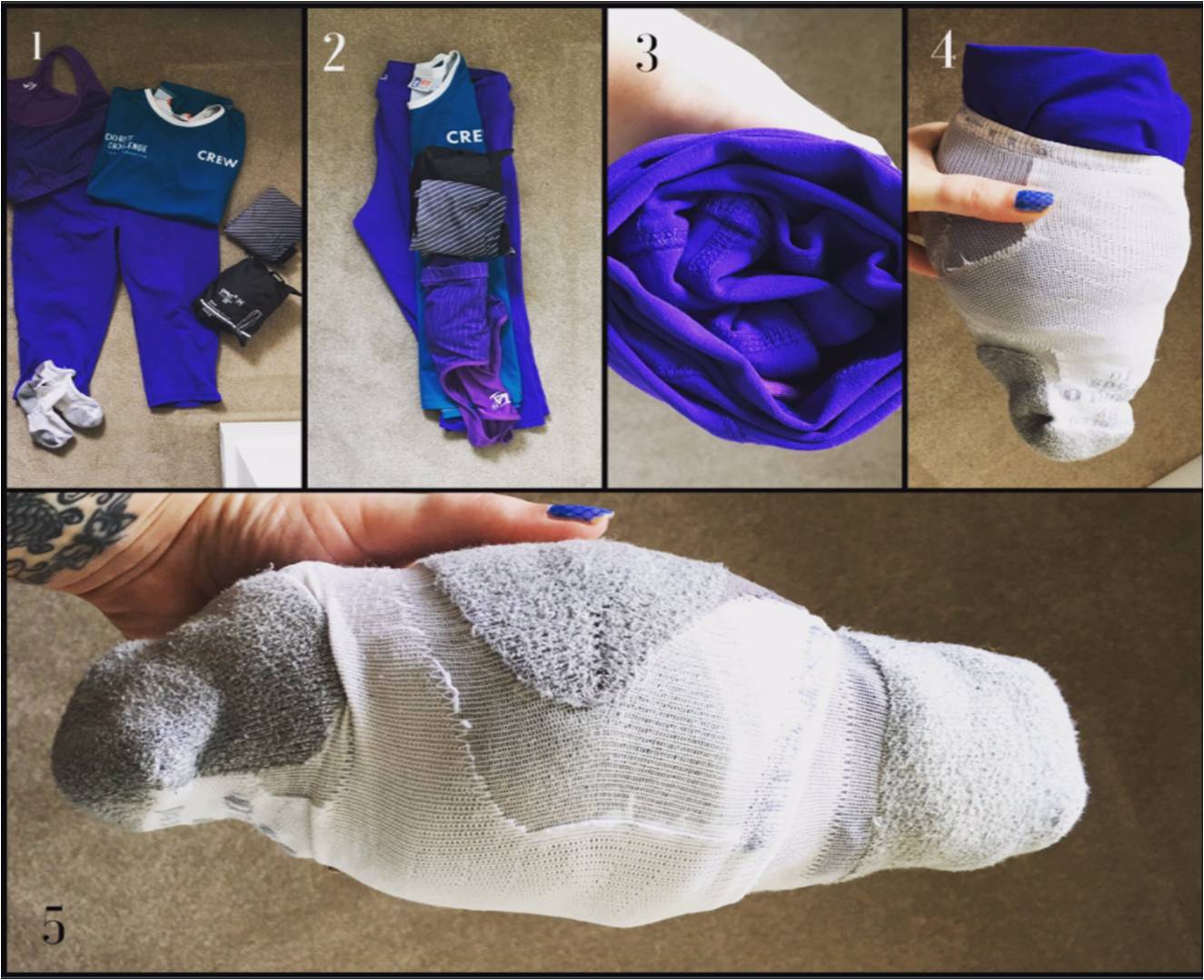 Hopefully these packing tips will give you some useful ideas on how to pack for your upcoming expedition. If you have any other queries related to your kit, or packing, please don't hesitate to contact the Operations Team who will be able to offer you some advice.