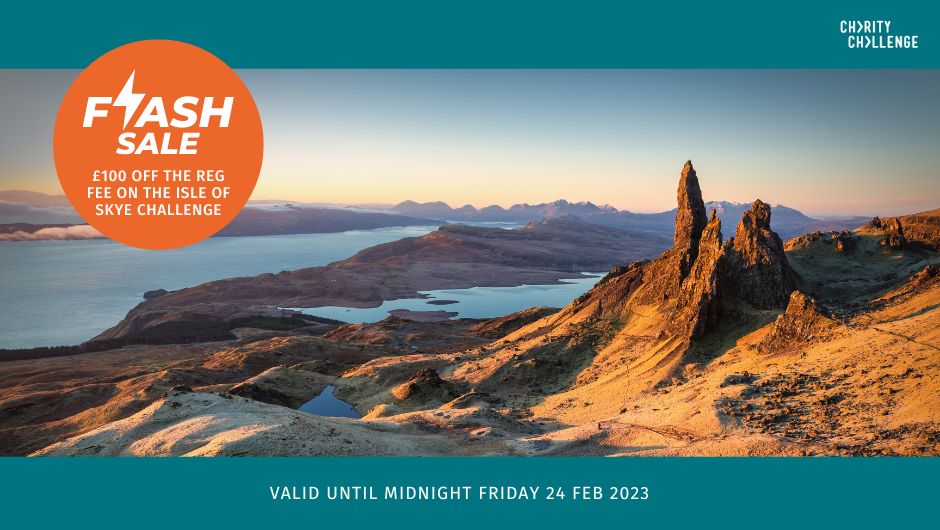 Isle of Skye Challenge flash sale is on now!
Book your spot for Sun 14 May – Fri 19 May 2023 and get £100 off your reg fee with the code SKYE100.
Don't miss out on this incredible opportunity to challenge yourself and explore the breathtaking landscapes of the Isle of Skye.
This discount is only available to the first 4 bookers so make sure you get booked in quickly!
Offer ends midnight Friday 24th Feb.
Overview
Challenge yourself to a spectacular 4-day trekking adventure on the legendary 'Misty Isle'. With dramatic ridges, a coastline steeped in Gaelic myths and jaw-dropping views, join us for this new challenge on one of Scotland's most iconic islands – the Isle of Skye.
6 days | UK | Extreme
Highlights
Four days of trekking on the Isle of Skye's iconic ridges, glens and coast
Summit one of the peaks of the UK's most challenging mountain range, the Black Cuillin
Discover spectacular hidden corners of the captivating 'Misty Isle'
Traverse the Trotternish Ridge, one of the most dramatic ridge traverses in Britain
Trek through one of Scotland's most impressive glens, Glen Sligachan