Charity Challenge organise 40 brand new pairs of trekking boots to be delivered free of charge to porters in Kilimanjaro
Looking back on all we achieved last year, this one has to be one of my highlights!
Back in October Charity Challenge were generously donated 40 brand new pairs of trekking boots, by Cotswol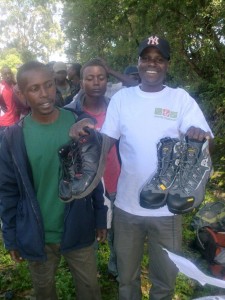 d Outdoor, for our porters in Kilimanjaro, Tanzania. Getting hold of good quality trekking equipment is very difficult for the porters in Tanzania as none is manufactured there and very little is available to buy. The majority of the kit they can get hold of is left behind by tourists after they have completed the climb and is second hand. The cost of new gear to be ordered from outside Tanzania and sent over is substantial, so unfortunately it's not a priority for the local porters to purchase themselves. Charity Challenge works closely with the International Mountain Explorers Connection (IMEC) who focus on improving working conditions of porters on Kilimanjaro. Part of that partnership is about ensuring porters do not put themselves in danger by going up onto the mountain unprepared. If porters don't have the correct gear then they are often turned down for work.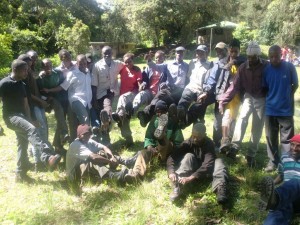 We have a close relationship with the staff at Cotswold (they offer all of our participants a discount on kit), so when they got in touch about the donation we were delighted. They delivered 40 pairs of top quality, brand new, trekking boots to be donated specifically to our porters out in Tanzania. 40 pairs of boots not only take up a lot of room but also weigh quite a bit so the next challenge was getting them all out to the porters. The team at Kenya Airways heard about what we were doing and allowed us to transport the boots over with no baggage charges at all which was a great help. Finally the boots made it out to country and as you can see from the pictures below made a massive difference in helping the porters to safely work on the mountain.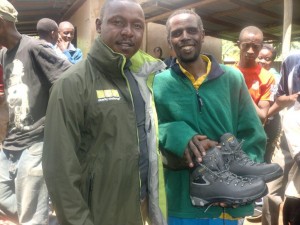 If you are travelling out to climb Mount Kilimanjaro or are from an organisation and would like to help out then please get in touch. We only managed to secure 40 boots this time and there is still a lot of porters who we would like to supply with new kit. For those climbing there is always an opportunity at the end of the climb to donate equipment directly to the local team so please bring any surplus kit along with you as it is greatly received.
If this has inspired you, and you'd like to meet these intrepid porters yourself! Then check out our Kilimanjaro Summit Climb challenges (Lemosho Route) here and (Rongai Route) here. To keep up to date on all our challenge news, subscribe to this blog and please enter your email address into the adjacent box to subscribe to our mailing list.