With the emails and letters sent to my friends and family, I started to see the donations come in.  With each donation came words of encouragement and energy. Sherry's note reminded me of one of the reasons I was doing not only this challenge but the fundraising too!  Sherry is a survivor, and I will be carrying a pink ribbon for her.  I actually plan to carry a little box with items from a few people….people who want to be with me as I do this awesome challenge.  So far, I have Sherry's pink ribbon, what else will be there with me???
Laurie, a challenge, a commitment and an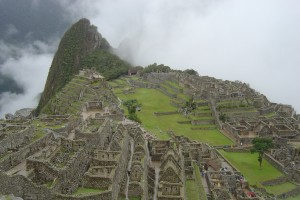 adventure… go for it! Good luck and keep us updated, please. Hugs, Glenys
Way to go Laurie! Good luck on the Trek and please include us on your email list about your efforts. Connie & Ken
Way to go, Laurie. Carry a pink ribbon for me!  – Sherry
To my friend who dreams big, has the courage to follow through on those dreams and the strength of character to make great things happen. ~ Patti
I had a conversation with one of the fundraisers I work with through my job at the Foundation.  It was a young girl who hosted a garage sale.  She called it a Charity Garage sale, and told me she did not price anything, just asked people to make a donation.  I remember that she did very well with this concept and I decided to follow her lead.  Many of my friends and family made donations of items for the sale.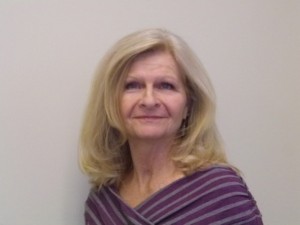 I had an article in the local paper  http://www.winnipegfreepress.com/our-communities/herald/Headed-to-Peru-while-fundraising-for-breast-cancer-168506536.html  and I posted the article on Garage Sale day too.  I created pink posters and signs, made some pink ribbon cookies for the day, put an ad on Kijiji and my Facebook page too.
I will never forget the Friday as my friend Kathy and I opened the double garage door to start sorting items. The garage was FULL!!!  So many people had made donations of some very great items. With some skillful sorting we were able to be ready for our Saturday morning opening.
Saturday at 8am, the people started to come, we pinned a pink ribbon on their shirt, encouraged them to take a piece of literature donated from the Canadian Breast Cancer Fo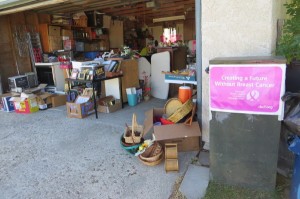 undation, gave them a bag and asked them to find things they liked and make a donation to the Canadian Breast Cancer Foundation.  We were absolutely amazed at the generosity of the visitors.  They were visibly pleased to know their funds were going to a charity.  Many people shared their story of how they were connected to breast cancer.
I wish we would have kept track of the number of people who came through that garage on Saturday and Sunday and their stories.  It was a constant stream of kind, generous people who were pleased to support the Foundation.  I was so fortunate to have my good friends, Kathy and Rose to help plus my Mom, sister Barb and nieces Jenna and Kathryn.  It was an overwhelming weekend and I was able to add over $1470 to my fundraisi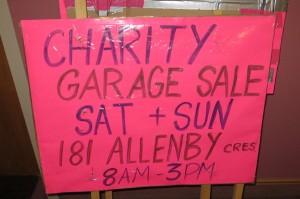 ng.
If you've been inspired by to take on your own challenge of a lifetime whilst raising money for the charity of your choice, you can visit the charity challenge website at www.charitychallenge.ca where you can find lots of amazing challenges, including the Mt Kilimanjaro summit climb challenge, the Great Wall Discovery challenge and of course the Trek to Machu Picchu Charity Challenge based in Peru! You can also see more about my charity of choice, the Canadian Breast Cancer Foundation here