As the name implies, charity challenges are all about taking on huge personal challenges in the name of raising money for charity. But another great thing about charity challenges are that due to the immense physical nature of the challenge, you really have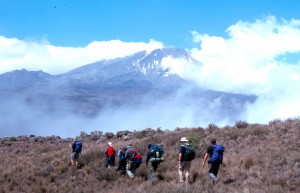 to dedicate some time to training and getting your body fit and healthy and up to the task, and there's little else out there that gives you better motivation to get into shape than the thought that in a couple of month's time you'll be summiting Mt Kilimanjaro, scaling to Everest base camp, or trekking along the great wall of China!
And being fitter doesn't just mean you'll get out of breath less often, it also gives you a whole host of other life enhancing benefits!
1. Slows down the aging process
The more we use the
m, the stronger and healthier muscles and bones get and the more delayed the natural process of muscle and bone loss becomes. So a massive benefit of getting fit and healthy is that it helps stave off the effects of osteoporosis. But don't just take our word for it; read an interview at New Scientist with a man who is still running marathons in his 80s! So you don't need no Philosophers Stone or fountain of youth to stay young at heart – it's all about maintaining a fit and active life-style!
2. Lowers blood pressure
When you run, stretch and exercise your arteries get flexed, in effect giving them as much of a workout as you are giving the rest of your body. So by keeping your arteries flexed and wide, you'll be lowering your risk and developing high blood pressure.
3. Boosts your brain power
Regular exercise doesn't just make you stronger, it makes you smarter too
! Studies have shown that runners and those who spent a minimum of 25 minutes a day on aerobic exercise have significantly improved mental skills as they get older, and are less at risk from dementia than those who indulge in a more sedate lifestyle.
4. Improves your mood
It's true, one of the best ways to handle a stressful day at work, or a hectic home-life is to pound it all away with run, or an exercise DVD or some aerobic sessions. When you exercise, endorphins are released and start coursing through your system, releasing a wave of positive vibes, which makes everything seem just that bit more manageable!
5. Helps you lose weight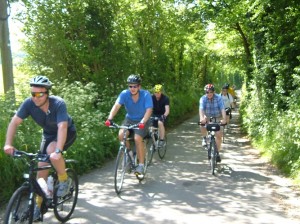 This is rather an obvious one, but it's such a massive benefit of getting fit that we had to include it in the list! Fast paced interval training is the best for fat burning, whilst jogging and regular exercise sessions are great at building your metabolism.
So there you have it, 5 extra reasons (as if you needed them!) to take on a Charity Challenge this year. If you want to know more about getting fit for your challenge, we do have a preparing for your challenge – fitness training page on our website which offers some great practical advice for your fitness training, so definitely check it out.
For more top tips, and to learn more about all our charity challenges, please visit our website at www.charitychallenge.com, and, to keep up to date on all our challenge news, subscribe to this blog by clicking on the orange RSS button, you can also enter your email address into the adjacent box to subscribe to our mailing list.