The Charity Challenge Epic Cross-Train-A-Thon!!
So, as our two groups of intrepid North Pole explorers set off within the next two weeks, we at Charity Challenge have decided to set ourselves a challenge of our own, in aid of the fantastic charity Sport Relief.
The distance that these Challengers travel in their quest to reach the northern-most tip of the world is roughly 68 miles. This includes pulling tons of food and equipment behind them on a sledge, battling the extreme conditions and taking their chances against the elements. Short of setting up a fan and a snow-machine in the office, there isn't much we can do to replicate these circumstances. But we are going to try and make the 60 miles on our office Cross-Trainer, which is the closest thing we can get to actual skis!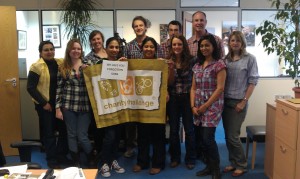 Today is the big day, and already Sharmee has got us off to a great start. The cross-training machine has been kindly donated to us by our Hire Fitness, who also supplied Denise Van Outen and Lydia Bright with their equipment for their recent "Essex2India" Rajasthan Cycle challenge!
We will be keeping you updated on our progress throughout the day on Facebook and Twitter, but if you want to donate to a really excellent cause and make a difference to thousands of families across UK and the rest of the world, then please find our JustGiving page at http://www.justgiving.com/charitychallengeskitonorthpole.
We going to try really hard to smash our target, cross-training non-stop from 9-5.30pm, but every donation keeps our morale up and spirits high. A massive THANK YOU to all those who have already donated and brought us up past the £500 mark!!
And if our humble attempt has inspired you to take on the real thing, you can find out more information on dates, costs and itinerary for the North Pole expedition here.