The Rajasthan Tiger Challenge December 2012 Cyclists have touched down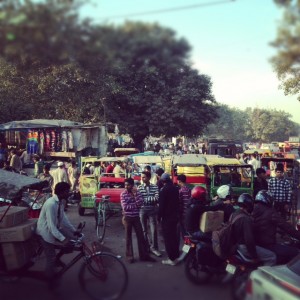 safe and sound here in India! After a quick turnaround we hit the bustling streets of Delhi, swarmed with the preparations of wedding season. As we jump aboard a cycle rickshaw we are soon swept into the hustle and bustle of Old Delhi following trailers full of what at first looks like old English Dictionaries – the pages are so think! – but we soon realise that they are actually truckloads of wedding invites on their way to the invitees!
Since the jet lag from the sleepless night on the flight was kicking in, most of the group put themselves to bed early, but only to be serenaded by the sound of a brass band! Those of us who had the front rooms peeped our heads over the balcony, in time to see the magnificent bridegroom parade by on a white horse. Looks like wedding season runs day and night in Delhi!
After a couple of hours sleep, we ar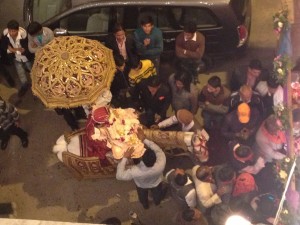 e awakened by a VERY early morning wake up call at 3,30, turns out we've been woken up an almost an hour early! So we lie in until 4.15 before we head out and walk through the deserted streets of Delhi to the central station to Agra, where we arrive to the announcement of 'we are sorry the train to Agra is delayed by ……6…..hours!!' and not even a bat of an eye lid from those around us…Thank God we had prebooked tickets on th
e fast train,  which arrived for us exactly on time!
To hear more updates from Jo in India, stay tuned to this blog! Whilst she's out in country, you can get in touch and follow Jo via her twitter feed at @jojowarren82
you can also find out more about the challenge she is embarking on – The Rajasthan Tiger Challenge! – by clicking here. To see more information about the array of amazing challenges we have, please visit our website at www.charitychallenge.com. To keep up to date on all our challenge news, please subscribe to this blog. You can also enter your email address into the adjacent box to subscribe to our mailing list.mailing list.