Leaders are the heart and soul of any Charity Challenge event. They laugh with you, cry with you, push you to achieve things you never thought you could, and celebrate with you. It takes a very special person to be a leader on a Charity Challenge event.
Looking back on 2018, these are the moments that hold a special place in the hearts of the Charity Challenge leaders. Read on to find out from your favourite leader what made 2018 awesome.
Ian – Trek Transylvania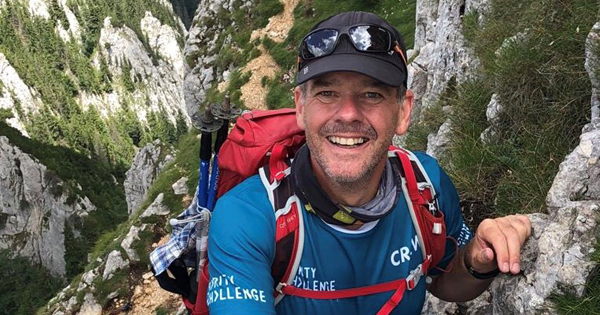 Over the last 12 months or so I have developed something of a specialism for the Transylvania Trek – which is a great short itinerary challenge. In July 2018 I was delighted to be a leader on the Coppafeel "Trek Transylvania Challenge". I helped almost 60 challengers reach the summit of one of Romania's highest peaks at 2200m – Batrana (The Old Lady). This trip offers spectacular views, picture-postcard alpine villages, acres of colourful meadows, friendly locals and rugged mountains, along the possibility of spotting brown bears, lynx, wild boars and wolves! Throw in a visit to Dracula's Castle in Bran too and you have a very special challenge indeed – I love it!
John – Great Wall Discovery Challenge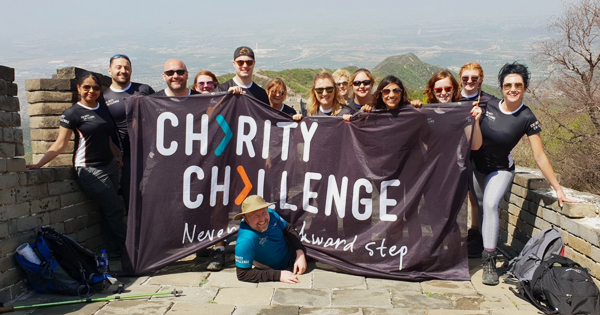 In 2018, I was lucky enough to be a leader on the Great Wall Discovery Trek. What a great experience it was for me and the group! As with all Charity Challenge treks, you meet amazing people, doing amazing things for charities. This was no different. Not only did I get to meet some great people, but I also trekked on five sections of the Great Wall with incredible views.
The areas we visited were steeped in history. Each day we arriveed at our inn to see great local culture and eat lovely local food.
It's hard to say what my favourite day was as they were all amazing. The final day does stand out; we stopped for lunch and the group congratulated each other on all the hard work each person had put in to complete the challenge. The group took the time to look around and take in the amazing scenery. We knew we had shared experiences that would make us friends for life.
Colin – North South Vietnam Cycle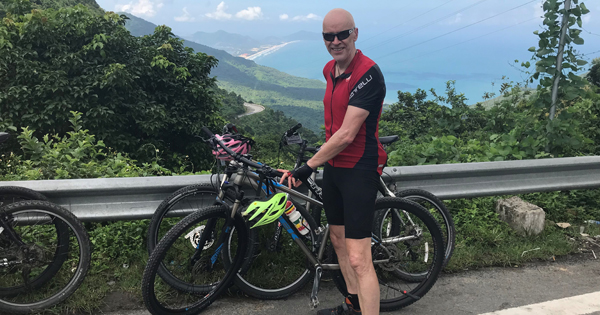 My favourite challenge during 2018 was cycling across Vietnam. The trip offered lots of diversity from the empty beaches, beautiful cities and lovely scenery. The history and culture is very interesting and the people are generally very friendly and welcoming. The cycling is really varied. Riding around busy cities with lots of other cycles and scooters is very different and entertaining. The riding along the costal roads can be very hard particularly with the heat and if you're riding into a headwind. The 9kms of continual climbing up the Hai Van Mountain Pass is really challenging but a 10km descent on good roads is the reward for all your hard work.
Overall a lovely country to cycle in and a place that I keep getting drawn back to.
Ray – Great Wall Discovery Challenge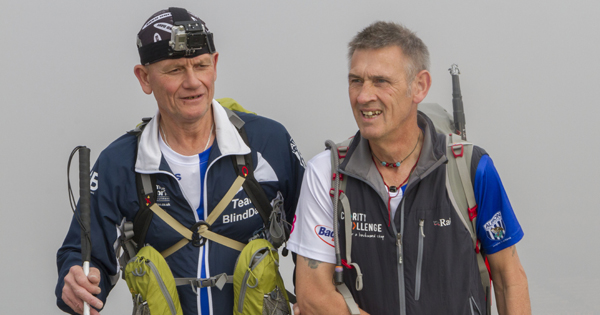 The most rewarding and challenging challenge I've ever lead has to be guiding "Blind Dave" as he is known as, on the Albion Foundation Great Wall Challenge in 2018.
Guiding him up and down the steep terrain on the wall in all it's states of restoration was a challenge within the challenge. He was an inspiration to us all as he tackled crumbling steps, the steep paths amongst thorned bushes and the slippery paved sections without so much as a single complaint. For most people this is quite a challenge but for someone with no sight just imagine how difficult it must have been for him. With his wife and family with us I learned a lot from them about guiding someone who is blind. Having to describe the paths and our surroundings also helped me take in more of the challenge than I have ever done on my previous two occasions.
Our team of local leaders ensured everything went smoothly from checking into our rooms, organising each day on the wall and having that all important celebratory meal on the final night. It was a challenge I shall always remember.
Penny – Trek Patagonia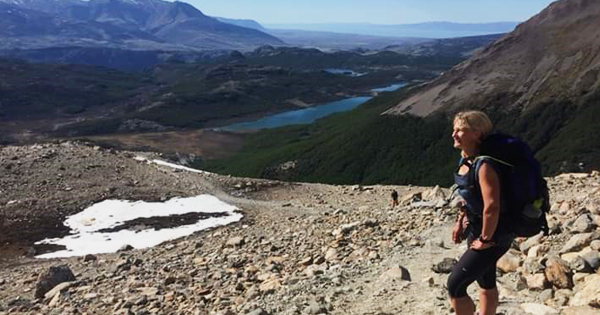 Waking from a restless sleep, I was aware of my nose being numb from the cold while I lay warm in my sleeping bag. I had strongly recommended digging dig and getting up at 5am to enjoy the sunrise in this spectacular location. I hoped I had inspired the group enough but it was silent in the woods outside my tent. Best I get myself up so I struggled into several layers including hat and gloves and wandered across to the banks of the glacial and fast flowing Rio Blanco.
Impressively the vast majority of the group stood transfixed staring with admiration at the austere and dramatic east face of Mount Fitzroy as the rising sun on the opposite ridge cast its spell onto the granite slab turning it first a pale pink to crimson and to amber before the daylight colours took over. This magical sight was further enhanced by the pools of water on the edge of the river reflecting the spectacle in front of us.
We remained in silence, spell bound for several minutes before gradually moving off to prepare for our imminent climb further up the side of this awe inspiring peak to look down onto its hidden turquoise lake at Lago de Los Tres.
An emotional, unique and very special experience never to be forgotten. Patagonia – challenging but unbeatable!
Richard – Madagascar Trek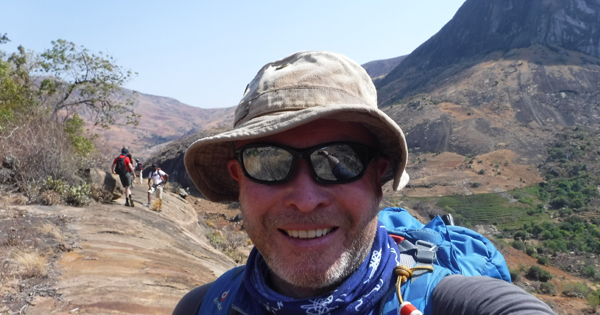 The journey to Andringitra National park in Central Madagascar is epic, but worth it, as the trek is spectacular. We spent the first two days meandering beside rivers, gradually gaining altitude through small villages and farmland. As an area rarely visited by trekkers, we soon gathered small groups of locals. They were pleased to show us their houses and exchange songs. By the third day the settlements are left far behind and we entered the mountains proper, for me, the best day was still to come.
After an interesting night listening to the thunderstorms rolling around the nearby peaks, we rose early in preparation to summit. We had a quick breakfast and then a tough trek up to the summit of Pic Boby. After the descent there was still another 4 hours of walking, but everyone pulled together and supported each other through the hard times. That 4 hours is spent traversing some of the finest granite landscape that I have ever had the privilege of seeing. It's a hard day and a long day, but truly rewarding. Joining in with the porters singing and dancing is a real hoot.
Danny – Great Wall Discovery Challenge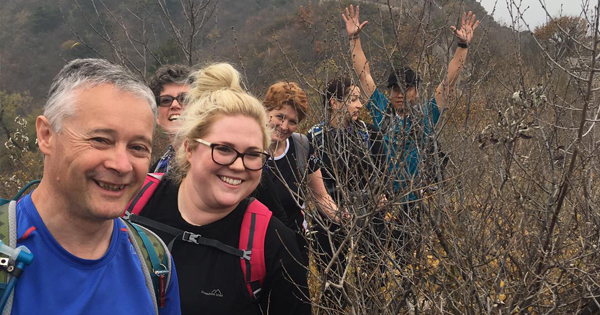 2018 was a year of contrasts for me on the Great Wall of China. I had scorching hot temperatures in May, taking our trekking stamina to the limits, and a bitterly cold wind on our last day in late October. This made us feel as though we were half way up a Himalayan mountain. But there were also plenty of similarity between the two trips, which helped contribute to their overall success. The dedication and professionalism of the local team was a real highlight.
However, the biggest factor, which leaves me in awe, is the shear grit and determination of the participants. They push on through the Challenge even when they are at their lowest points. They always manage to find energy and a belief in themselves. It's a pleasure to have played a small part in helping them to achieve their goals. It is an honour to see them battle through each day's challenges and witness their well-deserved feelings of elation at the end of the week. Truly inspirational!
Steve – Great Wall Discovery Challenge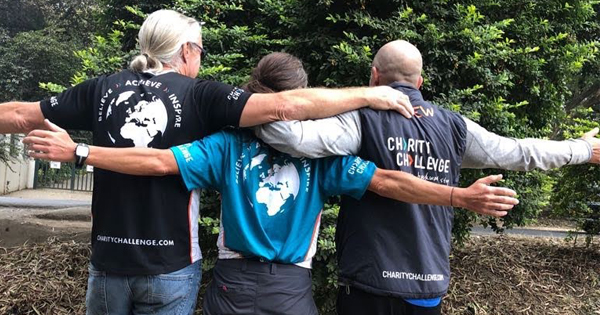 It's been 4 years since I began to work with Charity Challenge as an expedition leader. During this time I've been fortunate enough to have visited some amazing destinations Worldwide; sharing amazing experiences with some truly inspirational people. Personally; 2018 has been yet another unforgettable year! During September 2018, I travelled to China and trekked the Great Wall with a group of Challengers raising money for The British heart Foundation.
For me, autumn is the best season to visit the Great Wall. The colours are truly breath-taking and the weather was perfect; which is always welcome! The team were great fun to be with. Clearly some were 'out of their comfort zone'. However; we all worked together helping others who needed it. Our two amazing local guide's, Miko and Hastings, were always on hand to entertain and impress us with their knowledge about the Great Wall. Overall, we all had an unforgettable experience.
I count myself very lucky to be able to help people realise their dreams and share in their success. Every one completed the Great Wall of China trek safely, with no dramas. Yes, there were some tears; tears of joy… after finally completing their amazing challenge in China!
Laura – Greenland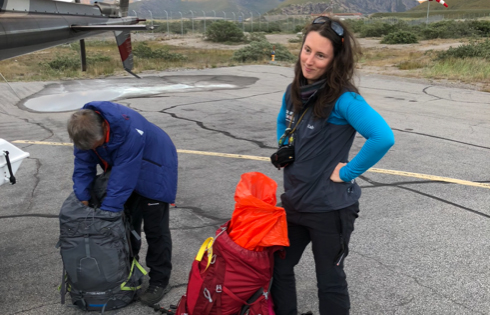 The Arctic Circle Challenge (to Greenland) was one of those truly life-changing experiences, where you live your days to the rhythm of nature and the walk ahead.
We trekked 100km through the wilds of Greenland, rough camping in stunning remote locations. Each day held something new – surprise sightings of wild caribou, braving the glacial river crossings and trekking over mountain passes. The sheer scale and rawness of the landscape is breathtaking – one day we walked next to a 80km long lake.
I was lucky enough to have the camaraderie of a truly amazing team – Go Yellow! There's no better way to start a trek, than to be flown in to your remote start point by helicopter…
John – Everest Base Camp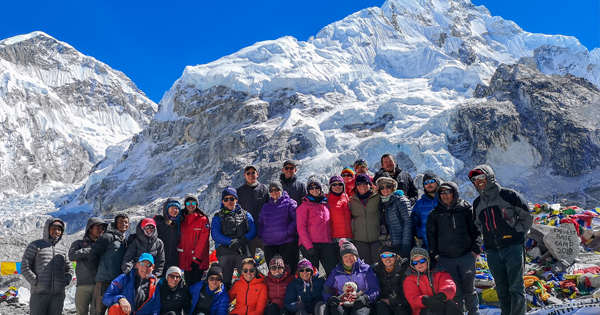 When I was asked to lead a group to Everest Base Camp in 2018, I had to read the email twice! I couldn't believe it. I was thrilled to bits, it was an amazing opportunity! Then 3 months later, I landed at Lukla Airport with 25 clients to begin a beautiful journey and an incredible challenge.
We climbed through pristine forests littered with small villages and crossed glacial blue rivers on swinging cable bridges. As we climbed higher to Namche Bazaar, we felt the altitude and had to slow our pace whilst we acclimatised. A slow pace was perfect to take in the scenery, the monasteries and to get to know my fellow adventurers and local Sherpas.
One day we stood and watched as three lammergeyer eagles circled one of the many shrines that we passed on our ascent. We were particularly thrilled to hear the local guides tell stories of snow leopards living close to the path! We continued climbing higher, past 4000m then past 5000m. Arriving at Everest Base Camp was very emotional for us all. After working extremely hard to get there, the group shared were plenty of hugs, a few tears and massive smiles all round!
Despite all the hard work, on the way back down, I definitely overheard someone saying that they would do it again….
James Marriott – Kilimanjaro to Ngorongoro Crater Bike Challenge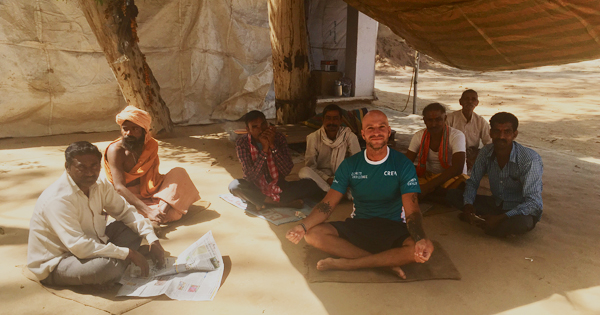 I was fortunate enough to be a leader on the British Asian Trust's 'Most Exotic Tour' for the third year running this year. In 2016 we tackled Rajasthan, in 2017 Cambodia, and now it was time to experience Tanzania. The portents were great as on the first day we had incredible views of Mount Kilimanjaro from the hotel.
The highlight of the tour for me was the day spent cycling around Lake Manyara. We set off from our tented safari camp in Tarangire National Park and cycled down to the lake on the dry salt flats that surround it. We spotting our first wildebeest and antelope in the distance and grew increasingly excited. Cycling through a makeshift fishing village we saw flamingos parading on the lake shore and marabou storks flying overhead. As we continued around the lake we passed alongside herds of zebra, the odd ostrich eyeing us quizzically and then through Maasai camps, all before lunch.
The quintessential East African experience, made all the more vivid by experiencing it on two wheels where every sense stimulated long the way. It was certainly a day I will never forget!
Lizzy – Great Wall Discovery Challenge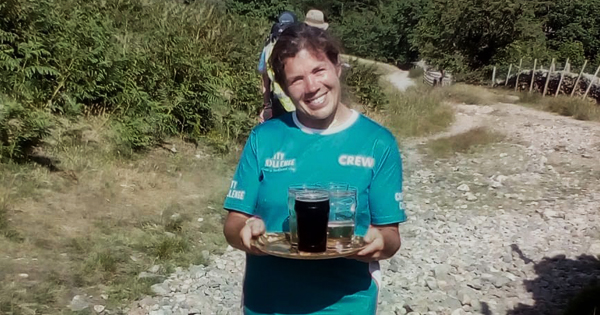 One of my leading highlights of the 2018 season was in China, on the Great Wall. Participants on open challenges come in all shapes, sizes, ages and levels of fitness. I find it particularly rewarding to help those who maybe struggle a bit more than average in achieving their goals. Marion was an inspiration to the whole group; despite suffering from a serious health issue she stoically plodded on, taking shorter breaks than the rest of the group so that she didn't fall too far behind and regularly thought setting off whilst others were still enjoying a well earned rest. She was an absolute pleasure to lead, highly amusing and frequently kept us all in fits of giggles. Anyone considering a challenge should go for it in my opinion. It will certainly be life changing!
Andy – Trek to Machu Picchu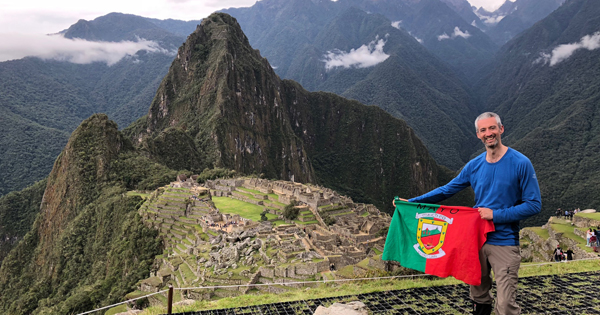 In 2018 I was lucky enough to be a leader on Trek Machu Pichu. The experience of trekking in a remote area of the Andes and interacting with local people in villages, really made this trip for me. The local team were fantastically supportive. On one occasion, after a long day battling altitude, we were greeted at camp with incredibly fresh Peruvian nachos and mountains of guacamole.
Our last day of trekking on the Inca trail started in heavy rain and continued through thick cloud until we hit the sun gate. Suddenly, the clouds parted and there was Machu Pichu directly below us. A magical moment.
Just can't wait to make your own memories? Visit Charity Challenge to book your next challenge.