Recent Kilimanjaro Trekker Shaun has kindly shared his Kilimanjaro Summit Climb diary with us, documenting the ups and downs of the mountain and his journey of a life-time! Definately worth reading if you're heading out to the 'Roof of Africa' yourself!…
DAY 1 – Rainforest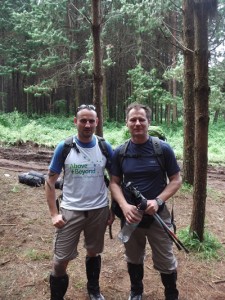 Awake at 7.30 local time (4.30 uk). Buffet breakfast is ok, omelette, bacon, beans. Need to get the body fuelled for the journey ahead. We all gather at reception. Everyone appears in high spirits, especially after the antics and delays from the previous day! Trucks get loaded and off we go, it's roughly 2-2.5 hours drive to the starting gate. When we arrive we have to start around an hours hike further back due to poor terrain! And off we go. Everything seems good so far everyone happy and chatting. Appears we have a good group for this. After a couple hours we stop for lunch and then it really kicks in! A lot of near vertical climbing up muddy and wet paths! Then it's down a bit, up a lot, down a bit and this trend continues for a while. We spot a couple of monkeys and everyone is of the same opinion thus far : we weren't expecting it to be this tough, especially on the first day! Then finally around 5.30pm we reach camp for the night. Dinner is at 7, was quite tasty under the circumstances and even the ginger tea seemed to hit the spot.
DAY 2 – Shira 1
Wake up call 6.30 am (3.30!), finally open eyes just after 7. Pee bottles worth there weight in gold! steves snoring not so! Pack up all our kit and head over to the breakfast tent. Some bland porridge followed by omelette and bacon and more ginger tea. Then it's all systems go at 8am. We hike a further hour and a half through the jungle until we reach the moorland. It's lot more of the same, u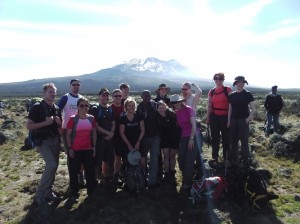 p a lot, down a bit. But you can now see how high you really are. We continue the hike and stop for lunch on top of a hill around 12.30. After this we hike for around an hour before we finally see Kilimanjaro in all its glory. A lot of realisation sinks in for most at this point. The sheer magnitude of what lies ahead can now been seen visually. You wonder at this point how any one manages it! (See pics). We hike on for a further hour to camp which is 3550 metres (I skydived from a similar height!) somehow I have managed to sprain my knee so Katherine has given me a support brace and hopefully rested up will be fine in the morning. We relax for a couple hours before tea time which is much the same as the previous night. And it's now we can see the summit of kili, there is no cloud cover around the mountain at this point.
DAY 3 – Shira 2
Start the same, up 6.30, washy washy! Pack up tent, breakfast. Few pics of kili and we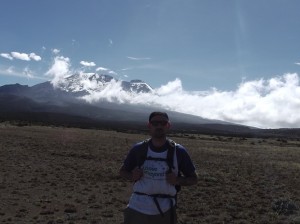 set off across the moorland. After a couple hours we approach what is called the 'cathedral', (previously I had commented saying I could climb that today and it doesn't look much lower than kili!, these were words I was to eat!) So we start hiking up the cathedral and I say a little prayer, we come to what seems a midway point and no one is prepared for what lies the other side! It's just a sheer drop from height looking out over the planes, we must be some 3800 metres up and for the first time you can actually visualise it! Personally it's wobbly legs time for me but I suck it in and stand for a photo. Then it's kit bags off and a further hike to the top, I read my inspirational notes and look at my pictures before setting off somewhat uncertain. We ascend to quite a hight before it looks like we're at a peak and you can see the drop either side! I stop here, that's enough for me. The group continue a little higher for a short time then it's all back down and a rather pleasant two hour hike  along the ridge to camp. We set our kit out in our tents, have late lunch, rest an hour then go for an hours acclimatisation hike. I believe we camp at 3840 and we head up to nearly 4000. The views today are amazing, at points we are actually in the clouds. We then engage in some brokeback photos for moral boosting and everyone is in good spirits. At dinner jackson (our trek guide/leader) says we are the craziest group he has had! from what i gather all in a good way. so far no one has been taken ill or needed treatment and i think this keeps morale high. On a personal note I seem to feel better as each day goes on. Today was rather daunting for me however actually seeing the height we were at. I have a few headaches but thinks this is due to anxiety and sun rather than altitude sickness. I also think i'm thinking about barranco wall to much and think this may prove the hardest day for me, if i make that i'm convinced i'll reach the summit. Knee is holding out but still sore, have had it braced all day. The nights are getting much colder now.
DAY 4 – Barranco
Begin in the same way. Up 6.30, pack tent, washy washy, breakfast and ready for the off at 8. Long day today we trek from 3840 to 4600 and then back down to camp at barranco 3900. As we set off everyone appears in good spirits, other than a few headaches no real issues. After trekking for an hour or s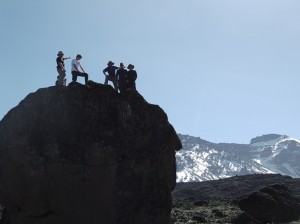 o we stop for water and toilet break, there is a rather large rock there with a make shift ladder and some of us, including me, climb it for photos. Then the first off putting sign as someone is bought back down the Mountain. It's all uphill this morning till we reach lava tower at lunch time then pretty much downhill to camp. We are literally walking in the clouds this afternoon. The climb appears to be taking its toll now on a couple of the group, we split a little before hitting camp, most of us arrive 4pm the others 15-20 mins later. We set out our kit in our tents and head to the mess tent for tea and peanuts. We play some poker and cheat before dinner (I win poker!) The headache I've had all day has finally gone and discussion over dinner is very positive. By now Katherine our dr says she has usually lost members of the group by this point. We all feel positive for summit day now as we've now been to the start point of 4600 metres and should be fairly well acclimatised. As the clouds clear we see barranco wall, this has been my final fear but doesn't seem so bad today. I'm growing in confidence as each day goes by and only feel slightly hindered by my headache. Again I believe this is anxiety related, it disappears as soon as I hit camp and I'm otherwise functioning very well in all areas. After dinner we play some more cards and the group bond some more. We seem to get on really well and I believe this will stand us in good stead come summit day. We share some laughs over cards and its off to bed for the night.
DAY 5 – Karanga
7am start today. The usual breakfast, washy washy etc. I'm rather nervous about what lies ahead-barranco wall, I'm sure some rock climbers would take pleasure in completing this. Some two hour hike up a cliff face gaining 300 metres in height! From 3900-4200. Starts off well and I feel ok. Didn't manage to eat much breakfast due to anxiety so after half hour or so feel rather empty! Then I begin to look down! As we get higher you can see views from all around as we're in a canyon, as intimidated as I am I take pictures and take in all the views. We're 4000 metres up and you can really see it now. Fighting nearly kicks off at one point as one of our guides, George, tells porters to wait! They square up and porter is dragged back. Later find out George is a Masai warrior! So we continue up for what feels like forever, with occasional light headed ness and thoughts of thought+motion=no room for fear and after two hours we reach the top. Tremendous achievement for me and I now believe nothing can stop me from reaching the summit! We all stop for pics and high fives before heading onto camp which is some 2 hours away. Everyone seems fine and still in good spirits. After a while we can see camp, great we think until we see it's the other side of a canyon! George leads the head of the group down his secret, quicker, safer path and we're off, we start ascending the other side as the others appear at the ridge back on the other side. We get into camp set up tents, washy washy, tea and popcorn followed by some more cards then dinner a couple more games of cards and bed. Everyone told not to think about mountain. Crazy to think that tomorrow night we will be heading for the summit!
DAY 6 – Barafu
7am arise again followed by the usual then about 9 we head off. Last day of ascent trekking today as we reach base camp ahead of leaving for the summit tonight. Amazingly everyone is still going. This proves a tough hike though. We gain over 600 metres en route to camp. I have a f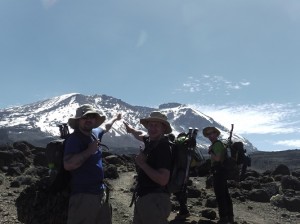 unny moment at the half way stage and spaz out a bit, I pull myself together eat chocolate and off we go again. We hit camp about 12ish and its straight to inflating mattress and power kip! We're camping above the clouds now! We have lunch about 2 we get chips which was a great surprise and boost. I'm feeling much better now and eager to get on with it. It's been a hard week, more than I ever imagined and we've come so far now that failure is not an option. At 5pm it's briefing for summit climb and dinner, the group look tired except me! I'm buzzing and ready to go! I hope it's not all the other way around in 5 hours when it's time to get ready and go for it!
SUMMIT NIGHT/DAY 7 – Summit (Stella point and uhuru) to Millenium Camp
We're due to wake at 11pm but just before I'm woken by the sound of Steve shivering and complaining of stomach cramps. He's not in a good way. The doc gives him some meds and we all go for porridge before heading for the summit. As we set off Steve is sick but soldiers on, what a trooper. All you can see are headtorches of those heading for the summit. Its cold and it gets colder the higher we go. The view is something else, I'm glad it's nighttime to be honest. You can see the lights in Arusha and they look so far down and keep getting lower! Steve is sick again and the doc gives him more meds. The walk seems never ending. Slowly the group is spilt by pace, I find myself in the leading group with Richard and Serg being lead by alpha. We trek on at a good pace but it just feels like every time we think we're getting somewhere its even further! We start to see people being taken back down the mountain which is a bit unsettling. It's really cold, I have all my layers on, thermals, fleece, baselayers, trousers, shirts, jackets, coats, hat! 3 layers on my legs and 7 on my top! We try to stay positive, it's hard, my legs are starting to cross over and I'm get
ting off balance a bit, I have slight stomach cramps and am tiring rapidly. Finally after some 7 hours of trekking we approach Stella point as the sun is rising, the last few hundred metres seems to  take for ever, rich is hallucinating, I'm not sure I'm gonna make it,  More people are being rushed downhill rather quickly, i go over my inspirational thoughts and pics in my head and somehow we muster up the energy to reach the summit. Alpha sorts us a ginger tea and as we try to chill for a minute then he announces its off to uhuru! Rich really isn't feeling it but Serg gives him some meds and off we go. At 50% oxygen levels unfortunately there is no time for rest and recouperation. It take us a further hours round trip and as we get back to Stella point we're happy to see the rest of the group have made it up. Most have suffered some form of altitude sickness but Steve is the worse and has to be rushed down with suspected HACE. Me, Serg, rich and alpha head back to camp, it's a gruelling 3 hour trek down. I'm physically shattered and have to rest every 15 mins finally we get back to camp and I crash in my tent as steve is being taking lower to millenium camp. I miss lunch, feel awful, ache all over and feel sun stroked so I'm so happy I now have to trek to millenium camp some two hours away! Take some painkillers and push on through. Get to camp, Serg buys me a coke which is a nice touch, game of cards and dinner. Steve's appears much better, what a legend, how he got up there like that is beyond me. We're all tired and don't think it's quite sunk in yet what we've all accomplished today. Out of the 12 of us all made the summit at Stella point and 10 at uhuru.
DAY 8 – Mweka
Arise at 6am, yesterdays achievements still haven't quite sunk in yet. We have breakfast and then it's time to tip all the porters and watch there celebration song and dance before setting off for the final 4 hours of descent down to the gate. It's quite a leisurely walk downwards from the moorland and then finally the rainforest but were all thinking the same by now, can't it just be over, be back at the lodge, a nice shower, wholesome meal and a beer! Eventually we reach the gate, sign out and head to the village for refreshments and to be harassed by locals trying to sell us all sorts before jumping on the coach for the two hour ride back to the lodge. Everyone's done in but happy. Great trek.
Amazing achievement and memories.
If you've been inspired by Shauns words, you can donate to his cause on his fundraising page here. If you're interested in taking on the Mountain yourself, click here to find out more about our Kilimanjaro Challenges by clicking here for the Lemosho Route and here for the Rongai Route. To see the many other amazing challenges we offer, you can visit our website at www.charitychallenge.com. To keep up to date on all Charity Challenge news, please enter your email address into the adjacent box to subscribe to our mailing list.