My video to sum up the China trek starts with two words "My Journey".
To people who don't know me, 'my journey' doesn't just simply sum up my Charity Challenge from the UK to China and trekking along the Great Wall. It means so much more than that. You see my journey, which for me culminated at the top of the "stairway to heaven", started at the lowest point in my life to date, in so many ways.
"Life is full of CHALLENGES"
After an accident, I ended up spending a considerable length of time in a wheelchair. Until you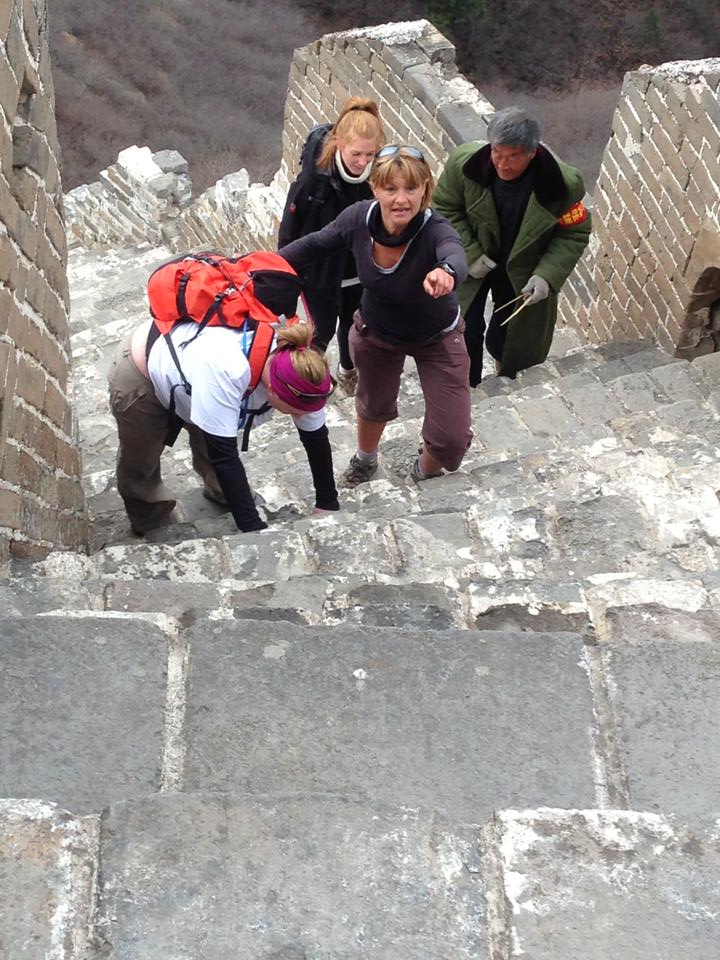 are in that position, you never fully appreciate what you have. I now realise that before my accident I was far lazier than I should have been. I was too lazy to even walk around the corner to the shop; searching for the TV remote was just a chore! Now I found myself envious of those around me: running up stairs, nipping to the toilet, going into shops…even getting in and out of a car. These things were all a struggle, and involved immense pain. I felt frustrated and completely dependent on other people, particularly my boyfriend Matt who now felt more like my carer.
"after an accident it took surgery and physiotherapy for over a year before I could walk again"
"my biggest challenge once out of my wheelchair and onto crutches was stairs…"
Stairs were my biggest enemy: it once took me forty-five minutes, with Matt's help, to get to the top of the stairs in my house. I wasn't a good patient either; I'd snap and shout in frustration, feel sorry for myself after every physiotherapy session and question "why did this have to happen to me?"
Then my granddad became very ill. He had bowel cancer and it broke my heart to see him in pain. Travelling to Ireland to see him, I promised myself that if I got to say goodbye to him, I would do something completely out of my comfort zone that would help other people like my grandad.
It was two years later when I signed up to Charity Challenge. Even then, I didn't know what I was letting myself in for. Training was hard, and painful; I would have struggled with training even before my accident! Fundraising for my charity, Action Cancer, was a whole emotional journey on its own: I really didn't think I'd manage to raise the money and then all of a sudden, four months before I was due to leave, fundraising took off completely. Friends donated from different parts of the globe, strangers clicked on my justgiving page. As a teacher, I was and still am so overwhelmed by the support of my kids at school; over two hundred kids aged between eleven and sixteen donated their pocket money and spare change to my charity. Kids did sponsored silences and cake sales. They donated by text. They got their parents to donate and to take sponsor forms to their own workplaces. It made me appreciate what we as human beings
can achieve when we really try.
My experience in China is only touched upon in the video – how could I possibly put into words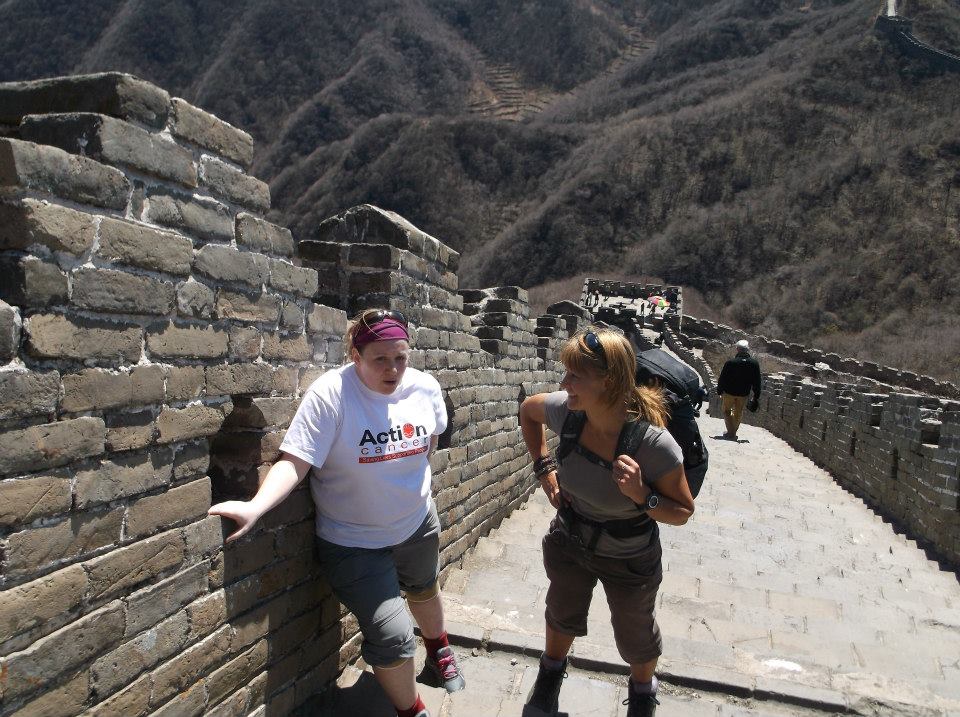 and pictures what I and others went through, witnessed and achieved? I started this journey to do something for other people, to pay the universe back as it were for letting me say goodbye to my granddad. But what I didn't expect was to get so much out of this whole journey myself, physically and emotionally.
It's made me a stronger person, and restored my faith and confidence in myself and other people too. I'm only human, and I'm not perfect. I make mistakes and I get frustrated and fed up. I still eat junk food and I still use a TV remote. But if my story inspires others then I think it's worth telling. It's only one of many stories that found themselves on the Great Wall, but that's what this challenge was all about: reaching the happy ending of my journey. Except now, I feel like my real journey is just beginning because now I know I can do
anything I set my mind to.
Thank you so much to everyone who supported me,  I couldn't have done it without you!!! You can do anything and overcome any Obstacle …just don't give up!
Who knows where my next challenge will take me?
If you have been inspired by Edel's story and would like more information on our Great Wall Discovery, please click here. If you have any questions on this challenge, please contact Jo, our Ops Manager on jo@charitychallenge.com. To see more information about the array of amazing challenges we have, please visit our website at www.charitychallenge.com. To keep up to date on all our challenge news, please subscribe to this blog. You can also enter your email address into the adjacent box to subscribe to our mailing list.