Our Operations Manager, Andy Baker, updates us on his recce in Nepal:
It has been a difficult year for Nepal, not that you would really know this from the warm greeting that I have received from all of our different ground crews here. In the week that Prince Harry has also made a trip around some of Nepal's cultural highlights I too have been fortunate enough to spend some time working in collaboration with our ground teams on a couple of new itineraries that Charity Challenge will be running this autumn. Our Poon Hill Himalayan Trek in the Annapurna region, and our Kathmandu Valley Cycle.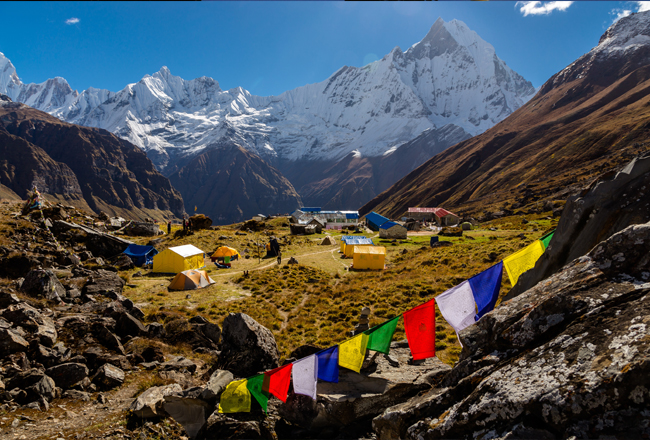 First though has been a quick re-connection with an old favourite. Everest Base Camp. Last week 13 intrepid challengers stepped off the plane in Kathmandu to begin their long ascent through the Himalayas towards the iconic Base Camp. This is the first trip that Charity Challenge have run in Nepal since the disasters of 2015 and the trails are still quiet, making it the perfect time to visit.
Our itinerary rather uniquely combines both the authentic 'teahouse' experience and the challenge of camping. Meals are served by our kitchen team within the dining room of a local teahouse, whilst nights are spent under canvas just off the trail. The warmth and comfort of a teahouse, combined with the incredible vistas provided by unzipping your tent in the morning to a panorama of snow capped peaks. This is a fairly unique way to run this itinerary, and judging by the group who are still currently making their way to Base Camp, a very enjoyable way to do this trek.
Nepal has faced a tough year and we are delighted to have been able to start sending groups again and give local people some much needed work. With the creation of a couple of new itineraries hopefully even more people will get to sample this fantastic country soon.
As for me, well I am back in Kathmandu putting the finishing touches to the rest of my itinerary. A few days cycling in the Kathmandu Valley, followed by a trek to Poon Hill for views stretching off across to Annapurna. Not even Prince Harry can top that!
Andy Baker
UK Operations Manager