Alex Crouch joined Charity Challenge as our Adventure Travel Consultant and looks after all the important administrative processes within the company, including online registrations, insurance policies and group bookings. Alex plays a vital role in the delivery of Charity Challenge's national and international expeditions, and is integral to the smooth running of the team. We grabbed five minutes with Alex, to find out about her background and what she enjoys most about her job…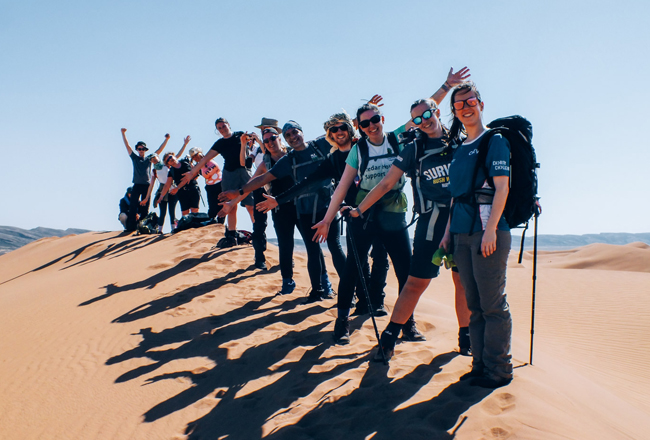 Name: Alex Crouch
Location: London, UK
How long have you been working at Charity Challenge?
Two months – and it's gone so fast!
Tell us a little bit about your background and what you did before joining Charity Challenge?
I grew up in London and started my career working in the ski industry, selling ski holidays all over the world and getting to explore plenty of destinations across the Alps. I was looking for a way to explore a larger variety of countries, and Charity Challenge seemed like the perfect place to do that. I've also had experience working in the charity sector at Save the Children, so Charity Challenge was the perfect place to combine my love of charity work and adventure travel.
What's your favourite Charity Challenge expedition?
There are so many challenges that look incredible, and I'm hoping to sample one soon! I'd love to go to countries such as Burma or Kyrgyzstan which are less traveled and provide a real sense of adventure.
How many countries have you visited?
I've been lucky enough to explore at least 30 countries so far – and there's so many more to discover!
Where's next on your list of travel destinations?
I'd absolutely love to go to Oman – it's right next door to Dubai, but still has so much mystery about it. Charity Challenge have recently launched their Oman Mountain Trek, which looks demanding but equally rewarding. The harsh climate and tough terrain would provide a real sense of achievement at the end!
What's your favourite cuisine?
Italian if we're close to home, or South East Asian (Thai, Indonesian, Vietnamese… it's all delicious!)
What three things can't you live without?
A photo-taking device, my skis and food – not for survival reasons, I just love cooking and eating different food!
Tell us an interesting fact about yourself…
When I was younger, I was in a documentary about babies. They took me to the zoo…