Seeing the orangutans is an incredible experience. In Bukit Lawang, you can usually see them near the world famous orangutan rehabilitation centre, however we were extremely lucky to spot 'wild' orangutans on Day 5 of our Jungle Trek.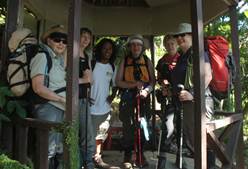 The semi wild orangutans will not stray too far from the feeding platform so you are pretty much guaranteed to spot them there. When it comes to truly wild orangutans however, you will be lucky to catch a glimpse of one in the distance while you trek deeper into the jungle. You will have to be careful to be very quiet and not scare them away! Wild orangutans will stay high in the tree tops, so spotting them takes a lot of patience and a very good eye from your guides!
Into the Jungle we go! Bags packed, re packed and packed again and the three teams with their respective guides Eddy, Iwan and Kinol set off within 15 minutes of each other on their epic journey into the depths of the jungle! An initial tough climb with a surprising amount of steps greets us as we approached the entrance to the Gunung Leuser National Park. It was an extremely humid morning, so the start was tough going, but we were all in great spirits, and rearing to go!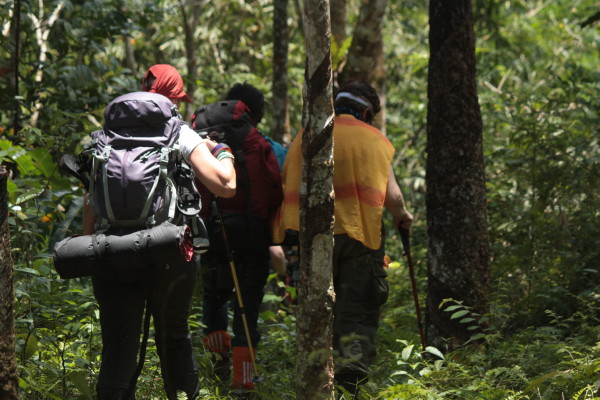 After a morning of trekking we soon discovered this was definitely not a stroll in the park!  Flat ground in the jungle is something of a rarity and for every steep climb there was an equally steep descent. We now understand exactly why Tarzan chose to swing through the trees – it's a much more efficient way of getting through the jungle, there are far less obstacles up there!
After clambering up and over fallen trees, untangling a foot or two from the cunning and craftily hidden jungle vines,  taking a skip and a hop over the abnormally large tree roots, we finish by swinging from tree to tree as we manoeuvre our way down the extremely steep descent. The jungle was soon testing our mental awareness and strength to the extreme!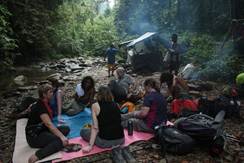 Our first experience of lunch in the jungle was a delight for all. A blanket of fern displayed juicy pineapple and passion fruit and 'nasi goreng'(fried rice with omelette) wrapped in a banana leaf. It was delicious! However, we soon found ourselves ambushed by a gang of 'Thomas Leaf Monkeys' or 'funky monkeys' as our guides liked to call them. They took a fancy to our lunch and I have to say I can't blame them, I'd much rather have Nasi Goreng over leaves any day!! The Thomas Leaf Monkeys are very distinctive with their black mohawk hairstyle, they live in female groups of around 6 with one male ringleader. Their population, like most species in the rainforest, is decreasing due to their primary habitat being taken by logging and conversion to oil palm plantations. They are however, protected by Indonesian Law and are inc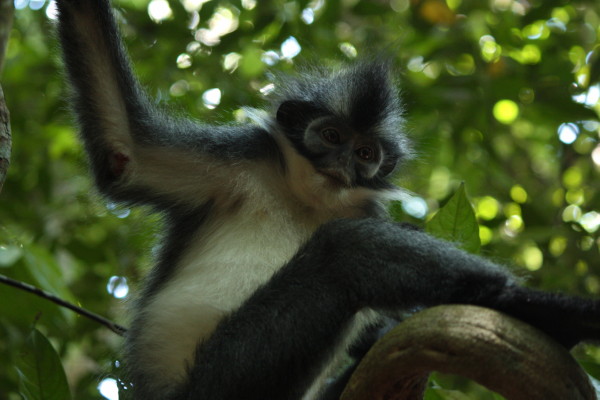 redibly fun to watch!
It was a tough days trek, feeling the effects of jet lag, acclimatising to the humidity and realising that maybe a bit more training, scrambling and step climbing shoud have been in order. The steep climb into camp felt like it lasted forever, with every step seeking for that next branch,  roots or jungle vine to hold onto to ease us down. Part shuffle, part scramble, I think I can safely say we all had a couple of slips and bumps, with a struggle to get back on our feet with the weight of the backpack. I was anxiously scanning the trail hoping that there was enough low lying forest to ease the falls. We were exhausted and just about to throw our toys out the pram at our 'oh so lovely guides' through sheer exhaustion when we suddenly see smoke from our camp. We were very pleased to be greeted with hot tea a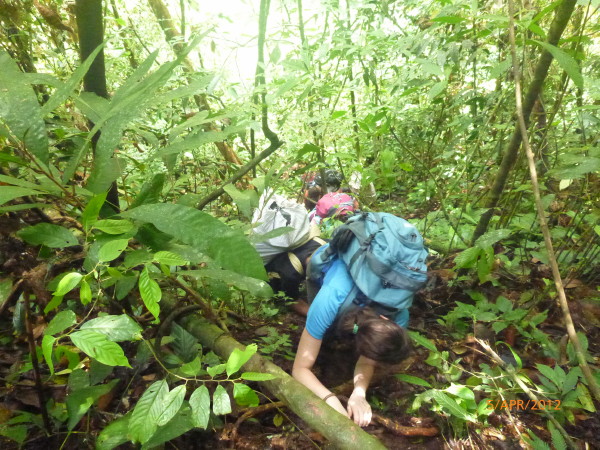 nd coffee and biscuits. and quietly welcomed by the sight of a mother orangutan with her baby watching us from across the river. A prefect end to a very tough day!
Next, we bathe in the river and the guides once again triumph with an amazing spread of dishes for our evening meal. Later, whilst sitting under a bamboo frame covered tarp listening to the pouring rain, someone shines their torch through the darkness across the river and into the jungle and for a split second we think we see a pair of shining eyes starring back at us! We turn off our headtorchs, huddle down into our sleeping bags and watch the fireflies go by. We sit in silence listening to the noises of the night and ponder over the days trek, realisation hits that we are here, in the prime jungle, just the 6 of us (and the other two groups maybe just 10 minutes downstream but you would never know!) and our team of guides. I know we are all thinking 'how do we share this – how can we possibly describe living in the jungle? An experience as Barbara later said to me '' hard enough to sort it in my own head and finding almost impossible to explain to others''.
The silence was soon broken by screams of  'blood'!. The Leeches had arrived. The trees were wet from the rain and the Leeches were in their haven – fresh blood had arrived!!
If Jo's experience in Sumatra has inspired you, check out our Sumatran Jungle Trek here, and subscribe to this blog to hear about what happened next. To keep up to date on all our challenge news, both jungle and not, please enter your email address into the adjacent box to subscribe to our mailing list.