First the immense challenge of reaching the summit of Kilimanjaro, a 6 day trek to Machu Picchu in Peru and now a 485km cycle for charity across Rajasthan in India. Much loved TV presenter Denise Van Outen is unstoppable! This time she's taking her friends Lydia Bright from The Only Way is Essex
(TOWIE) and Kirsty Williams from The Insanity Group of Companies.
The girls have chosen to raise money for Great Ormond Street Hospital which desperately needs money to provide vital up-to-date equipment and fund research into better treatments for children.
The challenge is being organised by Charity Challenge, and Denise, Lydia and Kirsty started preparations in early January 2012 as they began their pre-event training.  They were each provided with a fantastic hybrid (road/mixed terrain) bike from Specialized and a top of the range indoor exercise bike from Hire Fitness; a nationwide company that hires gym quality fitness equipment to use at home.  The Hire Fitness bikes proved an essential part of their training as the snow fell outside and temperatures plummeted!
As they embarked on their strict fitness regime, they realised they were becoming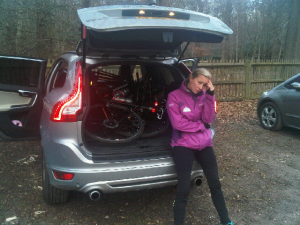 hooked on cycling when they started turning down opportunities like VIP seats at premiership football matches in favour of checking out the best cycle routes!
"I'm turning into a biking geek" Says Kirsty, "cycling to and from work and at weekends and using my Hire Fitness bike at home".  A quick 24 mile cycle is now nothing to them but it's not been without challenges along the way! For one, It's really NOT easy fitting 3 adult bicycles into the back of a car!! But the girls just about managed to squeeze them into Denise's Volvo XC60.
So challenge #Essex2india is nearly here.  With just a few weeks left before the big event the girls are training hard, through everything the weather has to throw at them!
"Going cycling today to train for my Essex2India bike ride – I must be crazy it's freezing out there!" tweets Denise.
They've prepared well but what they can't prepare themselves for is the extreme heat that they will be enduring as they cycle across India.  And what will they do after all this with so much free time on their hands you may well ask?  Perhaps another Charity Challenge?
Click here to for learn more about our Rajasthan Tiger Challenge – the challege Denise and Lydia are so bravely taking on! To keep up to date on all our challenge news, and hear the latest updates about the Essex girl's challenge, subscribe to this blog by clicking on the orange RSS button, you can also enter your email address into the adjacent box to subscribe to our mailing list.