Dara O'Briain goes overboard on his Comic Relief trip down the Zambezi.
On the first day of this trip, I was asked what my greatest fear on the journey would be. Ever the clown my answer was "To die, off camera".
I had ample time to consider the irony of that on a calamitous white water trip yesterday that left me clinging to a tree stump in the middle of the Zambezi
for 40 minutes, waiting to be rescued.
Phillips Idowu and I were in the final boat to take the sharp left into the rapids, but missed the turn, and ended up exactly where we were direly warned not to, wedged under a tree. When it became clear that no help was coming we had to engineer an escape, tipping me into water twice, nearly sending us down the wrong channel and eventually after much struggle leaving us with the only option of launching ourselves down the rapids without either of our paddles.
We kept striking trees all the down as we ricocheted uncontrollably down the river. It was when we were travelling backward that I got tipped out for the third time, and had to grab the stump of a mid-river tree to save myself.
And that is where I stayed for forty minutes, ironically, in full view, mid-river of every camera we had. In fact it was one of the camera boats that, having spent those 40 minutes trying to rescue Phillips, then came past me, shouting at me to jump.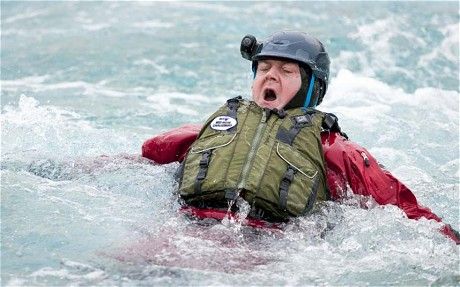 I'll not forget that leap very soon, but then, I don't have to, since they got a shot of me as I was as dragged me aboard.
Be careful what you wish for.
Dara needed the skills he learned on a training day (Tom Dymond/Comic Relief Ltd/ Rex)
You can sponsor the BT Hell and High Water team now at rednoseday.com/Zambezi
source – The Telegraph – http://www.telegraph.co.uk/travel/activityandadventure/9836233/Dara-OBriains-Zambezi-diary-day-three.html
To keep up to date on all things Hell and High water, you can follow us on Facebook and Twitter, and subscribe to our Blog, YouTube account and mailing list. You can also find out all about the challenge and see the latest news here.
If you've been inspired and want to take on your own experience of a lifetime, then check out our amazing and global range of treks, bike rides and mountain climbs here. You can even take part in our exclusive Zambezi challenge. Click here to receive details once the challenge is complete.