20 years of running Charity Challenge has given Simon Albert many amazing opportunities to travel the world, meet the Queen, and share incredible experiences with his sons. But helping others raise money for charity and achieve their own personal goals has always been Simon's chief motivator for running Charity Challenge.
In celebration of Charity Challenge's 20th birthday, we grabbed an interview with the boss, to reflect on what makes the company he started 20 years ago special.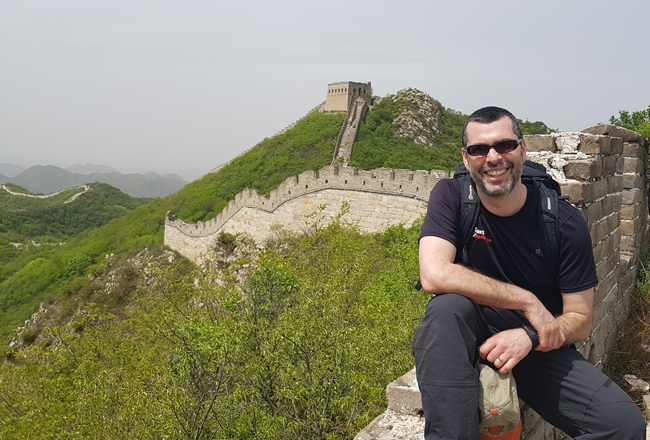 How and why did you start Charity Challenge?
I participated in two trekking challenges in my early 20s, climbing Kilimanjaro in Tanzania and trekking through the desert in Jordan to reach the incredible ancient city of Petra. These were amazing experiences. I made loads of new friends and ticked off two things on my bucket list. I wanted to do more.
So I helped to organise a couple of challenges with Jeremy Gane, a respected tour operator who later became my business partner. We ran a trek with the Maasai in Tanzania, a trek which followed the trail of Fidel Castro and the revolution through the Cuban mountains, and a rafting challenge along the Zambezi to Victoria Falls.
Whilst pondering what to do with my life, I received some wisdom that if I wanted to be successful I should do something I was passionate about. At that time (and still today, more than 20 years later!) it was adventure travel, raising money for charity, and helping people to achieve amazing personal goals.
Not long after, I registered Charity Challenge as a company and started to operate the challenges as a tour operator.
What was your first Challenge?
Our first challenge as Charity Challenge was a trek through the Avenue of the Volcanoes in Ecuador. There were around a dozen of us and a film crew from the travel programme Wish You Were Here. We raised funds for Sargent Cancer Care for Children (now called CLIC Sargent), as one of the founders of Charity Challenge had a link to the cause. We spent five days trekking and acclimatising before summiting one of the world's highest active volcanoes – Mount Cotopaxi. The volcano is only a meter higher than Kilimanjaro, but you need to be roped up to a guide, with hard hat, crampons and ice axe. Summiting Cotopaxi was a step up from the Kilimanjaro experience that inspired the business.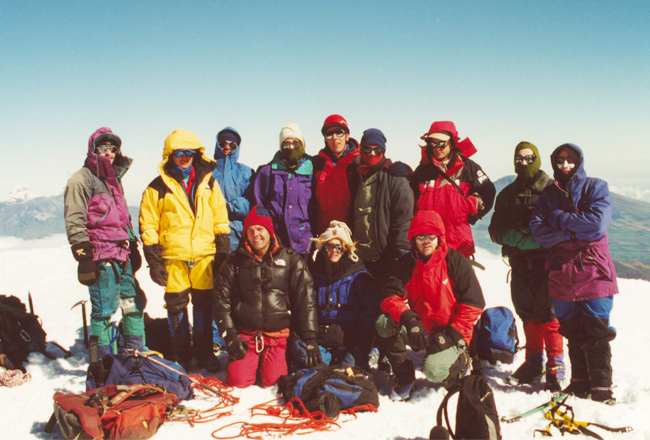 What's kept you motivated through the last 20 years of running Charity Challenge?
Personally, I'm happiest when I get out on a challenge. I love travel and adventure, seeing new countries, experiencing new cultures and religions. Over the last 20 years of running Charity Challenge, I've been honoured and privileged to have trekked in Cuba, Peru, China, Mexico and the USA. I've climbed volcanoes in Ecuador and Tanzania, been on bike rides in Cambodia and Iceland and white water rafted in Zambia and Zimbabwe. I've also built houses in India and Sri Lanka after the tsunami and in South Africa for orphans and vulnerable children.
But I also really love seeing the impact that the challenges have on people; emotionally, physically, mentally and spiritually, and getting the feedback about the experiences. Some of our participants have done a challenge with us every year or every other year and keep coming back. Speaking to them gives me an immense amount of pride.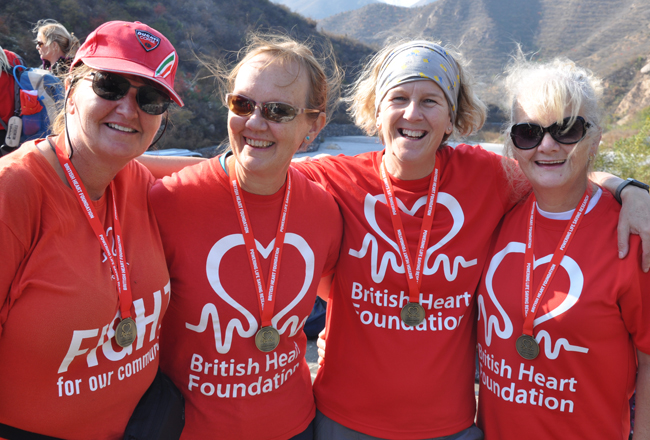 Many participants have a very personal cause they are supporting due to personal circumstances. It's very rewarding to know that as well as helping people achieve their own challenge goals, we are helping to provide support for the vulnerable, food for the hungry, shelter for the homeless, and access to medical care for the unwell. Our incredible participants have raised over £55,000,000 for around 1,800 worthwhile causes in the UK, Ireland, and Canada.
It's an unbelievably rewarding business to be a part of.
What are the stand out moments for you over the last two decades?
I have three stand out moments from the last 20 years of running Charity Challenge.
The first was launching our community challenge programme just weeks after watching the Asian Tsunami unfold in front of me on Sky News. We formed a partnership with Habitat for Humanity who were the second biggest house builder in Sri Lanka after the government. We also joined forces with Sri Lankan Airlines and with a local team on the ground. Together, we started taking volunteers to build houses for those in need on Habitat sites.
I went on the first challenge and built a house for Vinol and his young family. He was out on his fishing boat at the time and his boat was destroyed. It took Vinol two days to find his family. They had survived but his house, and everything in it was gone. Literally everything. They had to start from scratch. We helped to build a number of houses for the community and we worked alongside Vinol for a week. It was an amazing experience. As part of the programme, we built houses, health centres and community centres in India, South Africa, China, Mexico, Mali, Tanzania, Nepal and Cambodia.
The second stand out moment, was running the original Comic Relief Kilimanjaro celebrity climb. My close friend and business partner, Jeremy Gane, was approached by Gary Barlow to organise the climb up Kilimanjaro. Jeremy is an expert on Kilimanjaro, having summited the infamous peak around two dozen times. It was months of solid planning and logistics, a lot of stress. The event was a huge success, reaching audiences around the world and inspiring them to donate to Comic Relief. But for all the positive outcomes, had anything gone wrong on such a massive media focused challenge, it would have been a disaster for the company.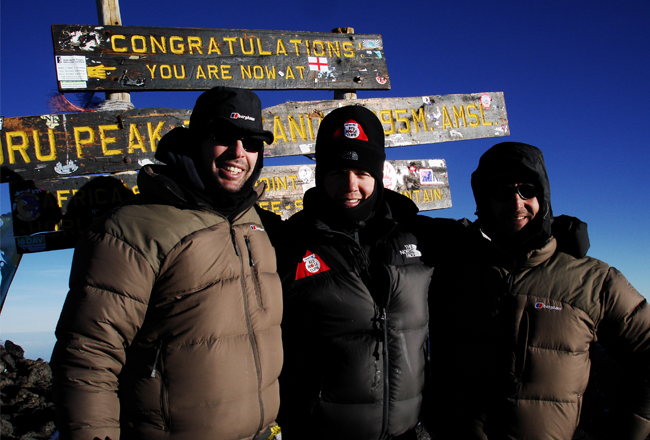 The final team included a few of Gary's friends; Cheryl Cole, Alesha Dixon, Ronan Keating, Denise Van Outen, Chris Moyles, Kimberley Walsh, Ben Shephard and Fearne Cotton. Thankfully, we managed to get everyone, including the support team, to the top of the mountain. I'm proud to have been part of the £3.5m raised for Comic Relief.
I'm yet to announce the project that is my third stand out moment. I've been working on it for three years and will involve massive music acts, global media and thousands of fans raising tens of millions of pounds. It will be the amalgamation of the knowledge and skills developed over the last 20 years of running Charity Challenge.
Watch this space!
Any hiccups along the way?
During the last 20 years we have had to deal with every disaster to have hit the world. This included bird flu, terrorist attacks, SARS, Ebola, cancelled flights, strikes, tsunamis, hurricanes, the Arab Spring and the eruption of Icelandic volcanoes. Pretty much every significant world incident impacts on our business. That has kept us constantly on our toes.
Why do you think the popularity of the challenges keep growing?
The challenge event itself is only one aspect. By the time someone takes on a challenge, they will have spent months getting fit, losing weight, making better lifestyle choices (for example eating habits). All in an effort to be fit, strong and ready for their challenge. They have championed a cause close to their hearts and raised funds to support its work. This is all a reward in itself.
Once on the trip, though, people have a life changing experience.  Challengers switch off from everyday life and return to nature (which is proven to make people feel calmer and more relaxed). They make new connections, achieve incredible goals and tick something cool off of their bucket lists. There are so many different ways that this helps people to feel better and be better, and its hard to complete a challenge and go back to the way things were. I really do think it gives people purpose. Individually we are a difference. Collectively, the impact is really great!
What's the best challenge you have done?
The best challenges I've done were with my sons.
In 2016, I trekked to Machu Picchu with Benji, who was 12 at the time. We took on the Trek to Machu Picchu, and he raised over £5000 for a cancer charity after my father in law died of a rare form of blood cancer.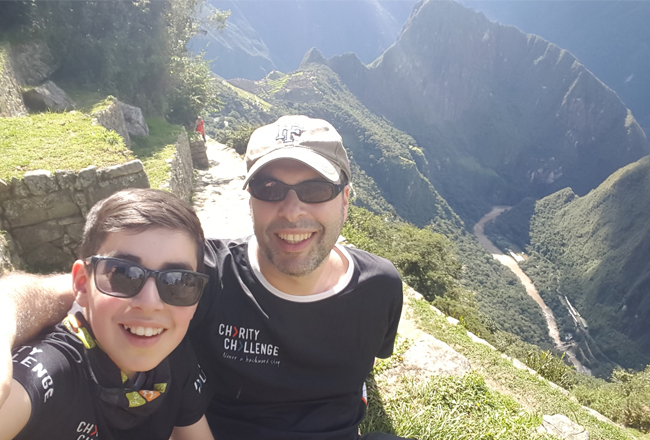 In 2018, I went to Cambodia with Gadi, also aged 12 at the time. We trekked through the Kulen Mountains, kayaked on Tonle Sap, and rode mountain bikes through rural villages to Angkor Wat. Gadi raised over £3500 for WaterAid. This was my first ever trip to Cambodia. But my highlight was getting to spend two weeks with my son, walking, talking and sharing, without the modern day interruptions that often get in the way of communication between father and son.
My youngest son is 11 and next year we will be taking on an adventure of his choosing for a cause that he chooses. It's important for me that my sons appreciate how lucky they are. I want them to  understand we all have the power to make a difference to other people.
Both yourself and Charity Challenge have been acknowledged for your work, this must give you great satisfaction?
Charity Challenge has received a number of accolades over the years. I've always felt grateful and honoured, as it shows that what we are doing is having a positive impact. Although a commercial business, we just about cover our overheads. I never set the business up to make money, but to travel the world and to raise funds for good causes. So being recognised for the work that we do is very rewarding!
Charity Challenge was highly commended by the Queen's Award for sustainable development and highly commended in the Virgin Holidays Responsible Travel Awards. In 2017 we received a World Tourism Award, one of only three given each year. We have also won the Best Challenge Company award multiple times at the Institute of Fundraising awards.
Although I initially thought it was someone playing a joke on me, I received an invitation to Buckingham Palace in 2011 to celebrate 100 years of British adventure. I was honoured to meet the Queen and Prince Philip. Plus several other members of the Royal Family and famous adventurers like Michael Palin, Bruce Parry and Ben Fogle.
In 2015, I was awarded a British Citizen Award for championing the work of Charity Challenge. However, I'm proudest of having being nominated as one of the 100 people who make Britain a happier place in the Independent on Sunday Happy List!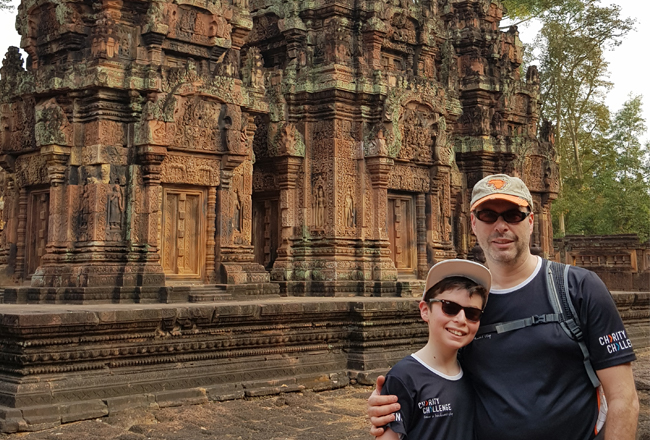 What trends have you seen over the last 20 years of running Charity Challenge?
It seemed everyone was offering treks to Machu Picchu or the Great Wall of China, when we started Charity Challenge. We avoided these classics in favour of off the beaten track destinations. But it didn't take long to realise that everyone was offering them as they were clearly the most popular challenges. They are still, twenty years later, in the top few challenges we operate.
A few years ago, we introduced UK challenges. One day and two day challenges in the Lake District, Snowdonia, the Scottish Highlands and so on. They have grown massively as people have looked to do challenges closer to home.
The biggest shift I have seen is that now women account for almost 65% of our tough and extreme challenges. 20 years ago men dominated the more difficult challenges. I don't know the reason behind the shift, but women have stepped up to the mark, in massive numbers. Good on them!
Where to next?
We are constantly evolving our offering both close to home and further afield. New destinations about to launch include Slovenia, Sri Lanka, Jordan and many more. Last year we ran our first challenge to Greenland.
We are also launching a whole new series of corporate challenges which address the growing needs of modern-day work forces. It's inspiring doing something you believe will have a positive impact on so many people, not just the charities supported, but for the participants who take part!