At Charity Challenge we are extremely proud of the amazing crew we have. We know it can be a little daunting joining a challenge for the first time so we thought you might like to meet the team in advance of your Charity Challenge. Today we introduce you to Challenge Leader – Phil Nelson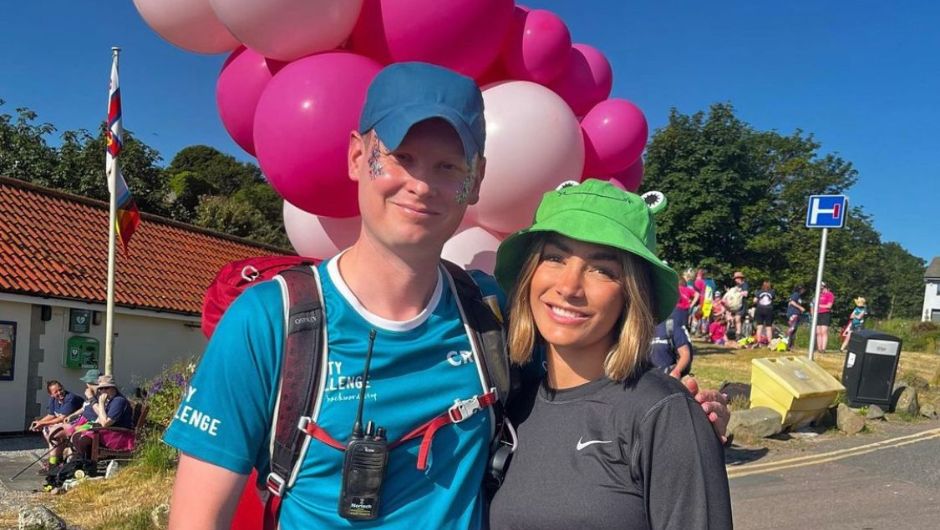 Name
Phil Nelson
How long have you been a Challenge Leader?
I have been a Challenge Leader for Charity Challenge since 2014, my first being a Yorkshire 3 Peaks Challenge in aid of Macmillan Cancer Support
What's been your favourite challenge (so far)?
Tough one, I have been privileged to be part of a lot of amazing Charity Challenge events from Macmillan Treks, Jeff Stelling Football Marches in aid of Prostate Cancer UK, the Caroline Flack Memorial 24 Peaks with Olly Murs, CoppaFeel! Nortumberland Challenge and many others. However, the one that sticks with me the most is the 2018 RNIB Ben Nevis Challenge, where I helped guide a lady called Sue reach the top of the UK's highest mountain. What made it even more special, is that Sue is registered blind, having lost her sight over a period of years. With the aid of 2 helpers and a charity rep, she made it to the summit and back down in 11 hours 36 minutes in less-than-ideal conditions. A very special event to be part of with a lot of money raised for charity.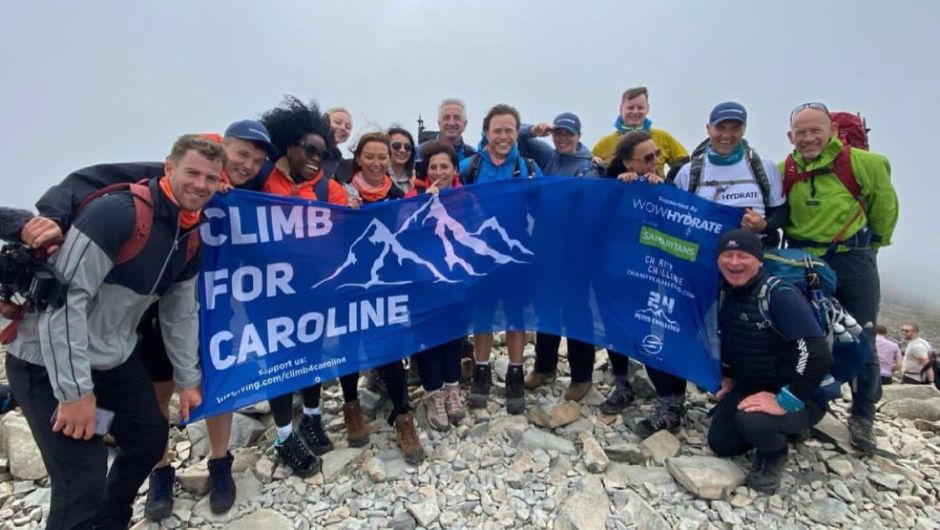 Do you have any challenges left on your bucket list?
I have lots left to do still! Kilimanjaro Summit Climb, Mount Toubkal Trek, Great Wall of China, Everest Base Camp Trek and Trek to Machu Picchu are top of my list!
How do you keep your body in tip top shape for the challenge season?
I'm pretty boring…I just climb mountains and go trekking! I guide and walk throughout the year, so can maintain my fitness and skills over the cold, dark, winter months too. I spend somewhere in the region of 100 days on the mountains every year, for either guiding groups or personal trips. I'm known for guiding on Ben Nevis regularly (around 200 ascents in total, of which a lot are for Charity Challenge), but it only makes up 20 – 30 days out of the 100 per year. When I'm not guiding, I like to climb mountains I've not been up before and do new treks; the Haute Route from Chamonix to Zermatt being my all-time favourite trek. I have also climbed all 316 of the UK and Ireland's Munro status mountains and am currently working through the 222 Scottish Corbetts.
What are your go to snacks to keep you fuelled and hydrated on a challenge?
Having tried all manner of weird and wonderful things over the years, my tip is to just eat things you like and lots of them. Sometimes participants turn up with lots of energy gels and electrolyte powders for water, which are all good but sometimes, real food is not taken too. These gels and powders are no substitute for real food and on a mountain, you may be walking all day, burning thousands of calories. My go to snacks for the UK is a good old fashioned meal deal; sandwich, snack like a samosa or pork pie, some chocolate bars, bags of salty crisps if its hot weather to replace lost salts, and a pack of sweets like Jelly Babies or Sour Patch Kids. To drink, I find water a little boring so often carry one of those little squeezy bottles of squash to jazz it up…if it tastes nice then I'll drink more!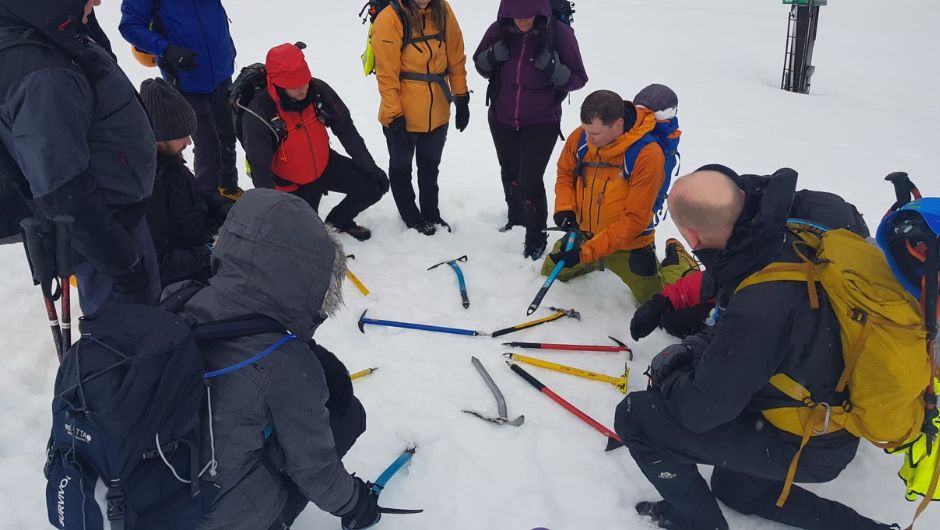 Any top tips to share with participants signed up to a challenge?
As someone who spends a lot of time on my feet and as a former footwear fitter in an outdoor shop then, what you wear on your feet is so important. We see on treks and events a lot of blisters, damaged toenails and foot pain. This is often because the wrong size, type or brand has been chosen for the foot shape and event.
A quick pro tip that anyone can do to ensure they buy the right size is before you try on a boot, walking shoe, trail runner etc. is to take out the insole and place your foot on it. Try to wear socks that you would wear with the footwear. Then stand up as the weight of your body will spread your feet out more and you are looking for 3 things.
Is there a thumb width of space at the end of the insole? If not, as your feet expand throughout the day and as you walk downhill, your toes will strike the inside of the footwear. This is the most common cause of people losing toenails and is easily avoidable.
Do your feet overhang at the sides of the insole? If yes, the footwear will be too narrow and may cause pressure points, blisters, and premature wear on both your socks and footwear.
Is there excess space at the front or sides? For standard mountain footwear (extra space is needed in specialist cold weather and high-altitude boots), you shouldn't have excess space at the sides and anything more than a thumb width at the front may mean that the footwear is to broad or big for your foot shape and size. This will cause blisters as your feet will move about too much and your heel lifting too much at the back. The latter can be reduced by lacing techniques, a higher volume
 Each footwear brand fits and sizes differently, even within specific brands you may find some footwear feels different on your feet at the same size. There are 3 main foot shapes, and finding the brand of footwear that best fits your feet takes trial and error, so try many. Some brands also come in small on their sizing, so don't be surprised if you need to go a whole shoe size up or more when purchasing.
 Don't skimp on socks! Good quality merino wool socks which stay warm when wet and don't smell too much after a few days are worth extra investment. Cheap socks, ski socks and football socks are all quick ways to blister town! Some say wear 2 pairs of socks, I've tried this, and it didn't work for me, although for some it may do. I found that my feet overheated and made my footwear feel tight, so I just wear one pair of high-quality merino socks.
 Check your footwear! Each year on treks and events, many boots and shoes catastrophically fail. Often, it's because they are a little bit too much 'broken in' and should have been replaced a while ago. Check over your footwear making sure all the lace hooks are still solid and check that the stitching, glues, and sole unit are still very secure. If in doubt, get some new footwear and try to break in as best as possible.
 Drying footwear on radiators causes the glue to melt and eventually the sole to fall off. Equally if you have left footwear in a damp garage/shed/basement/not wash the mud off them for a long time, seriously increases the chance of boot/shoe failure. Washing and reproofing can make a difference to the comfort and lifespan of your footwear.
 Spare laces cost around £3, weigh nothing and are worth taking on multi day treks in case of breakages.
What 5 items do you always pack in your day rucksack?
Suncream – I learnt the hard way, even on snowy or overcast days you can get a lot of harmful UV rays and sunburn.
Walking Poles – these are great for saving wear and tear on your knees, helping with balance, poking boggy ground, crossing streams and rivers and many other uses – essential bit of kit!
A Water-to-go filter bottle – the latest bottles have a great flow rate so are much better to drink from and it means you can fill up from a freshwater stream or lake and not have to worry about purifying first. For overseas treks, these are a must have!
Spare Warm Jacket – for high, dry, and cold places (e.g. Alpine, Kilimanjaro, Toubkal, Everest Base Camp, Desert Treks) I use down jackets. The colder the location, the more grams of down you need. These provide a warmth boost for when stationary or sitting around a campfire at night in the cold. For wet, windy and damp places (e.g. UK and Iceland treks) I use synthetic filling as even waterproofed down stops working when soaked.
Group Shelter/Bothy Bag – As leaders we carry these to provide protection from the elements and often, we will carry ones that can take up to 10 people. However, if I am solo walking, I still carry one but a much smaller 2 person one. These are so much more comfortable than an emergency blanket or bivi bag as your entire body is enclosed and creates a warm microclimate where you can eat, rest, do first aid. Quick pro tip…dump the stuff sack it comes with and use a dry bag instead as it will be much easier to stuff back in on a windy mountain top.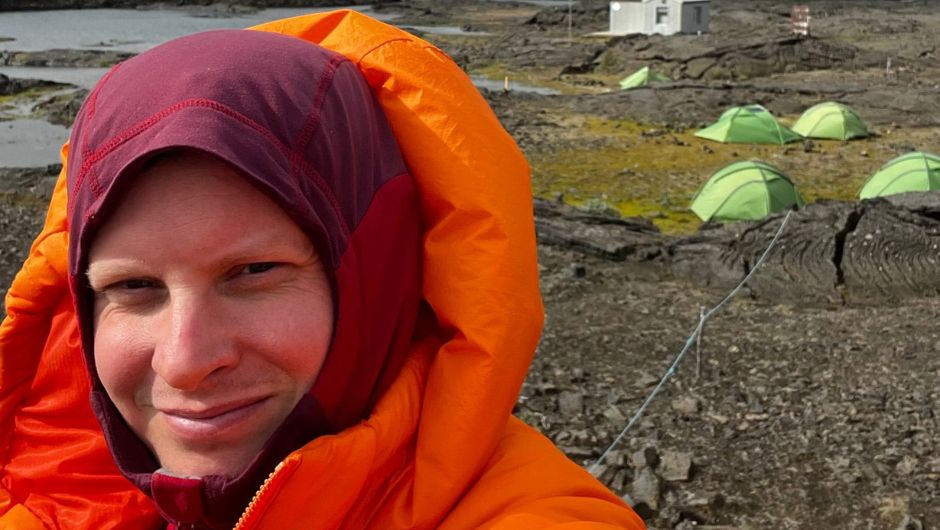 What is the best thing about being a leader?
The people…I have met, walked, and guided with so many amazing people from around the world. You can't always guarantee views, sometimes we have to turn back from a summit, but all of this doesn't matter if you are sharing an amazing experience and having great chat with people. Don't ever be afraid to go on a trip solo, you will meet likeminded people; the friendships and bonds you make in a short space of time, can last for many years.
What is your proudest achievement to date?
My proudest 3 are guiding Sue on Ben Nevis (see above), Completing the 282 Scottish Munros in 2020 and getting my Winter Mountain Leader award. The latter requiring a high level of fitness, commitment, and skill in demanding, snowy conditions and a culmination of years of mountain climbing in all weathers.