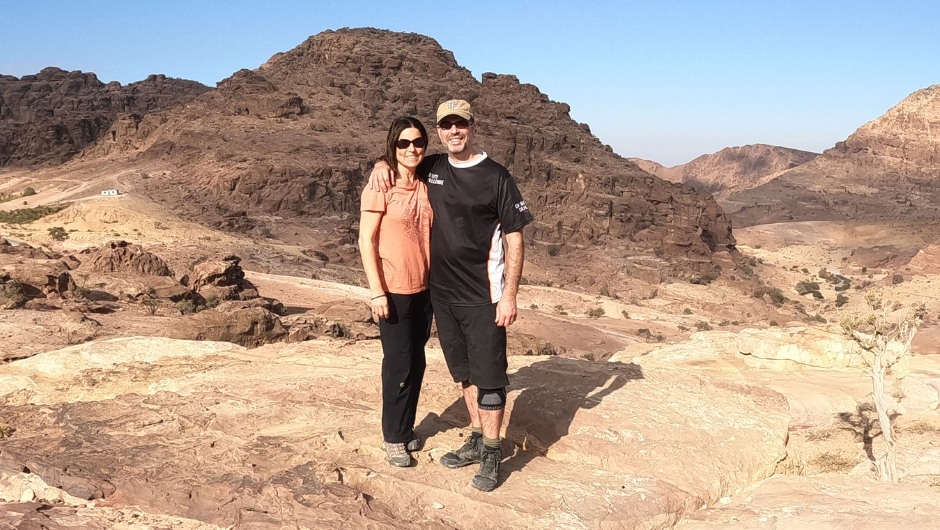 After two years of being grounded due to Covid, it was great to finally travel again.
My highlight (don't tell my sons, who joined me on challenges to Nepal and Iceland) was a trek just a few weeks ago that I did to Petra in Jordan with my wife. We haven't taken on a Charity Challenge together since we started a family 20 years ago, but it was special for so many different reasons.
Trekking to Petra back in 1995 as a young fundraiser was what inspired me to set up Charity Challenge, and this was my first trip back.
I had forgotten how incredibly spectacularly stunning the scenery is (you can't have too many superlatives as it really is breath-takingly awe-inspiringly beautiful).
Wind and river has sculptured the rock formations and canyons over millions of years, and created the most awesome views.
Watching the sun set from our Bedouin camp each night, sat round a fire, eating tasty local cuisine cooked on the fire, and hearing stories about the Bedouin through the ages, we immersed ourselves in desert life.
But what really made this a magical experience for me, was that on top of witnessing the 2000 year old city of Petra carved into the rocks, and the incredible scenery and Bedouin hosts, I was able to walk and talk with 30 amazing participants many of whom had booked years ago and postponed their challenge over and over again as the impact of Covid lingered. They were all fantastic company, with some amazing and inspiring stories, but what touched me most, was the number of people that had done 4, 5, 6 or even 7 previous challenges with us and hearing their stories and experiences.
I spend much of my working life sat at a computer and so being back out on the challenge, with the people that helped us stay in business during the very difficult last two years of covid was humbling and I am grateful for the experience. Shukran lakum 'asdiqayiy
Simon Albert, Co Founder and Director
---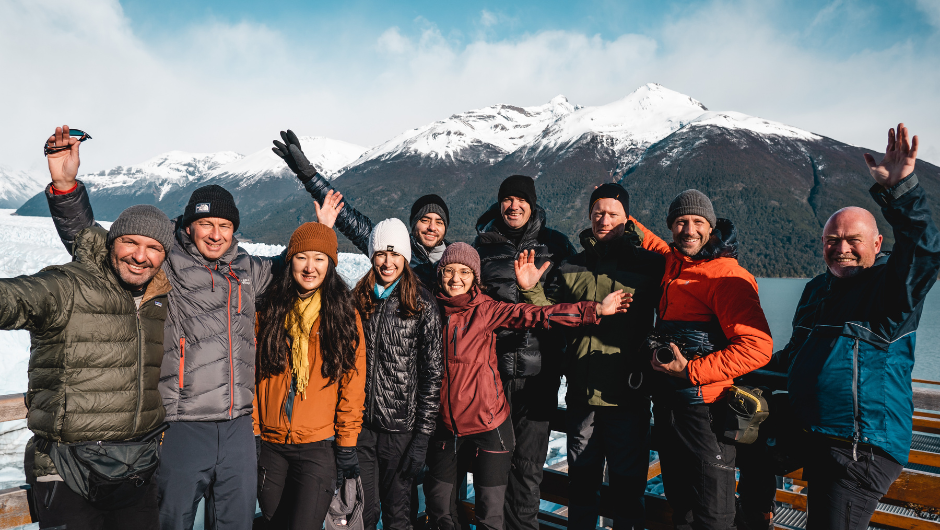 I count myself as very fortunate because I do a job that until 10 years ago, I didn't realise existed and I find it challenging to pick out a single highlight so I'm not going to, I am going to highlight several.
Well, another year over already and WOW what a year with lots of interesting new challenges as well as the old favourites, I don't think that I have been on Snowdon (Y Wyddfa) summit in daylight this year and there was more good news in March when the overseas challenges kicked off again.
To start with, in the UK I am going to go for two events.
The Coppafeel Pembrokeshire Coastal Challenge, here we spent 5 days trekking along some of the UK's most beautiful coastline and because this is a week's itinerary, we really get to know the participants and why they are challenging themselves. As leaders we tend not to work together very often so it's great to be part of a team, whether you're walking on the trek, driving the support vehicle, or buying extra toilet rolls from a surprised local convenience store.
I have completed quite a few Snowdon (Y Wyddfa) at night or sunrise events this year but the most poignant one was for Sands Charity. After speaking to many of the participants you realise how lucky you are, it gives you a much clearer perspective on life, as lot of the things that we worry about, aren't really that important.
On the overseas front the Hope for Justice Trek Patagonia Challenge was a fantastic experience. A great team with participants from many different countries raising funds and awareness for a truly life changing charity. Not only that but we were in a stunningly beautiful part of the world with some interesting weather (yes there was snow) making the challenge even tougher, who could ask for more?
Richard Simpkin, Challenge Leader
---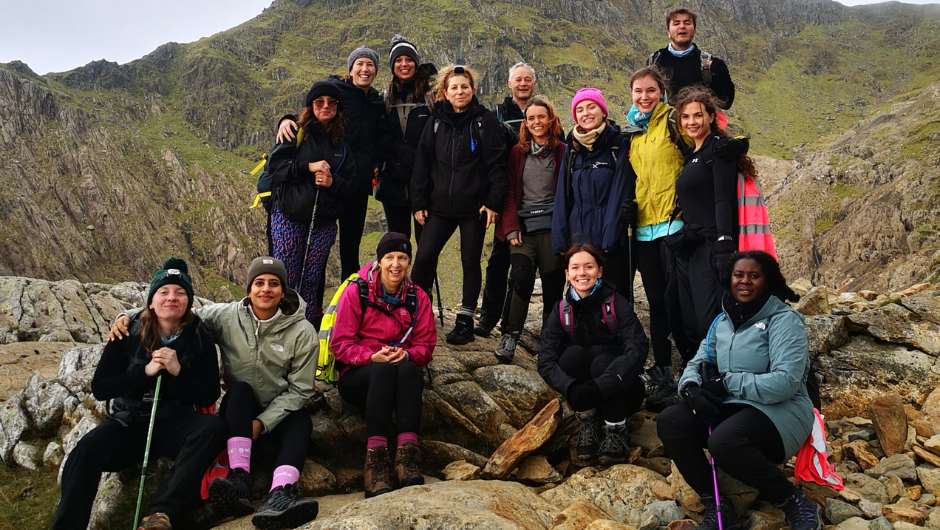 What a year that was! It was great to be back up to full speed with events from March all the way through to November.
Looking back it's fair to say that every event had it's fair share of highlights but perhaps the one that stands out the most, certainly as my most repeated event this year, is the National Three Peaks Challenge.
I have to say it's also the one event where I am the most physically challenged, at least at the beginning of the season before I'm fully 'N3P-fit'.
I look forward to meeting each new group of N3P-challangers on the Friday evening and am always blown away by their enthusiasm and determination to take on one of the harder challenges out there for people who aren't regular hill walkers in order to raise money for their chosen charities.
The pre-event briefing is designed to lay out the bare bones of the challenge but no one has ever decided to withdraw from the event at that stage even if they know that their training and preparation for the weekend could have been better. After all, the challenge is not against the three peaks, nor their team members. Rather it is an opportunity for each of them to test themselves under the watchful summits of each of the National Three Peaks.
On it's own Ben Nevis can be considered to be the toughest of the three, having the longest distance and highest ascent. Scafell Pike probably has the lowest percentage of successful summits and whilst Snowdon (Y Wyddfa) is usually considered the easiest of the three, individually, it's the one where most people can be seen heading down from the summit 'broken' by the relentless demands of the challenge.
I'm not writing this to put people off signing up for a Charity Challenge National Three Peaks event next year, rather it's to highlight the spirit, determination and mental fortitude which every participant I've ever had the pleasure to lead on an N3P Challenge shows, no matter whether they have managed to summit all three peaks or not.
Danny Barden, Challenge Leader
---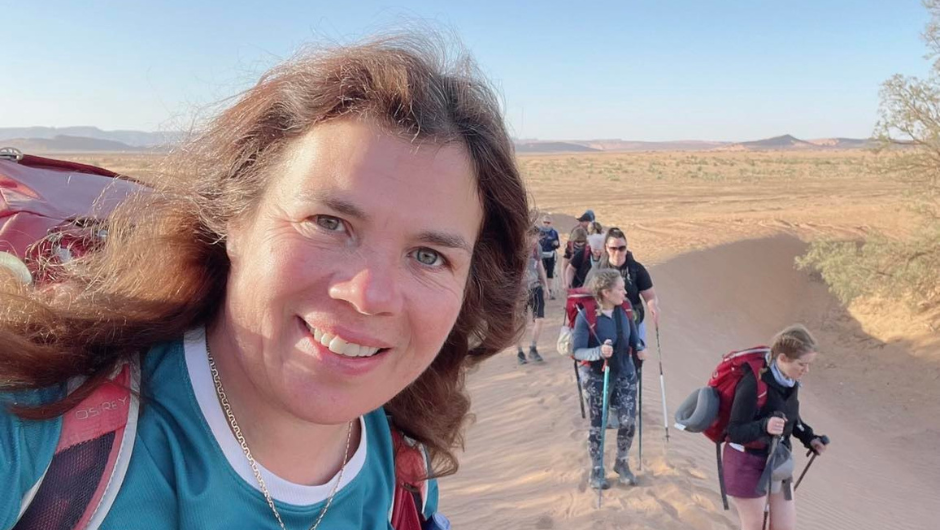 For me 2022 stands out for two things – Coppafeel Pembrokeshire Coast Challenge in June and Coppafeel Sahara Desert Trek in November. I love these treks, but most of all, I love the participants and having a whole week to get to know them. I always describe the hardships they go through as three-fold. Firstly they have to trek around 20-25km per day on consecutive days, secondly they are camping, often for the first time (and using "luxurious" wash room facilities into the bargain) and thirdly, many are leaving their families and loved ones for the first time to travel way out of their comfort zone. Oh and this is on top of many of them trekking whilst recovering from chemo or just trying to live the fullest life they can whilst battling breast cancer. One essential item I carry on these treks is an industrial quantity of tissues, and not just to mop up Mr Morton's tears, I do sometimes get something in my eye too! The trek bonds friends for life, however long or short that is.
Pembrokeshire delivered as Britain's coastal paths so often do, tough climbs, precipitous drops, crystal clear waters and wall to wall sunshine, oh and the odd pub or ice cream van to invigorate us at the end of the day. Challenges included crossing fields with cows with several members of our team terrified of them, as usual the team naturally worked together with those that were OK in the situation forming a barrier to get their team members across the field. Paddling at the end of a long day, only to see loads of jelly fish homing in on us caused us all to move faster than we'd done all day! Struggling to get a mobile signal in a car park to call back to camp, one leader heading up the hill to get a signal and another trying wifi in the shop, only to find one of the participants was carrying a Sat phone to the surprise of all us leaders. The words "you've got a Sat phone" coming from each leaders lips in turn!
The Sahara was a whole different bag, sometimes trekking over 15km across an endlessly flat landscape, our camp seemingly constantly moving further away with each step. However our days were interspersed with sand dunes, rocky outcrops and canyons – my favourite terrain. Running down sand dunes is just the best feeling, even better than the hilarity of climbing up them! And being supported by a local team of over 60 staff wasn't half bad either, as we filled another cup with local tea from the seemingly never-ending urn!
Roll on 2023!
Lizzy Codd, Challenge Leader
---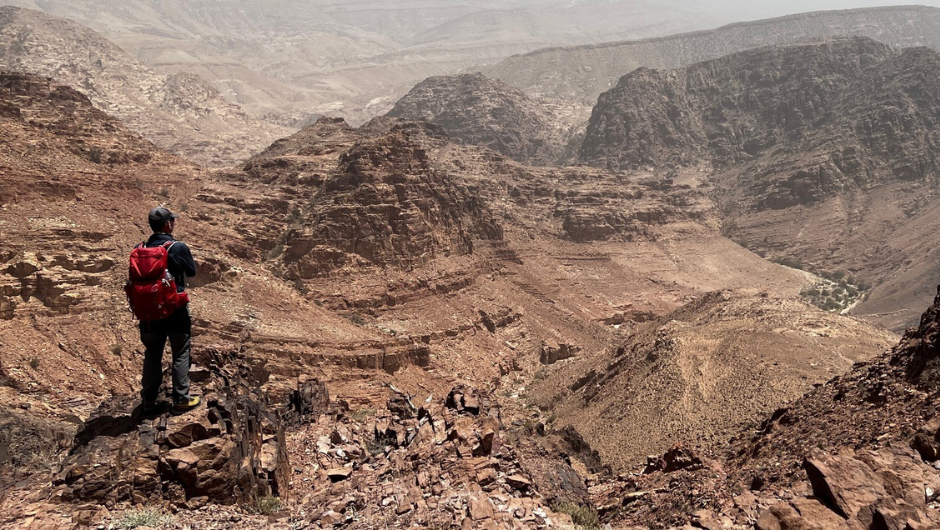 2022 has been another incredible year – reminding me how lucky I am to do the best job in the world.
I led the inaugural Trek Angkor Wat Challenge in Cambodia in October, plus, closer to home, the first West Highland Way Challenge in Scotland in September – one of the best long distance trails in the world. There have been numerous other memorable trips in both the UK and overseas during the season too.
If I had to choose one single highlight from this year though it would have to be the inaugural Trek to Petra challenges which I was lucky enough to lead back in May. This spectacular challenge consists of 5 days of trekking in the heat of the Jordan desert (living Bedouin-style throughout), and includes two big mountain days, plus the chance to float in the Dead Sea – and of course culminates in the team's arrival at the "Rose City" of Petra. I led the first two trips "back to back" and was quite simply blown away by the whole experience! I can't wait to go back in 2023!
Ian Morton, Challenge Leader
---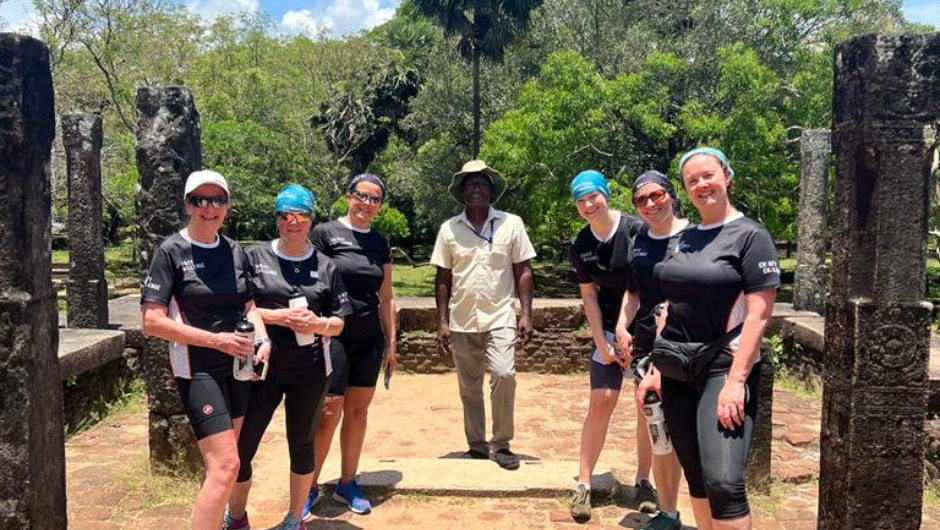 Many wonderful overseas expeditions during 2022 including Saigon to Angkor Wat Bike Ride, Cycle Albania and Cycle India and The Taj Mahal. However my favourite this year was Cycle Sri Lanka as it was just lovely to be travelling again. Tea plantations, elephants, mountain passes, waterfalls and beautiful beaches made it such an amazing experience. A professional, well liked guiding team combined with a fun group keen to push themselves helped make it a memorable experience.
Colin Lovell, Challenge Leader
---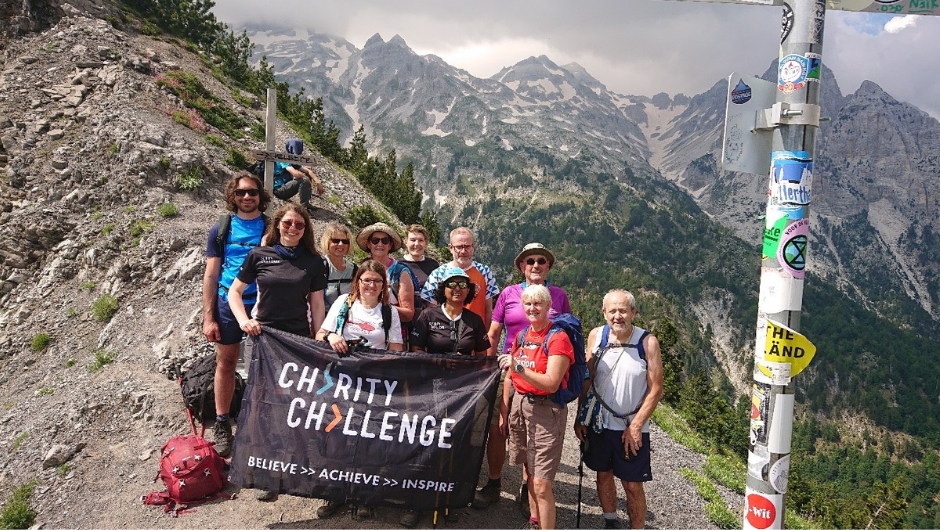 On 4 June 2023, I flew to Tirana, the capital of little visited Albania. I was met by a feisty little powerhouse called Antonela who was soon to become my guide, room mate, companion and friend. She and I were to take on the reconnaissance for the new Trek the Accursed Albanian Alps Challenge which runs along the border between Albania, Montenegro and Kosovo. Far from being accursed, they were truly breathtaking. The rock is similar to the Dolomiti stone and rises dramatically in pinnacles to create some of the most stunning mountains I had ever seen.
I was besotted and vowed instantly to explore these mountains further. Since those first days in these mountains and the Charity Challenge trek itself, I have returned already and completed the Peaks of the Balkans 10 day trail and already plan to revisit again next Summer.
So when this small group of 12 Charity Challenge participants arrived at the airport, I was brimming with enthusiasm and excitement to share with them this beautiful country, it's turbulent history and fascinating culture. I think it's fair to say that the week just got better and better. Initially stalled by transport problems and challenged with dreary weather, by day 3, the mountains showed us their true potential. The sun came out, the longest trek day stretched ahead of us but spirits were high as we left Vuthaj to walk over the Peja Pass to the ancient town of Theth.
There was still a little snow lying on the highest shaded areas but the meadows were covered in alpine flowers and bird song could be heard as we walked. Much of the first days trek led us through dense beech forests before climbing more steeply through rocky passes as the week continued.
The highlight of the week for me was standing at the top of the Valbona Pass after a picturesque but relentless mountain climb which every member of the group achieved with support and motivation from each other. We were then able to look down into the deep valley below us and wonder at the expansive beauty of this place which feels yet to be fully discovered.
This was an inspirational group of people, very diverse but who worked as a team to get everyone through this challenge with laughter and tears. We were privileged to trek with two of the most experienced Charity Challenges participants who I believe have undertaken more challenges with the company than any other, namely Roger Deeley and Elaine Davey, who provided a wealth of stories to keep us amused, inspired and entertained. I will see you and hopefully the rest of the team on the next new adventure.
Penny Knight, Challenge Leader
---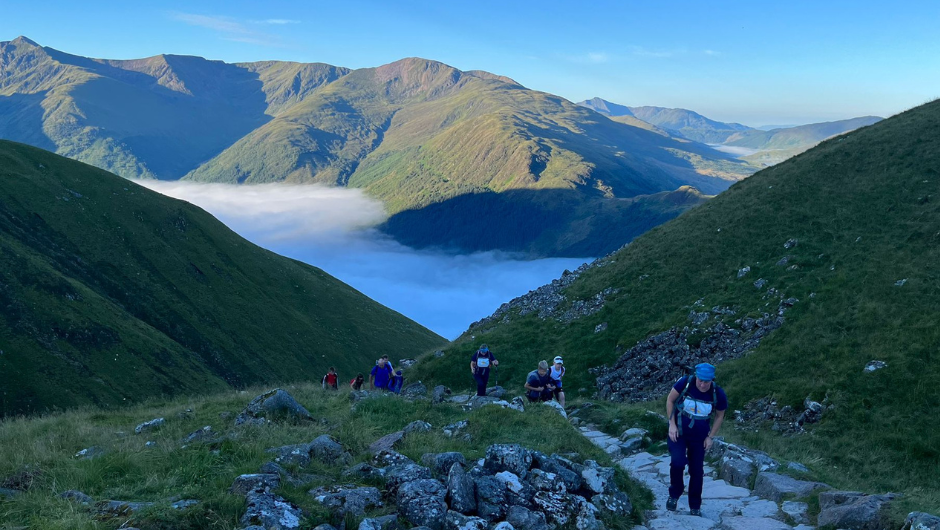 2022 has been a busy season of UK challenges for me!
I did 7 x National Three Peaks Challenges, 1 x Scafell Pike at Night, 1 x Lake District 5 Peaks Challenge, 1 x Hadrians Wall Trail Challenge, 1 x Yorkshire 3 Peaks at Night, and of course the Coppafeel Pembrokeshire Coastal Challenge ( 3 forfeits ending with pump it up on the table just for one slight detour!😆)
12th of August National Three Peaks Challenge was definitely a highlight because of the weather and incredible cloud inversions on a clear Ben Nevis. We had 30 degrees on Ben Nevis, 22 degrees at night on Scafell and another 30+ degrees on Snowdon phew!!!
Scafell at night was particularly challenging as visibility was down to less than 3m which tested our skills to the utmost but made easier by having the A team of leaders on the hill, all three challenges were taken by truly exceptional and inspirational clients, busy but satisfying year.
Looking forward to next year and just maybe an international taster!🤞
Duncan Turnbull, Challenge Leader
---
Though there have been many great opportunities for me to lead all kinds of challenges for Charity Challenge this year, the highlight is an easy choice; Trek to Petra, Jordan!!
It was my first time leading an overseas trip for Charity Challenge and I was lucky that it was in a country with such spectacular scenery, wonderful Jordanian people and a very rewarding if demanding 85 km trek through the mountainous desert, finishing in Petra, "The Rose Red city, half as old as time" and one of the 7 Wonders of the Modern World.
I was also fortunate to be leading a tremendous group of 32 challengers, who's positive attitude to any situation and sense of fun and adventure made it feel like I hardly had to work at all.
Some intrepid participants already had several Charity Challenge adventures under their belt. There were also some slightly more 'trepid' first timers. The experienced travellers understood how the newbies were feeling and gave them all the support they needed, but the challenge and the epic mountain scenery were enough to impress even the most seasoned of explorers… and that's before you get to Petra!
The trek was a special birthday present for one of the participants, and she said it was the best thing she had ever done.
As well as the challenging trek, there is an opportunity to experience Bedouin culture, taste the delicious cuisine and learn about the complex etiquette surrounding it and to enjoy our hosts traditional dance by the evening fire … and even get involved!
The climax was entering the ancient city of Petra via the north entrance, away from the tourist crowds. After 5 days hiking through the wilderness and having been separated from 'normal western life' for this time you can really begin to fully appreciate the ingenuity, complexity and sophistication of the 2000-year-old Nabatean civilisation that created it far better than anyone who arrives by air-conditioned coach from some swanky hotel.
It had been 18 years since I last visited Jordan and I hope it is a far shorter time before I visit again.
Paul Cannon, Challenge Leader
---
Can't wait to make your own memories? Visit Charity Challenge to choose your next challenge!