"Last entry. For God's sake look after our people" –
100 years ago today Captain Robert Falcon Scott, with frost bitten fingers, wrote these final words as he, Edward Wilson and Henry Bowers were stranded in an Antarctic blizzard, just 11 miles away from One Ton Depot, which contained supplies that would have seen the whole team home safely.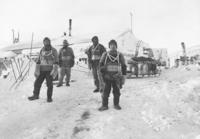 Despite the fact that Scott's 'Terra Nova' Expedition to the geographic south pole didn't get there first  – to his dismay, Norwegian Roald Amundsen had already staked his nation's flag there a couple of weeks earlier, Scott's anguish is indicated in his diary: "The worst has happened"; "All the day dreams must go"; "Great God! This is an awful place" – The story of Captain Scott and his ill-fated journey home captured the world's imagination and inspired generations of explorers and pioneers.
The infamous homeward journey began when, disappointed and dejected, Scott and his remaining companions turned away from the South Pole on January 19th 1912.  Trouble began almost immediately as Edgar Evans, one member of the 5 man final team, began to suffer severely as a result of a fall. He boldly struggled on for several more weeks, but on February 17th he fell once again, this time he did not get up. A month later, in one of the most self-less and noble acts recorded in history, Captain Lawrence Oates, spoke the now immortal line "I am just going outside and may be some time", stepped out into the cold and was never seen again.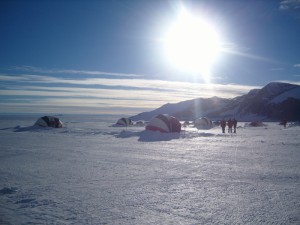 Despite Oate's sacrifice, supplies were dwindling at a horrifying rate and on March 20th, Scott and his two remaining companions, Edward Wilson and Henry Bowers were caught up in a polar blizzard, leaving them stranded. The storm proved one obstacle too many, and the men were forced to come to terms with the fact that they were never going to make it home.
During these last few days, Scott recorded a series of notes for the people back home, among the most famous include his "Message To The Public", where Scott made it clear that he did not regret the mission that he and his team chose to undertake;
"We took risks, we knew we took them; things have come out against us, and therefore we have no cause for complaint, but bow to the will of Providence, determined still to do our best to the last … Had we lived, I should have had a tale to tell of the hardihood, endurance, and courage of my companions which would have stirred the heart of every Englishman. These rough notes and our dead bodies must tell the tale, but surely, surely, a great rich country like ours will see that those who are dependent on us are properly provided for."
Scott is presumed to have died on 29 March 1912, on this very day 100 years ago. The positions of the bodies in the tent when it was discovered eight months later suggested that Scott was the last of the three to die.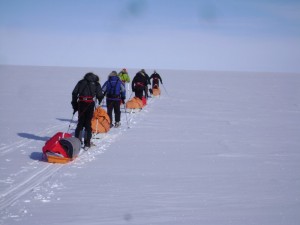 His ambition and adventurous spirit, as well as the bravery in the face of crisis that Scott displayed in penning what he must have known to be the last thing he'll ever write, has inspired generations of explorers, and cemented his place as a hero and inspirational spirit in popular culture!
Our Polar guide, Alan Chambers MBE heads off today to the top of the World as he leads a Charity Challenge group to the North Pole. Later this year, he will be retracing the journey that Captain Scott took just over 100 years ago making the first ever attempt to retrace and complete The Terra Nova route. Antarctica remains the same perilous wilderness that it was in Scott's days. But thankfully the innovation and durability of equipment, storage facilities and protective clothing has improved sevenfold! So we can ensure that the ordeal and tragedy that met with the Terra Nova team will never again be repeated!
If you'd like to learn more about our South Pole Expedition, please click here. You can also click here to watch a short video of Alan Chambers and our expedition Medic Ed Coats talking about their upcoming challenge and the legacy of Captain Scott.