We've got an Everest Base Camp expedition heading out next week, so we thought it only fitting that we spend some time contemplating altitude. High Altitude can sometimes be a forgotten factor for beginner mountaineers, but when scaling a mountain such as Mt Kilimanjaro or trekking to Everest Base Camp, reaction to high altitude can be the make or break factor!
Here at Charity Challenge, we always want to see as many of you as possible smiling down from the mountain summit, so we work with the London based 'Altitude centre' to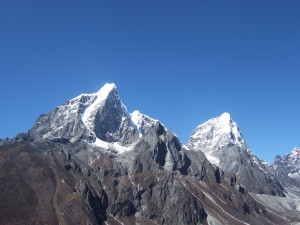 bring you the most up-to-date news, training methods and high altitude coping mechanisms. Indeed, Altitude experts at the altitude centre state that the preparations for high altitude are just as important as fitness training when it comes to our mountain challenges.
"To climb a mountain you need a certain level of fitness, but fitness alone will not get you to the top. As you climb higher, the air gets thinner. Each lungful at altitude gives you less oxygen so your body has to work harder to maintain the supply" says Richard from the Altitude Centre.
High Altitude isn't always simple to get your head around, so I've asked the experts to answer some of the most commonly asked questions.
So what is "High Altitude"? And what effect will it have on me?
High altitude generally refers to altitudes greater than 2,000 metres (6,560 feet) above sea level. As altitude increases, atmospheric pressure decreases, which affects humans by reducing the partial pressure of oxygen, basically, there is less available oxygen to breathe as you get higher
At what height do I need to start worrying about high altitude?
The lack of oxygen above 2,400 metres (8,000 ft.) can cause altitude sickness. Altitude sickness, also known as acute mountain sickness (AMS), is the effect of high altitude on humans caused by acute exposure to altitude. It commonly occurs above 2,400m (approx. 8,000feet). The symptoms can be similar to the common flu, severe AMS can be life threatening.
How can I test how susceptible I am to reduced oxygen?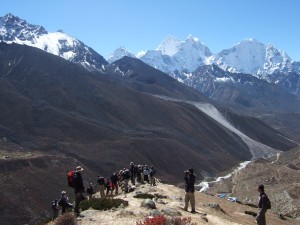 We offer an AMS (Acute Mountain Sickness) consultation where you can find out immediately how your body reacts to breathing reduced Oxygen as found at altitude. During the consultation you will be tested at reduced oxygen levels found at 3000m and 5000m to see how you will cope.  Our Altitude specialist will also offer tips and guidance which you can use on your trip up the mountain.
(Charity Challenge itineraries we allow good acclimatisation schedules to help your body gradually adjust to reduced oxygen levels, thereby allowing better acclimatisation.)
What can I do to prepare for High Altitude conditions?
At the Altitude Centre, we use the latest technology to simulate altitude conditions. You can come into our office and do a 15-day IHE (Intermittent Hypoxic Exposure) course, designed to pre acclimatise you for your trip. We also hire out machines so you can pre acclimatise in the comfort of your own home, either whilst watching TV or via an altitude tent which will allow you to acclimatise while you sleep! Visit
our website www.altitudecentre.com to find out more about preparing for trips to altitude.
Here at the office, we're often asked about effects of high altitude on our more mountainous challenges, so we're really happy to be working with the team at the Altitude Centre in bringing you a series of altitude focussed blogs, which will cover everything altitude that you need to know to make it to the top of the mountain.
If you want to learn more about high altitude and how it affects you, subscribe to this blog and visit the 'Altitude centre' website for up-to-date news, and information about booking a high altitude preparation session.
To keep up to date on all our challenge news, both mountainous and not, please enter your email address into the adjacent box to subscribe to our mailing list.