They don't call this the 'Rainforest' for nothing!! We soon established after a few days trekking that the roaring sound of cicadas, followed by a blast of thunder and sudden silence was the preamble to the heavy down pour of rain, which usually began around 4.30.
You soon get to know the ways of the jungle and pick up tip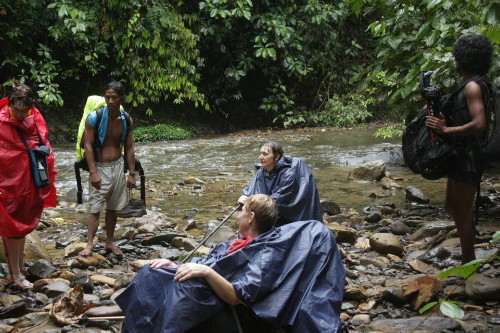 s and tricks. Such as the smothering of tiger balm (a substance mysteriously hated by leaches!) over feet, ankles, legs and even the edge of sleeping mats – just in case the sneaky leech tried to climb in with you!
After a full day yesterday of ups, downs and scrambling along on our hands and knees using tree roots to pull ourselves up, we decided a change of scenery was in order, so river trekking it was. It's amazing seeing the rainforest from different angles and degrees. From being deep in the thick of it with towering trees, thick underbrush, to walking upstream looking in from the outside. The lush green of the Banana trees and the beautifully clear flow of river over pebbles was mesmerising!
River walking is a tough practice, with a strong undercurrent and slippery rocks underfoot, but it wouldn't be a challenge if it was easy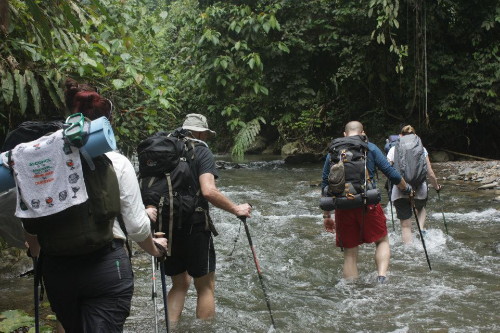 right?
Our bags are getting heavier each day as our kit is getting wetter. Our belongings (not to mention ourselves) are become immersed in the sensual stink of the jungle. Today the rain comes early so we get to experience trekking in the downpour, which is very refreshing. Thank God for those ponchos we bought, they actually have come into more use than we thought, especially in the night when you need to go to the toilet and its pouring down with rain, they are like our own mobile little personal tents! Amazing!
You encounter many hurdles trekking in the jungle and you really need to practice the art of multitasking. It would have been ideal if we could have a pair of eyes on the top and back of our heads as well as in front.
After a couple of days you really establish your jungle feet so soon you are o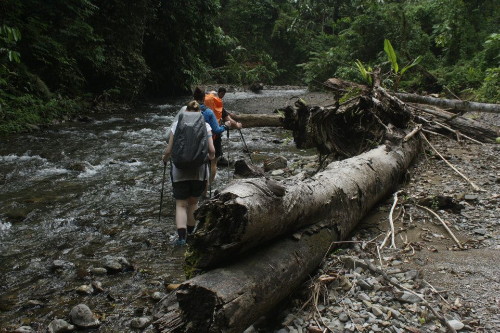 nly spending 70 percent of your time looking down at your now extremely worn in boots and not 90 per cent of the time as before. If only we had the opportunity to look up more! Now, for the art of river walking – establishing where to step and where definitely not to step!!  If only we had mastered the art of ignoring the annoying feeling of pebbles in the shoes!!
Walking up the river gives you the opportunity of spotting life in the jungle that you may not see in the depths of it, like a hornbill flying upstream or a cobra eating a viper on the bank of the river! You definitely avoid the leeches this way as apparently the Sumatran Leech can't swim (us – 1 point, Leeches – 0)! We stop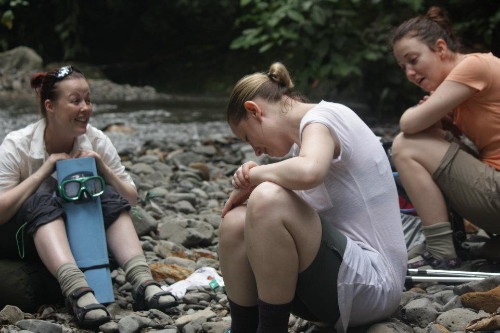 for lunch by a mini waterfall and are swarmed by a rainbow of butterflies which took a liking to Kate's colourful socks.
To our delight we meet Iwan's team who have now become known as 'the mosquito's'. They are already bathing in the river by the camp after arriving 10 minutes before us, we trek a further 15 minutes upstream and see our guides setting up the bamboo frame in a hurry as they have already spotted the black clouds over head. We watched fascinated and frankly amazed at how well they coordinate as a team and get the job done so quickly! Our sleepi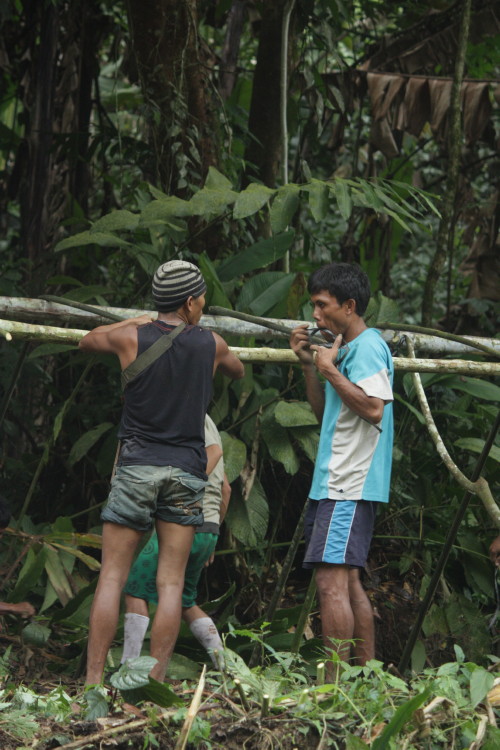 ng area is erected, then the kitchen and finally the tarp thrown over just in time for the first drops of rain to come in. We sit under the shelter and soon see the first of the tigers Kinols team of lovely ladies, speedily trekking upstream trying to beat the rain. We cheer them on as they come one by one around a fallen tree. The emotion was raw today, everyone is exhausted and a nice walk up the river turned out being tougher than expected.
By the end of day 3 we had well earned our one and only cup of hot chocolate for the trek and savoured each drop! Especially as the following day we are allowed a lie in, waking up at 8.30 and not 7.00, followed by a swim and a clothes washing session. Up next is "Jungle Survival Day" – all about doing the laundry, collecting jungle food and fishing!! We couldn't be more excited! Stay tuned for part 4 next week!
If Jo's experience in Sumatra has inspired you, check out our Sumatran Jungle Trek here, and subscribe to this blog to hear about what happened next. To keep up to date on all our challenge news, both jungle and not, please enter your email address into the adjacent box to subscribe to our mailing list.