Good evening. Night time on Day 3 and we're all sitting around re-telling the horror stories from yesterday. Today was much calmer – although we're all aching and itching horribly.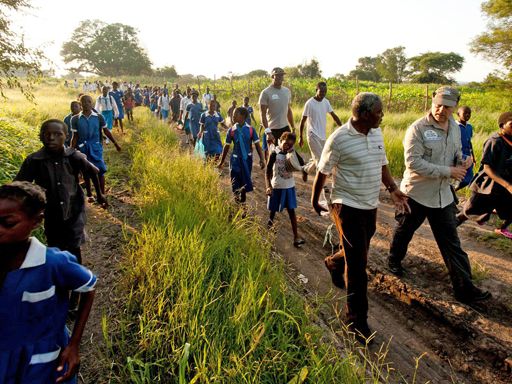 We must have seen 30 hippos today – and we got really close to them.  About 20 metres away.  They are dangerous big chaps and the guides are incredibly cautious around them because they can get aggresive.
We all had a life-changing morning at a local village and a local school.  We met some absolutely beautiful people who REALLY benefit from the money you're donating.  It changes their lives.
It will help them pay for school, provide children with pens, books and uniforms.  If these wonderful children get an education – they will have the opportunity to better themselves.  And who can deprive them of that?
Please don't deprive them of that.  Your donations will really make a difference.
Bedtime.
UK ONLY: Support Greg by donating £1. Text Greg to 70011 (texts cost £1 + std msg charge). For terms and conditions go to http://bbc.co.uk/comicrelief
Greg James radio 1 blog – http://www.bbc.co.uk/blogs/gregjames/
To keep up to date on all things Hell and High water, you can follow us on Facebook and Twitter, and subscribe to our Blog, YouTube account and mailing list. You can also find out all about the challenge and see the latest news here.
If you've been inspired and want to take on your own experience of a lifetime, then check out our amazing and global range of treks, bike rides and mountain climbs here. You can even take part in our exclusive Zambezi challenge. Click here to receive details once the challenge is complete.